There's just enough time to get this recipe done before our USA July 4th Independence Day celebrations. 
Ok, I admit it.  I HATE Reser's and other pre-made deli potato salad.  And after tasting this recipe, I think you'll agree, homemade potato salad is the Bomb.
And as always, it's very easy to customize.  We'll talk about it at the end.
Now, I know some of y'all will try to give me flack about posting a video of "how to peel potatoes", but trust me....there really are folks who don't know how to peel a potato. 
Here we go! 
The Ultimate Awesome Perfect-Every-Time Potato Salad!
9 Ingredients- plan on making the salad a day ahead for best flavor.
1 (10#) bag POTATOES (I used russets, yukon gold or reds are fine)
1 dozen EGGS 
1 XL ONION (about 3-4 cups fine diced)
1/2 CELERY bunch (about 3-4 cups fine diced)
1 jar MAYO (1 quart)
1 jar MUSTARD (1 cup)
1 jar DILL RELISH (1 cup)
1 Tbsp SALT
1 Tbsp BLACK PEPPER (sorry, geeme~)
Scrub the potatoes if necessary, cover with water and boil until knife tender.  When cooked, run potatoes under cold water or lay in a flat pan and chill in fridge until cool enough to handle.  This can be done 2 days ahead.  Also, See Video for example of Knife tender and how to quickly peel and dice the cooked/cooled spuds.
Hard boil, peel, dice eggs.
Trim and dice onions and celery.
Dump in the mayo, mustard, dill relish, salt, and pepper.
Mix it up, and chill well.
Yield- 30 cups - approx. 60 servings at a picnic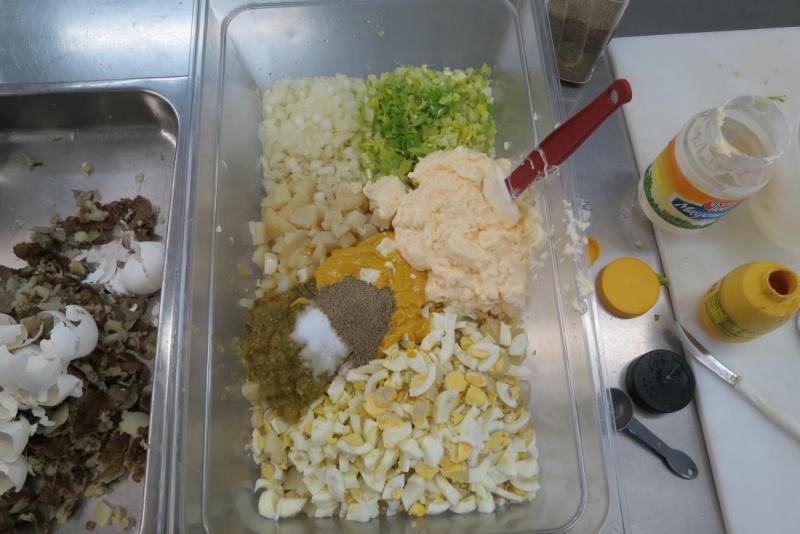 Spoon??? Who needs a spoon?!?!??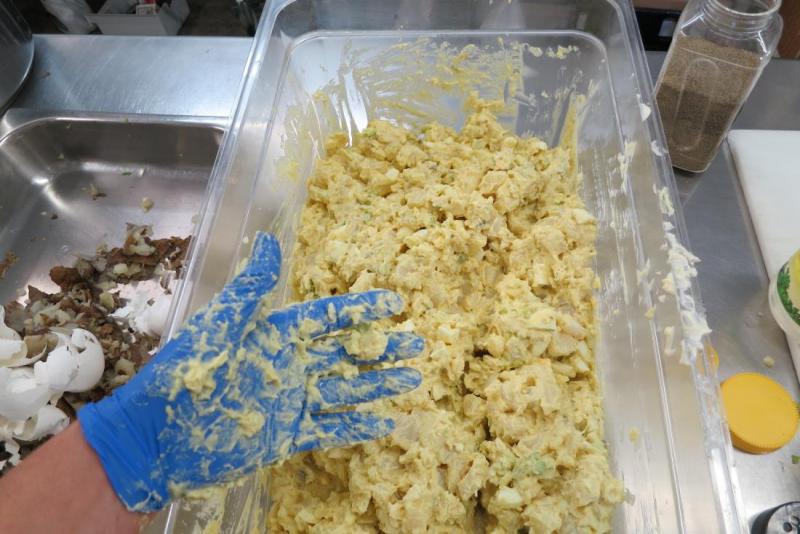 Shallow bowls for quick cooling, ease of transport....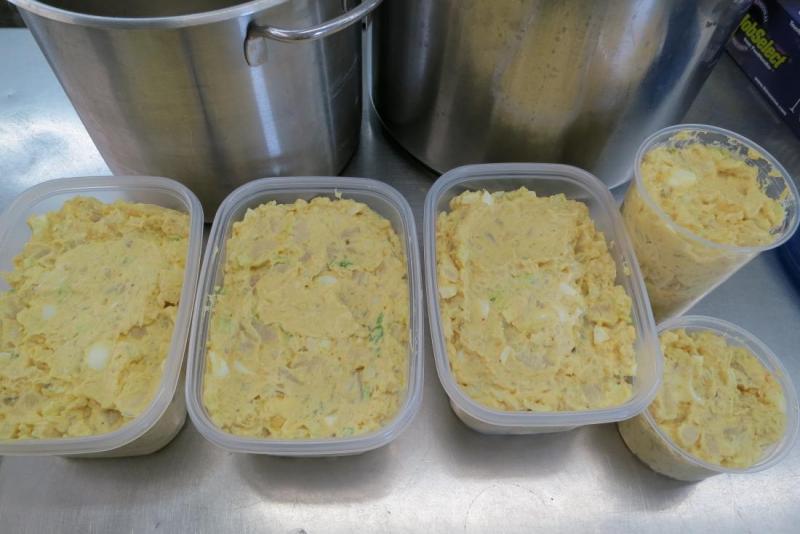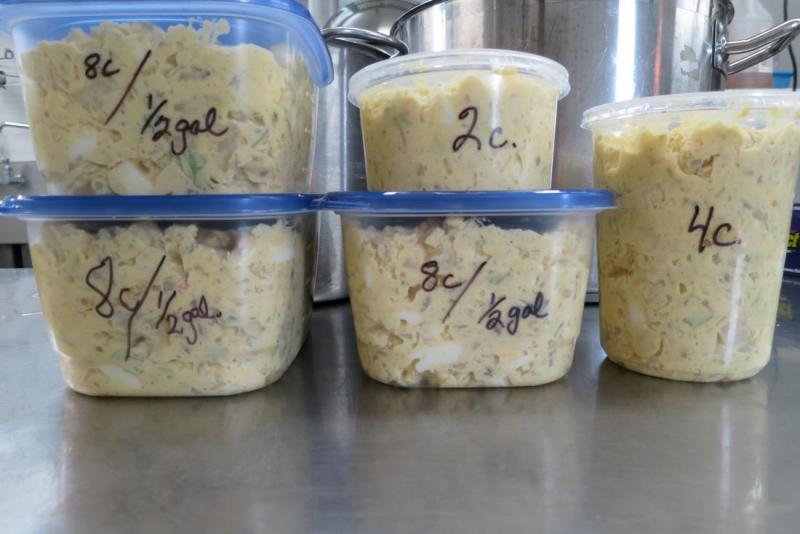 The Sexy Side~~~  lol-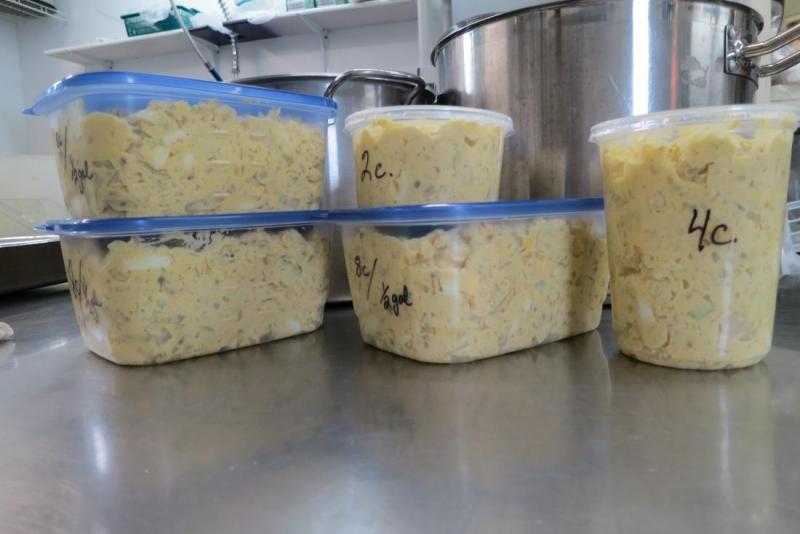 http://www.youtube.c...eature=youtu.be
I happen to be using a food service pan, but any large Tupperware, large roasting pan, or even the stock pot will work for mixing it up.  Just make sure to put it into shallower pans for cooling.
About the ingredients-
I chose to use individual bottles to show people who don't keep a deep pantry they can buy just exactly what's needed and not have to worry about leftovers, etc.  If you have a large jar of DILL pickles (whole, spears, sliced, chips...whatever) just dice 'em up and there you go!  Same thing with the mayo, mustard, use what you have.  Stores are even offering individual celery stalks or smaller celery hearts which allows customers to purchase exactly what's needed. 
Customizing- Use other potato varieties, use green onions, add minced chiles, Dijon mustard is good...but whatever you do.....do NOT add pimentos!  Pimentos have little purpose in life and no place in a GOOD potato salad! 
Enjoy!
Edited by salsalady, 03 July 2013 - 06:15 PM.