Hi, thought it time to start recording this years grow, might help me keep track a bit better and learn a few things along the way.
Updates may be a bit patchy for the first month or so, we're moving in a few weeks so this year I've switched from mostly in ground to a lot of pots, and have a lot of non-chilli related tasks over the next month.
Here's a list of varieties from memory, not complete, like my memory. 
(ow1) = overwintered 1 year old
(ow2) = overwintered 2 years old etc
(s) = from seed this year
(p) = purchased (Oakleigh Market, Bunnings, Masters)
7 Pot Barrackpore (s)
7 Pot BrainStrain (s)
7 Pot White (ow1)
7 Pot Yellow (p) & (s)
Aji Limon (s) & (ow2)
Anaheim (s) & (ow1)
Bell Cap (ow3)
Bhut Chocolate (s)
Bhut Jolokia (ow1)
Bhut Jolokia Assam (s)
Bhut Yellow (ow1)
Big Jim (ow1) & (s)
Bishops Crown (p)
Black Pearl (p)
Bulgarian Carrot (s)
Cayenne (ow1)
Cayenne Giallo (ow1)
Corno Di Toro Rosso (s) & (ow1)
Dorset Naga (ow1)
Douglah (s)
Eagle Claw (s)
Fatalii (p), (s) & (ow1)
Giant Turkish (s)
Hab Chocolate (p)
Hab Orange (ow1)
Hab Red (s)
Hab Red Savina (ow1)
Hab Yellow (ow1)
Hot Fish (s)
Hot Wax (ow1) &  (ow2)
Hungarian Black (p)
Hungarian Sweet Paprika (ow1)
Jalapeño (ow1)
Jamaican Hot Red (s) & (ow1)
Jimmy Nardello (s)
Joe E Parker (s)
Manzano Orange (ow1)
Maras Biberi (s)
Moroccan Matchstick (s)
Naga Morich (s) & (ow1)
Pasilla Bajio (s)
Pequin (ow3)
Pimenta De Neyde (s)
Pimento de Padron (ow1)
Piquillo (s)
Piri Piri (s)
Poblano (s) & (ow1)
Rocoto (ow1)
Rocoto de Seda (s)
Serrano (ow1)
Sukanya (s)
Tabasco (ow1)
Thai Birdseye (ow3) and (s)
Thai Ornamental (p)
Topero Rosso  (ow1)
Trinidad Scorpion (ow1)
Trinidad Scorpion Butch T (p) & (ow1)
Trinidad Scorpion Moruga Yellow (s)
Turkish Bush (s)
 
So now going to figure out how to post some pics..
OK so here's the left side of the main veggie garden bed which would normally have plants in ground. There's still a few that survived winter in ground and I've been stacking pots in there. This smaller pics are from December 2:
This is the right of the main bed - most of the larger black pots are overwintered fatalii and habs, with a couple of purchased varieties from Masters and Oakleigh market. Yellowish larger plants front middle to the right are the in grounders that survived the fairly mild Melbourne winter.
The very front yellowish larger plant is a standard bell from a supermarket capsicum I planted 3.5 years ago - just survived its 3rd winter in ground - if similar to last year, it will look like that for a few more months then burst back to life. Prolific producer and really tasty sweet bells.
The main bed is an L shape, this is the far right hand side with mostly overwintered super hots in smart pots plus a bunch of small plants from seed this year and very late last year.
2nd December:
27th December: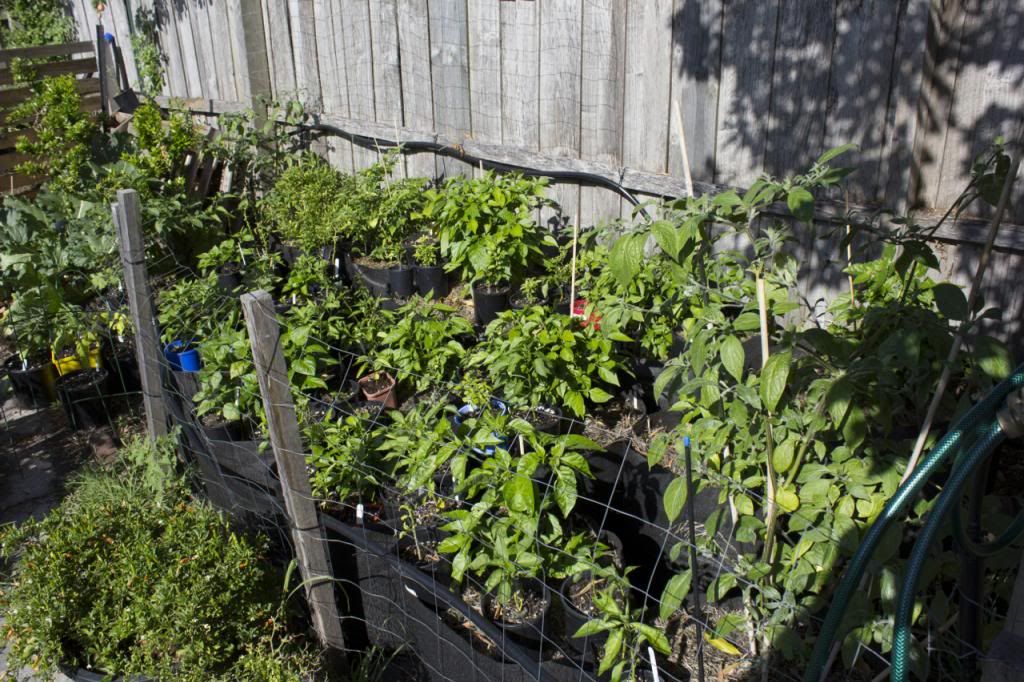 These are two favourites, left is a Jamaican Hot Red, great producer of very tasty, mid range heat pods, and right is a Not Bhut Jolokia Yellow. That's what the packet said but pods were more longish hab-like last year, and red. Heat was mid range but again excellent flavour. These two survived winter under the house eaves and still recovering.
This was the side bed, mostly annums grown from seeds from fresh market pods. Most of these are in pots now after surviving winter in ground.
Most went to pots:
Except two rocotos that had started to flower, will leave these as long as possible, pic from 27 December:
There's quite a few plants packed together so difficult to take decent photos of individuals, but will try to post a few over the next few days. The yards big enough to spread 'em out but they need to stay behind the fence to keep the pests off 'em: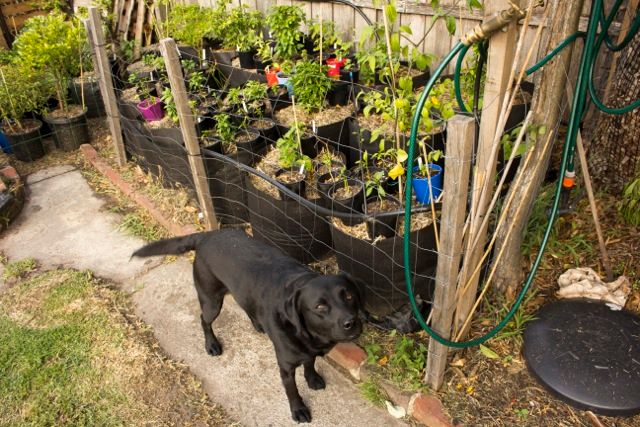 Edited by mongo, 28 December 2013 - 08:02 AM.