Hi all,
As we're building a new freezer at work, I was able to get 27 pine beams (1800x70x70mm). These are untreated, unshaved beams that were used as spacers between heavy PIR insulation panels. I did some brain storming on what I could build with these, as I love to DIY. I made a quick sum up on what I was going to need, forgive the crappy 3D and icons instead of words (saves me translation on different forums).
The plan is to build a frame using as many beams as possible (for weight, stability and wind resistance). I came to a carcass which I would like to cover with heavy HDPE foil (the only thing I could find that is UV resistant, transparent en heavy duty.. It's normally used as a moisture barrier under laminate floors). I'm planning to dig out the center to get a bit more vertical grow space (about 40cm I figure). In the middle I want to dig a walking trench with slightly deeper sides (to make sure it's not a water reservoir instead). To increase venting when it's really hot, I plan to add 4 venting windows in the roof (manually operated). I figure these are easiest to put them over the full length of the four sections.
Pictures only show the carcass, but I want to put thinner 1"x1"  beams on the gutters to pull the foil over. I also want to raise the center so that you get an angled (18.5 degrees) roof to help with channeling rain water off the roof.
Here are some quick drawing;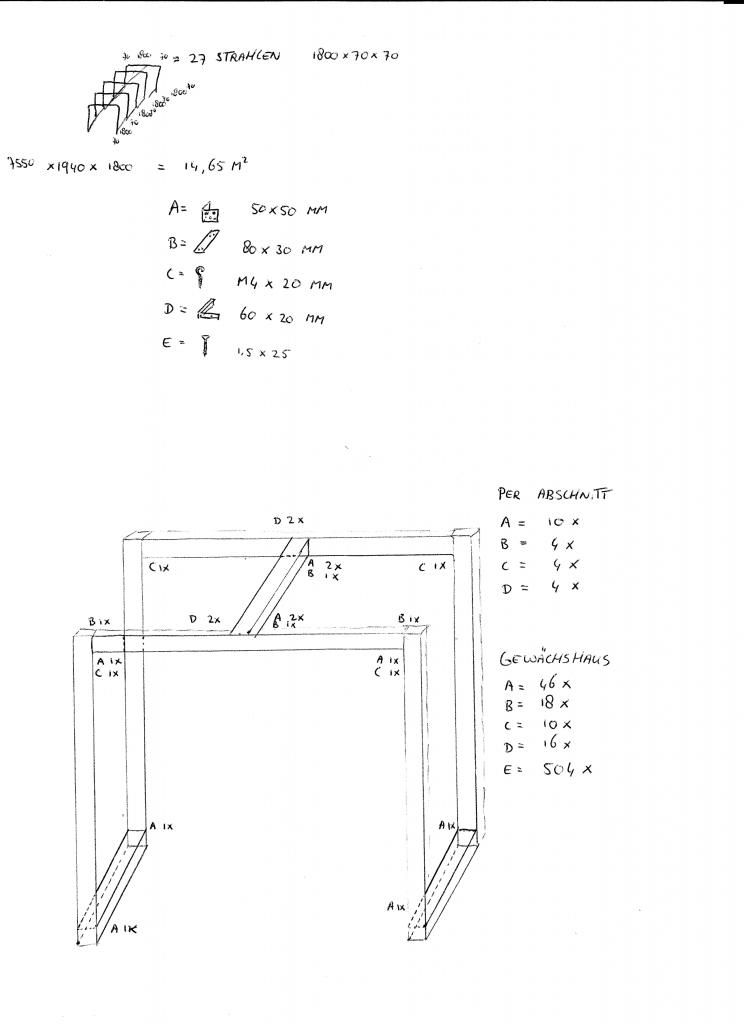 early drawing to see what I can make with 27 beams
Top view of the carcass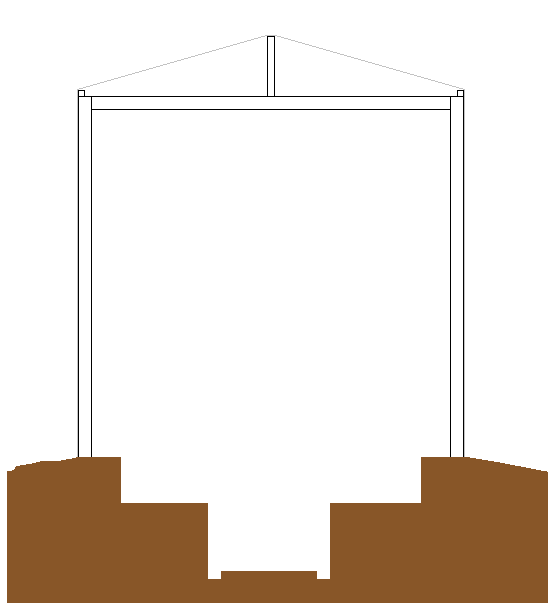 Cutaway with the trench
Final drawing (I might add some diagonal supports if I don't deem it sturdy enough when building - but I want to keep as much light available as possible). 
I'm still open for suggestions on how to apply the foil (tack it?) and to combat wind (my main concern). I might add four "spoons" on the vertical lower beams on the wind side (the other side will be shielded by a closed wooden fence) where I can place about 3 or 4 concrete 1' x 1' x 1.5" tiles on). Would this be enough?
Please share any ideas, pictures, concerns etc and do not hijack the thread with hotdogs, wine or bunnies...