Tired of spamming all my meals in 20 different spots. Decided to make my own flog. 
First up on the meal list
Chicken fried rice
Teaser shot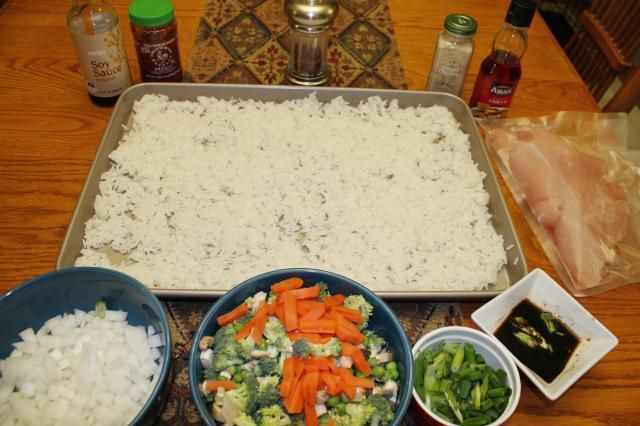 Jasmine rice cooked and cooled to room temp.
1 white onion chopped
broccoli, carrots, peas and mushroom
3 green onions chopped
soy sauce
dried pequin powder
ginger
chili oil
garlic chili paste
2 chicken breasts.
sherry
2 eggs
Cook chicken in pan with chili oil
Deglaze pan with sherry.
season chicken to liking with garlic, pequin powder (or what ever kind of pepper powder you like), ginger and black pepper.
Remove from heat and chop for rice. 
Heat 1 tbsp oil in wok; add chopped onions and stir-fry until onions turn a nice brown color, about 8-10 minutes; remove from wok. Allow wok to cool slightly.
Mix eggs with a few drops of soy sauce and cook in wok remove and set aside
Heat 1 tbsp oil in wok; add chicken to wok, along with carrots, mushrooms, peas, broccoli and cooked onion; stir-fry for 2 minutes.
 

Add rice and green onions tossing to mix well; stir-fry for 3 minutes.

 

Add 2 tbsp of light soy sauce and chopped egg to rice mixture and fold in; stir-fry for 1 minute more; serve.

 
Edited by D3monic, 11 January 2016 - 07:00 PM.