Homemade Corned Beef!!!    Why?  Because we can! 
This thread is open to anyone making corned beef from scratch.  Please post pics, recipes and results!
I've been wanting to try making corned beef since seeing an episode of Floyd on Food about 20 years ago.  Love Keith Floyd!  He's a hoot to watch, gets a bit mucky, overfills the cooking pot, he's my inspiration and the original Drunken Chef!  (well, maybe not the first, but in my opinion, the best on TV. 
  ) Through the wonder of YT- here's the original episode. 
AmazingRibs website has some good information-Quoted from AmazingRibs~
"Your first question has to be "Why bother?" And the answer is simple: Homemade corned beef is better.  Why? The commercial stuff, especially the cheap stuff mass marketed for St. Patrick's Day for Irish wannabes, is usually made by taking shortcuts that result in odd flavors and gelatinous textures.
Home made corned beef can also be cheaper. And it's easy. And you can customize it. Once you've had the real deal, you can't go back. It just takes time. So start now.
Corned beef has no corn. OK, maybe the steer ate some corn, but no corn is harmed in the process of corning beef. Actually, to be precise, corn was the old British name for grain before corn on the cob was discovered in North America and usurped the name. "A corn of salt" was as common an expression as a "grain of salt" is today. So corned beef is really just another name for salted beef.
So corning has become another name for curing or pickling. Yes, we are pickling this beef. These are ancient processes invented for preserving meat by packing it in salt or soaking it in a concentrated brine, long before refrigerators.
In recent years, curing is also done by injecting meat with salt. The process was probably discovered when some ancient hunter speared a deer and it fell into the ocean and washed ashore a couple of weeks later. Surprisingly instead of bloating and turning foul, the meat had been preserved, and tasted pretty good.
Corned beef was a World War II staple among civilians in Great Britain and among the troops in Europe because fresh meats were hard to come by. It came in a can. Sliced corned beef is especially popular in Jewish delicatessens where it is a sandwich staple."
Here's my first attempt at making corned beef-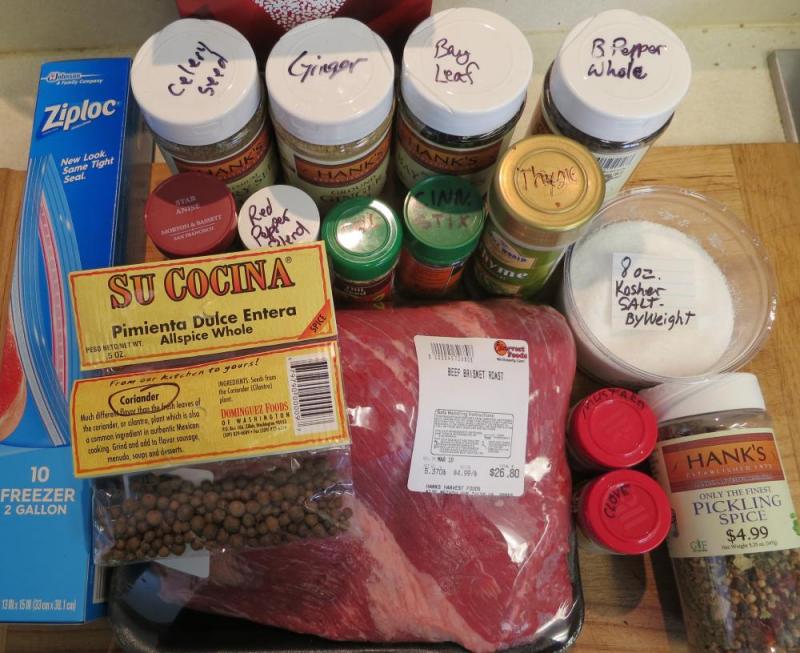 5# brisket
1 gal distilled water*
8 oz kosher salt by weight
2 tsp Prague powder
1/2 cup pickling spice
*We have good quality well water, if you are on a municipal water system with fluorides and chlorines, etc, consider using distilled water.
Pickling Spices-
2T black peppercorns
3" cinnamon sticks
2t allspice
Put the above spices in a thick plastic bag and smash with a meat mallet, framing hammer, or a heavy can.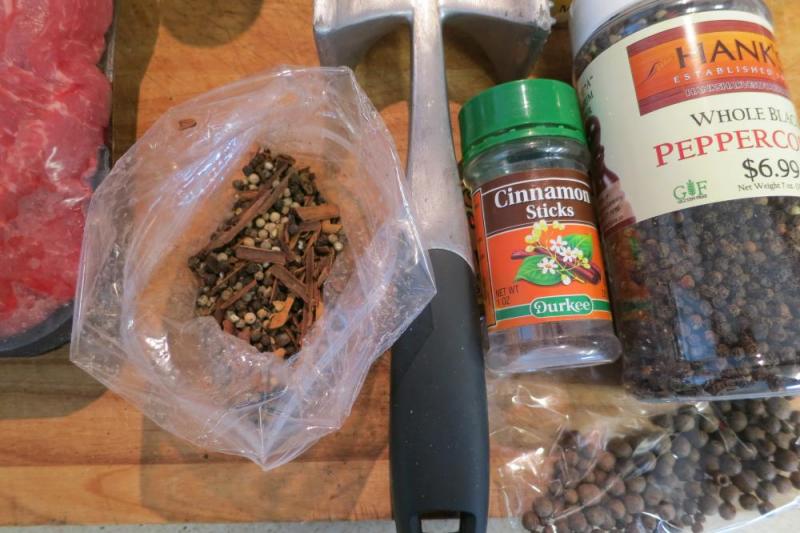 Add to-
2T dill seed
1T red pepper flakes
1T mustard seed
1T coriander seed
1T celery seed
4 bay leaves- broken up
1T dry thyme
1T ginger- not ground unless that's all you have*
1t clove
1 star anise
Or you could use commercial pickling spices, but I think mine looks better....more goodies in it!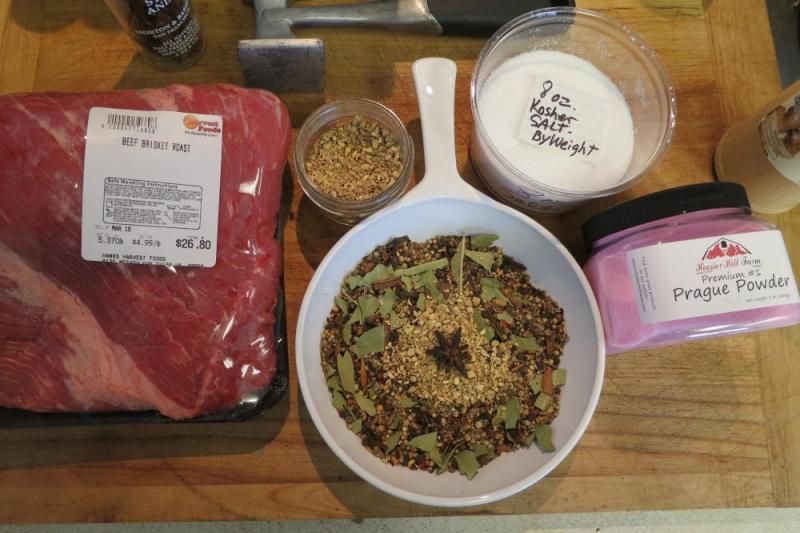 *All the other spices are whole or coarse/chunky.  I didn't want to use ground ginger, so out to the Kitch for some dried shredded ginger in the little jar at 11:00 in the picture.
Heat up 1/2 gallon water, 2tsp prague powder, a heavy 1/2 cup pickling spices, 1 star anise, and 8 oz by weight kosher salt (about 1 1/2 cups) just to dissolve the salt and get everything happy~
After it came up to temp I turned off the heat and added 1/2 gallon ice water to cool down the brine.  I know...  in a hurry could of just let it cool.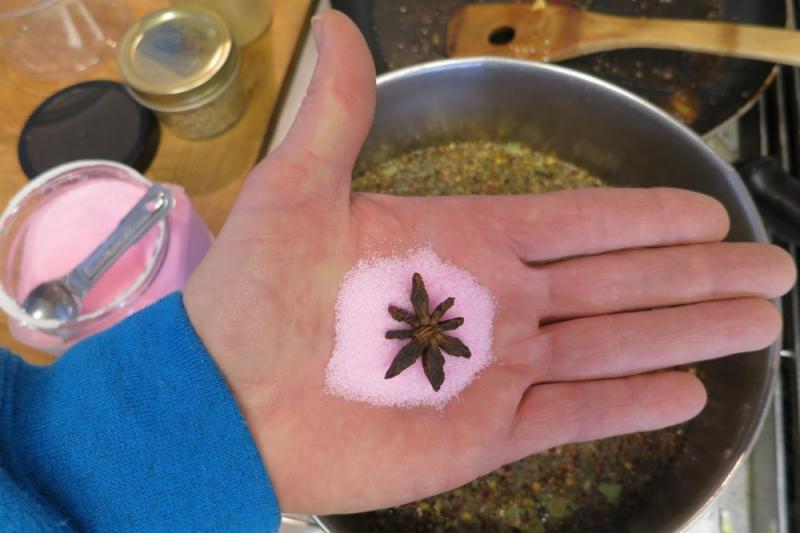 The butcher shop at Hank's hooked me up with a pretty well trimmed 5# brisket.  I trimmed just a bit more fat off.  I was kinda surprised at the $25 price tag, but then got to thinking that the other slabs of meat purchased in the plastic bags with spices are usually about $12 for 2#.  We'll see how this turns out and hopefully the flavor will trump the price.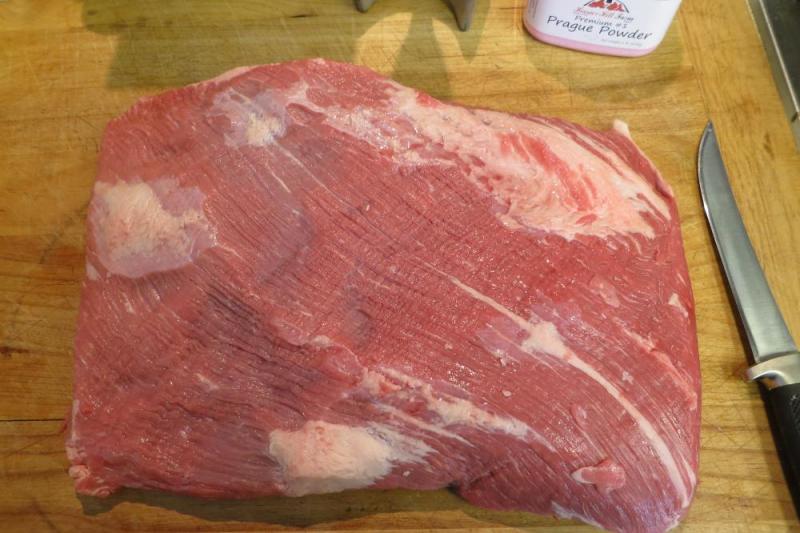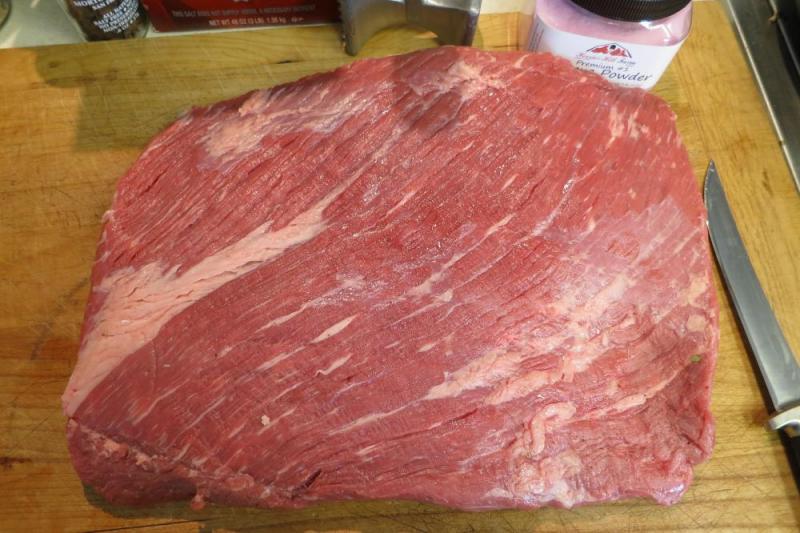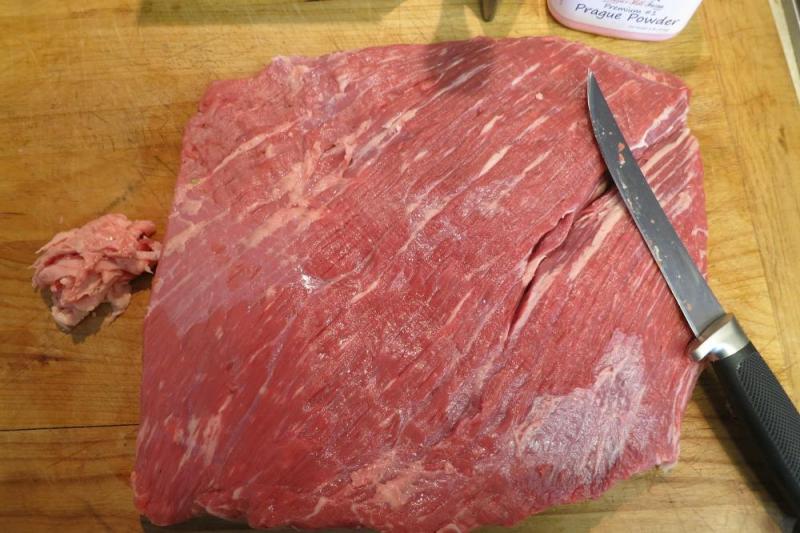 Into a 2 gal plastic bag, tried to get all the air out so the meat is under the brine.  Flip it daily for 5-7 days.....  off we go!!!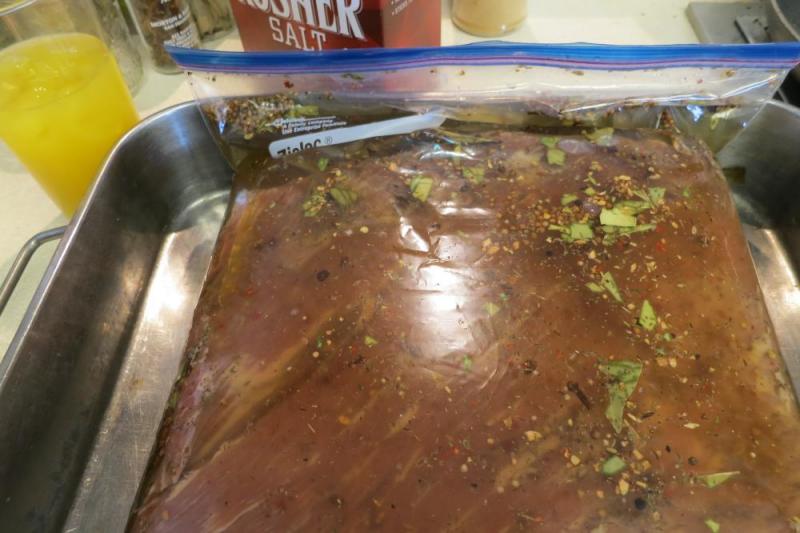 Edited by salsalady, 11 March 2017 - 05:36 PM.