Hi all! Now that the new year is here, it's time to swing into gear and get ready for the next season of growing chiles! I'll be starting my seeds in a few weeks, and after rotating the crops in my raised beds to get rid of the Pepper Maggots that showed up in 2016, I'll be able to plant a lot more this year. In the meantime, I thought I'd share what I do to prepare my garden soil for the start of the season. I've grown chiles in pots and in-ground, and for me at least, I seem to do better with the plants grown in the soil.
To start with, my garden soil is sandy, so I have to add lots of compost in the top six inches of soil to hold moisture and prevent nutrients from leaching away. Soil microbes break it down in just a few years though, so keeping it topped up is a yearly necessity. We compost our kitchen waste to that end, but there's never enough, so we also buy it from a local outfit that produces it commercially. I was put onto adding biochar as well by brother Scott (Devv.)  The biochar does the same things that humus does but it lasts longer and  helps the environment by sequestering carbon in the soil. I've also been reading about how amending with Montmorillonite clay can increase fertility and help with soil structure, but more on that in a future post.
At the end of each growing season I take soil samples from my various gardens and get them tested at Logan Labs in Ohio. They do a more thorough job than our UMass extension by testing for Cobalt, Molybdenum and Silicate levels as well as he usual suspects.
    I'm taking a "Build and Maintain" approach toward soil nutrients because I want my plants to have the best organic nutrition available to them, and at the small scale I'm planting, it's affordable for me. http://nevegetable.org/cultural-practices/plant-nutrients  
Here's my last soil test, taken the end of November. It's the starting point for figuring what amendments I'll need when I prep my beds for planting in the spring. The pepper garden is bordered in yellow.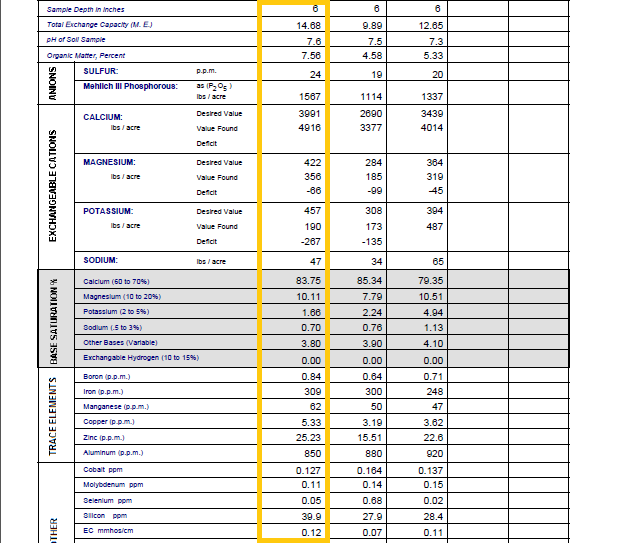 In my next post I'll cover the math I use to figure that out. Cheers!
Edited by stickman, 01 January 2018 - 08:24 PM.