Dear fellow pepperheads,
I've asked this in my glog too, but I figured this was a more general interest discussion, hence why I thought to open a separate topic... 
As some of us are not so lucky to live in a climate with year-round capability to grow pepper plants outside, or even having summers hot enough for growing superhots out in the open, I have just ordered a glass greenhouse (6.5 x 8.5ft / 193cm x 257cm) as I live in Northern Europe, Denmark to be exact. To maximise the impact I'm hoping this will have on my grow, I am now exploring possible ways of making sure to keep temperatures as high as possible during the night, especially in the colder ends of the season (spring and autumn, where night time temps are high 30s / low 40s (F) or 3-5 degrees C, with the occasional light frost at night.
I really appreciate the great suggestions I've already seen in the forums here, with keeping water containers (ideally painted black) in the greenhouse, so that they can absorb the solar heat and slowly release this during the night. I've also seen the bubble wrap suggestions along the walls which I'm also willing to give a shot, so currently my main concern is with the floor, and thus, the foundation. 
Initially, I was simply considering laying down ~4" / 10cm styrofoam plates at the bottom to insulate from the earth beneath, but my explorations online have introduced me to the concept of a "Swedish skirt" (no, nothing like what you'd initially imagine 
). People are arguing that this is the proper way to insulate, by actually insulating the earth in the footprint of the greenhouse from the surrounding earth, so you can avoid it freezing and thereby letting it act as a heat reservoir. This is of course a lot more work in terms of labour upfront, and am just curious whether people in the less modest climates here have some experience to chime in with?
The principle looks as follows: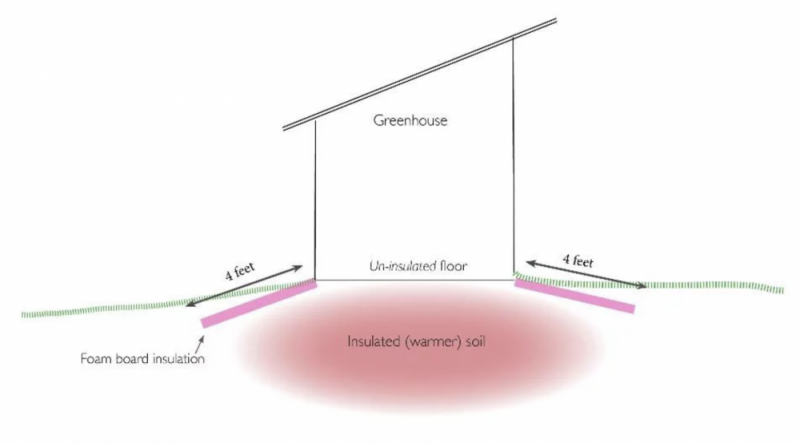 The insulation can also be put vertically, and should go down 60cm/24" to approx. frost-free depth. As it is a lot of manual digging though, I would love to hear if anyone has some concrete experience with how much of a difference this has on the night time temperature in the greenhouse during spring and autumn? To me it makes sense that if you can use all that dirt underneath the greenhouse as a heat reservoir, it should in principle have a really good effect. But if water reservoirs inside the greenhouse, combined with horizontal styrofoam plates on the floor can achieve the same effect, than I would probably rather go with that.
I wouldn't say I'm looking for a year-round grow (forget about that without active heating), but if I could extend, say, to early April until late October/November (i.e. no serious extended frosts), I'd be a happy camper. 
Many thanks for reading and any input you may have