first peppers of 2019 giveaway
Started by
juanitos
,
Jul 21 2019 09:29 PM
Posted 21 July 2019 - 09:29 PM
juanitospeppers.com - seeds, plants, fresh peppers
---
Posted 21 July 2019 - 09:42 PM
My fingers are crossed and I am ready to order my 1st medium box of the summer as soon you are ready to fill it so let me know!
It is what it is until it isn't
---
Posted 22 July 2019 - 01:50 PM
super cool offer juanitos!! 
It felt like satan pissed in my mouth it was so hot and lasted a long time. It was a horrible experience eating one of them. - SavinaRed
I would love to travel to your castle to roam the land,eat pie and hunt woman. - sicman
---
Posted 26 July 2019 - 04:02 PM
I won!
Came home to a small USPS box from Juanito's and couldn't hardly believe it.  I never win anything.  
The box was packed too.  My wife couldn't hardly believe all the peppers in there without being squashed.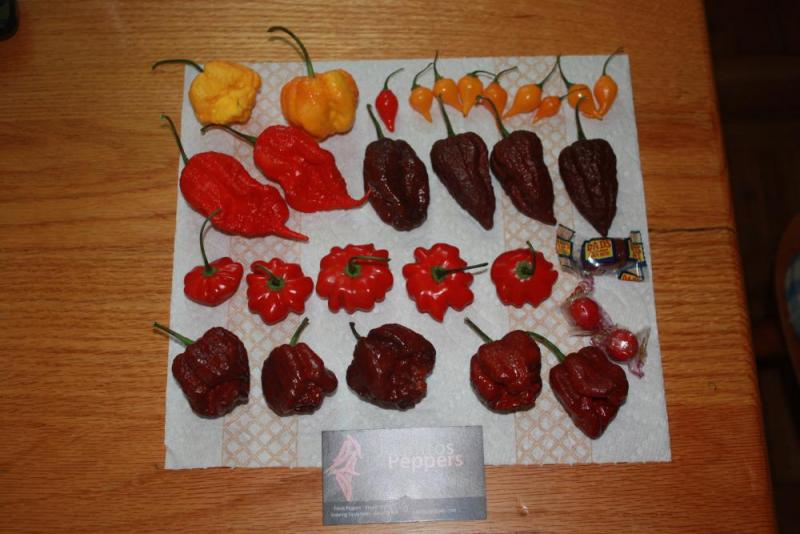 All of the peppers were flawless and fresh.  I gotta say Juanito's has some great looking pods and if anyone needs peppers that they didn't grow themselves or something for sauces or powders you need to check out their site.
My wife and I dove right into the Yellow Baquinho's and Brazilian Starfish.  The Baquinho's are definitely fruity, an awesome little pepper.  We also loved the Brazilian Starfish.  Sweet with just the right amount of heat.  Both were great for snacking' on.
Both were still crunchy fresh too.  
Thanks for the giveaway opportunity Juanito's.
I'll do an update in another forum on here about the superhots.  This doesn't seem like the right place to do it.
---
---
0 user(s) are reading this topic
0 members, 0 guests