Hi Guy's
I grew 7 Pot Douglah for the first time this year in my wee Scottish greenhouse been surprised by the growth rate, production and size of pod's
Interestingly held in ones hand and given a good sniff no real smell ? Unlike my Dorset Naga that smell sweet and fruity in your palm
Cut In half a fruity scent came forth and the scent of heat ! the amount of placenta, seeds and oil was impressive to say the least !
Now I'm getting nervous.................I had planned to add the whole pod to a Nagaland pork belly recipe tonight........but was now toying with adding half !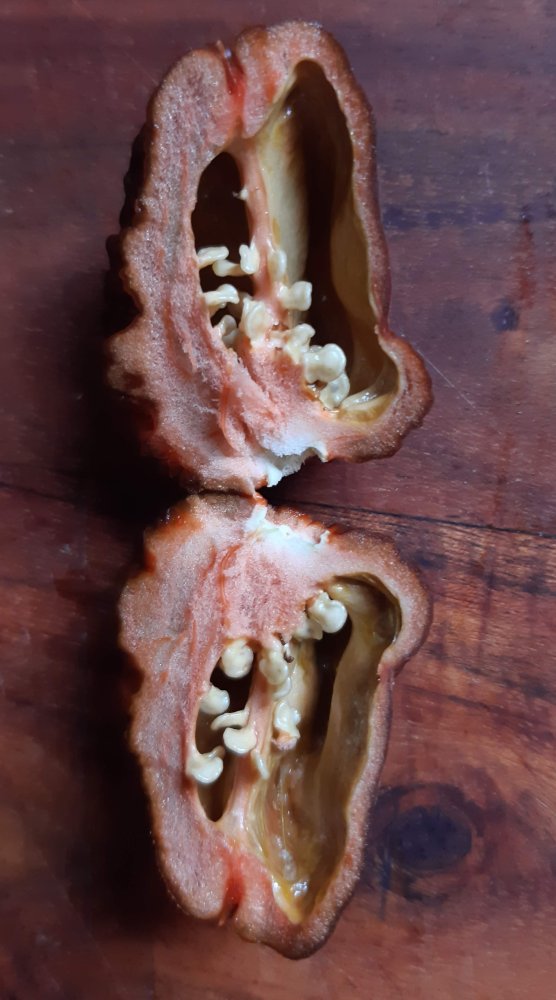 A scary thing of beauty............
Oil can clearly be seen
I decided I take a tiny slice from the bottom edge to try before adding a half pod to my curry .......literally a slice like a finger nail clipping........
Holy smoke a extremely brief fruity flavour before a scorching heat ! Wow ! I'm not to proud or macho to say I'd imagine putting bit of fuel rod from a nuclear reactor in your mouth would be similar. Wow just wow way way hotter than a Naga !
I shall have to ponder how best to use these mighty chillies......
Stephen
Last edited: