This auction is for a lfrb of some down right wicked stuff. All proceeds will go towards next years grow. These pods were grown in 100% organic hand built supersoil and are extremely hot.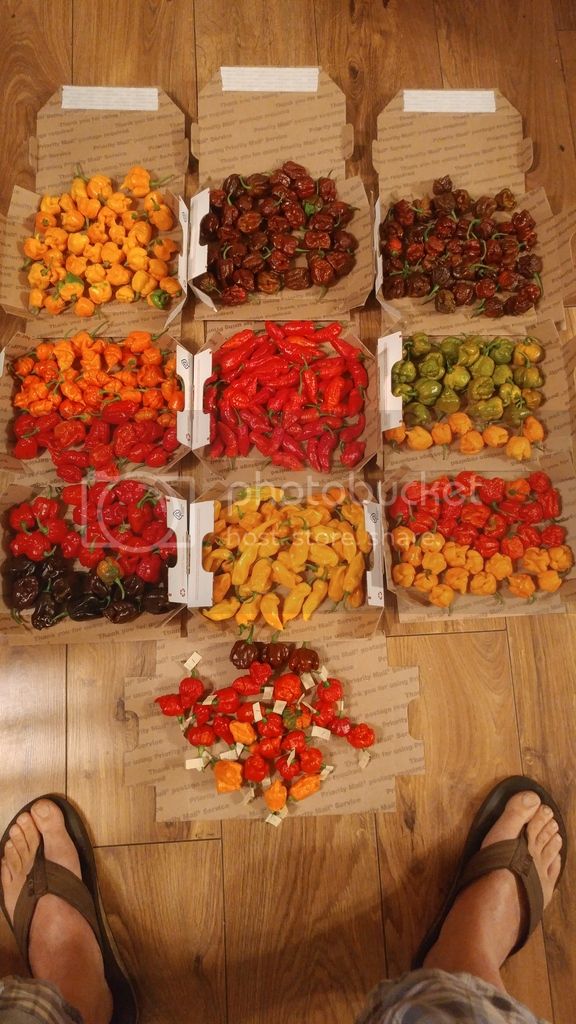 Pods are
Top row (by box)
1.Orange primo
2.Douglah
3.Chocolate Primo (no this is not CPR)
Second row
1.2/3 Orange Long Tail Scorpion 1/3 srtsl x bbg f2
2.Naga Morich E-strain
3.9/10 Mustard Moruga Brains 1/10 Srtsl x Bbg (orange) f1
Third row
1.1/2 Red Trinidad Scorp (seeds from trinidad) 1/2 Not Chocolate Moruga Brains (fat huge and HOT)
2.Orange Dorset Naga
3.1/2 Red primo 1/2 Yellow Jonah Brains
Bottom box is a mix...
3 Phantoms (I ask winner does not share seeds just yet!!!)
Borg9
Srtsl
Orange Bbg
Butch Taylor's Bbg Scorp (no bleeding calyx)
Butch Taylor's Bbg Scorp (Bleeding Calyx)
Brazilian moruga
Apocolypse
This Auction will end tonight 11:59 pm CST 8/8/2016. Opening bid is 50 dollars VIA PayPal and US residents only. Highest Final Bid Takes The Cake and pods will be mailed first thing tues before work.
GOOD LUCK!!!
Thank you
Mike Hess