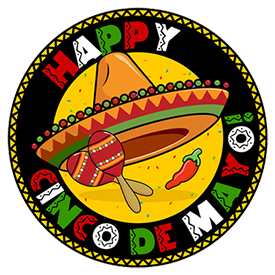 Stop SmokenFire!
He has 9 crowns (most ever) and you must stop him from getting 10! He has the leg up because he will be cooking his signature dish for the Cinco de Mayo TD, what you have to do is beat him at it!  
SmokenFire's signature dish is tacos with rice and beans! Picadillo to be exact (which is ground spiced meat).  
How do you compete?  
Enter 2 tacos on a plate with any rice, and any beans.
(1) ground protein taco which can be any protein or veg as long as it is ground/minced.
(1) Anything Goes taco, so choose your own signature here!
That's it! 2 tacos, rice and beans, one to directly compete with SmokenFire's signature, and one of your own choosing! He's not telling what his second taco is, will it also be picadillo, or another signature????  
It must be presented as one plate with the two tacos, rice, and beans and that's it (garnish ok). A beer or cocktail may be presented with the dish.  
Q.
What about chips and salsa or guac?
A.
Well it is Cinco de Mayo! You may present a homemade guac or homemade salsa. These are many times used on tacos as well so it only makes sense to allow a chip/dip presentation. Use your 10 pics wisely, this is all about the tacos.
Let's get ready to crumble!!!!!!!!! (meat, get it). 

Link: The 5 Rules for an eligible entry

ATTN:

 PM me the link to the final entry. You can get the link URL by clicking the post number. As always, must include a hot pepper element.
Measurements where possible.
10 pics max per final post
PoL: Cinco
Ends Monday 11:59 PM ET