Hey Pepperheads! DeadSilent here starting a grow log for my so far 18 varieties of hot and super hot peppers! I will be adding 20+ when we get closer to 2022! As of today the majority of my seeds come from Baker Creek, but there are a few from Sherwood Seeds, Waylands Chiles, and Fatalii. I have a few more varieties coming from White Hot Peppers to be added to the line up!
Starting this grow I plan on keeping 36 of the 66 that have sprouted. I would keep them all but I am limited on indoor space for the winter. I hate to cull any of the herd, so I'll be trying to give away the 30 that I can't fit into my tent over the winter. As we get closer to spring I want to have close to 40 different varieties. 2 of each kind for a total of 80 plants.
So getting started I'll make a list of the equipment I plan on using.
The indoor setup:
2- Durolux 2' T5 HO Grow Lights
2- iPower 10x20 Heat mats w/ Temp Control

5x5x8 Ultra Yield Tent
HLG 600 Rspec
8" AC Infinity Exhaust w/ Temp & Humidty Control
8" AC Infinity Carbon Filter
Honeywell HT-900
GE 7-day Programmable PowerStrip
August 8, 2021
I started two starter trays 36 cells each.
Tray #1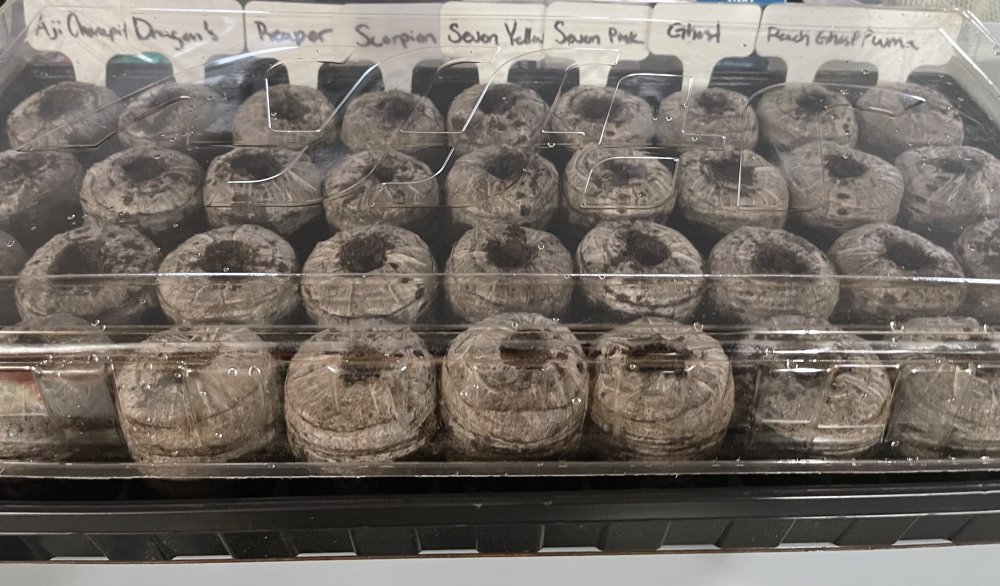 From Left - Right
Aji Charapita
Dragon's Breath
Carolina Reaper
Apocalypse Scorpion
7Pot Yellow
7Pot Pink
Bhut Jolokia (Red)
Jay's Peach Ghost
Puma
Tray #2
From Left - Right
Hurt Berry
Death Spiral
Broadhead
Pink Tiger x Carolina Reaper
Black Panther
Datil
Sugar Rush Peach
Jigsaw
Chinese Five Color
As you can see I've started 4 of each variety. I setup a little stand with two 2' T5 lights, a power strip with timer and two heat mats with temperature controllers.
92% of these seed have germinated and are off to a decent start.
September 2, 2021
Today I mixed up the batch of media I'll be using for the first transplant.
3cuft Premier Peat Moss
1cuft Oly Mountain Fish Compost
1cuft Pumice
1.5cup Dolomite Lime
I'll be using this mix to transplant into 4" nursery pots. After that I plan on potting up to #2 nursery pots in hopes that size will hold them over until Spring and then transplant into their final 5 gallon fabric pots.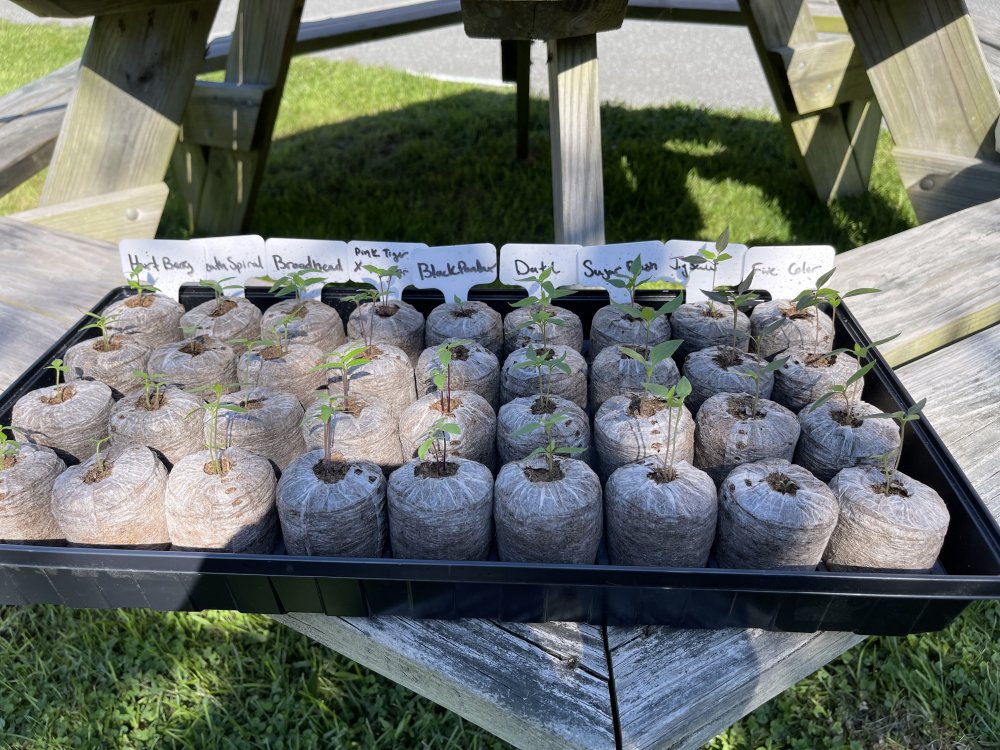 I'll be updating this grow regularly so stay tuned to see what happens! Happy Growing!