This is a benefit auction for The Hot Pepper member 96Strat.  Andy has been battling cancers for a while and with no health insurance, any help we can give will be greatly appreciated.  This is Auction #4 of 4 listings, 2 on Ebay, 2 on the forum The Hot Pepper.
Auction #4 includes-
Warrant Man Sauces and a t-shirt
Salsalady's Texas Creek Sauces
Extreme Membership from THP for 1 year  
Warrant Man's "Full Docket" collection-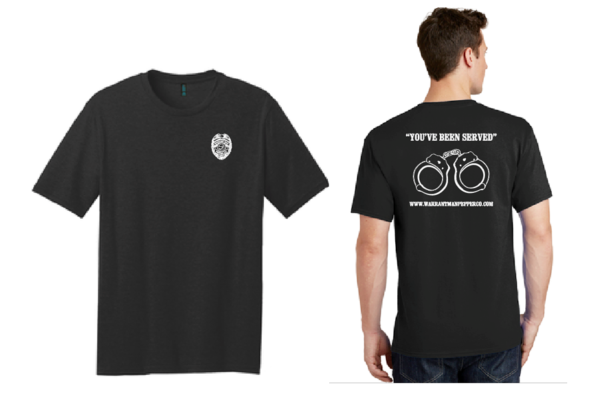 Suicide ® 
A hard Cayenne backing with intense heat supplied by ample Ghost and Carolina Reaper peppers. It has a wonderful flavor profile and enough heat to "hurt your feelings." Requested by and made for those folks who like their heat a bit on the "extreme" side of the spectrum.  
Homicide ®
Fan inspired sauce made with a unique blending of exotic "super hot" peppers.. This sauce packs heat enough for the most discerning of palates and is quickly becoming a favorite with hot sauce lovers everywhere. This is a sauce bursting with bold flavor and meant to be eaten. Homicide is as good as hot sauce gets!   
Aggravated Assault ®
This is the mid-range heat product. It has the highest variety of peppers and tends to be the most popular. A delicious all around sauce that can be enjoyed on many foods. Excellent on wings!
This season's batch of Scotch Bonnet peppers came in a bit scoville high, so fans of this blend may find it a little hotter than usual..  
Clearly Guilty ®
This is one flavorful vinegar infusion with great spicing and just enough Carolina Reaper pepper to get your attention! Clearly Guilty is the perfect compliment for greens, stews, soups and is a wonderful replacement anywhere you might use malt vinegar. We are constantly getting advised by our customers on new uses for this unique product. Discover your own favorite way to enjoy!    
Arson ® Carolina Reaper Salt
Atlantic Sea Salt infused with locally grown Carolina Reaper and Ghost Peppers. Can be used to add some fire to any dish! Use it in soups, stews, on meats, fish, chicken prior/during cooking or as a super finishing salt!  
Salsalady's "Everything But The Kitchen Sink" collection-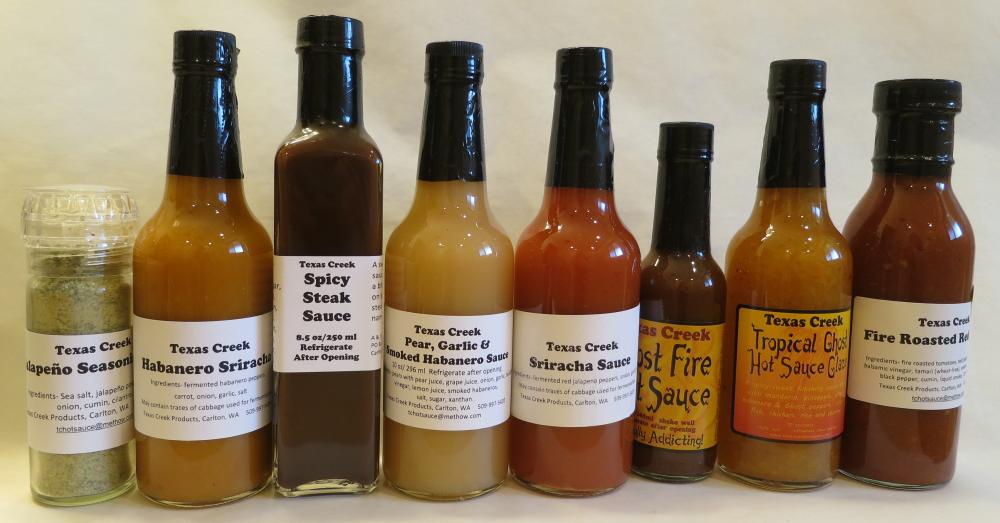 Jalapeno Seasoning Salt- sea salt, jalapeno powder, garlic, onion, cumin, cilantro
Habanero Sriracha- fermented habanero and veggies
Spicy Steak Sauce- sweet and spicy with a bit of bite, perfect for all kinds of meats
Pear, Garlic and Smoked Habanero Sauce- perfect for all white meats, pasta salad, potato salad
Sriracha Sauce- fermented red jalapeno peppers with garlic and onion
Ghost Fire Hot Sauce- award winning chipotle and ghost pepper with cider vinegar hot sauce
Tropical Ghost hot Sauce Glaze- a sweet and mildly spicy mandarin orange, ginger and pineapple glaze
Fire Roasted Red Sauce- fire roasted tomatoes, garlic and onion,l tamari, balsamic vinegar with smoked habaneros.  SCORCHER!  
1 YR EXTREME MEMBERSHIP (or renewal) $35 value
These items will be shipping from 2 people.  Priority Shipping, tracking for both packages will be forwarded to the winning bidder.  No Returns.
Thanks for your help for our friend and fellow chilehead, Andy.  If you would like to donate directly to the recipient, contact me personally, I'll forward contact information.  All proceeds from this auction will be sent to 96Strat.  The donors are covering all shipping costs and fees.  
Auction ends Sunday July 7th at 6:54pm Pacific time. (TIMESTAMP MUST BE BEFORE)
Auction #1
on Ebay- Extreme Heat items- open for international bidders
Auction #2
on Ebay- Seeds and Shorerider sauces
Auction #3
 on THP- DeeRoo sauces and salts, GIP's powders and jelly, Extreme membership