Hello from Crete (Greece)!
That's my first post here. I've been growing hot peppers for personal use on my terrace for three years now (with mixed results), but this year I decided to give away my plants and start fresh with new seeds, doing things a bit better.
I planted 10 pepper varieties (and two cherry tomatoes) at the end of January.
2 x Jalapeno
1 x Bhut Jolokia yellow
1 x Trinidad Scorpion red
1 x Habanero Orange
1 x Habanada
1 x Scotch Bonnet yellow
1 x Tabasco
1 x Anaheim
1 x Piquillo
1 x Gourmandise Yellow (cherry tomato)
1 x Koralik (cherry tomato)
Got a heating mat, a (not-so-great) grow light, and a fan. I started the seeds in Biobizz light mix, and potted up from the tiny seedling containers to slightly larger containers, and then potted up some of them to small garden pots (~4 liters / 1 gallon). I've been fertilizing them with Biobizz Fish Mix and spraying some Epsom salts periodically, and got some Bio Bloom and Top Max for the flowering phase.
I topped all the plants in the larger pots, with the exception of one of the two Jalapenos. The final pots will be 16 liters (4.25 gallons).
Here are some questions I have:
1. Should I pot the rest of the peppers up from the small containers to the 1-gallon pots, or should I go straight to the final pots? The weather here would probably allow me to get the pots to the terrace in a week or two.
2. Do you suggest topping the plants in the small containers even though some lower shoots have started appearing? (pics below)
3. I won't be able to harden them off (I won't be able to move them back in after they are on the terrace), would a low of 13C/55F and a high of 23C/73F be fine for them as a transition to the summer?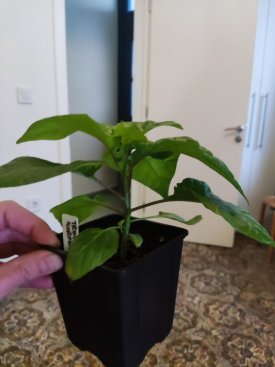 Thanks for reading, and any advice is welcome!
Last edited: