Time to get this Grow off the ground...
Well sort of...at least the indoor part of it.  Here's the current look at some of my outdoor containers. We've had higher than normal snow amounts since December. A couple of hard frosts to boot. That may kill alot of the spring White Fly that have been dominant the last 2 seasons.  
A Couple Shots from the Most Recent Seasons
I've started out my seeds for many years in Dec/Jan, and no doubt will provide nice plants with rewarding harvests.
But when you have to start indoors under lights it comes with a cost of time, material and utilities. With some thought I've finally come to (
my senses) 
 a conclusion. As of Febuary 1st I have roughly 14 weeks to plant out. I'm confident that I can raise healthy plants indoors in that span. So this year will be the test...who knows maybe next season will be a March startup.......
a march to the finish !
This was my largest harvest last season, late August, 40+ lbs......a few hrs and many beers worth of picking.  
The harvests after this were a few bushels here and there down to the 5 bucket pulls once a week come late September.  
Enough of the Old and in With the New...
Lights...Action......Camera !
Speaking of lights...my current and permanent grow area has been moved down to the sub basement. I gave up a spare bedroom which has been converted into a guest room........

I currently have alittle over half the room and lighting setups that I had last year.  I'm planning to use every bit of it.
When running over 4k of power you need to have enough
"juice"
  to supply the lights safely. Inaddition to the circuits I had in the past for the basement grow I've added 2 additional 20a dedicated runs. Also for those who don't, having a smoke detector within perimeter and a fire extinguisher nearby would be a good idea, especially when running HPS units.    
I'm still in the process of mounting some lights, and unless they're being hard wired its a good idea to keep the power cables off the floor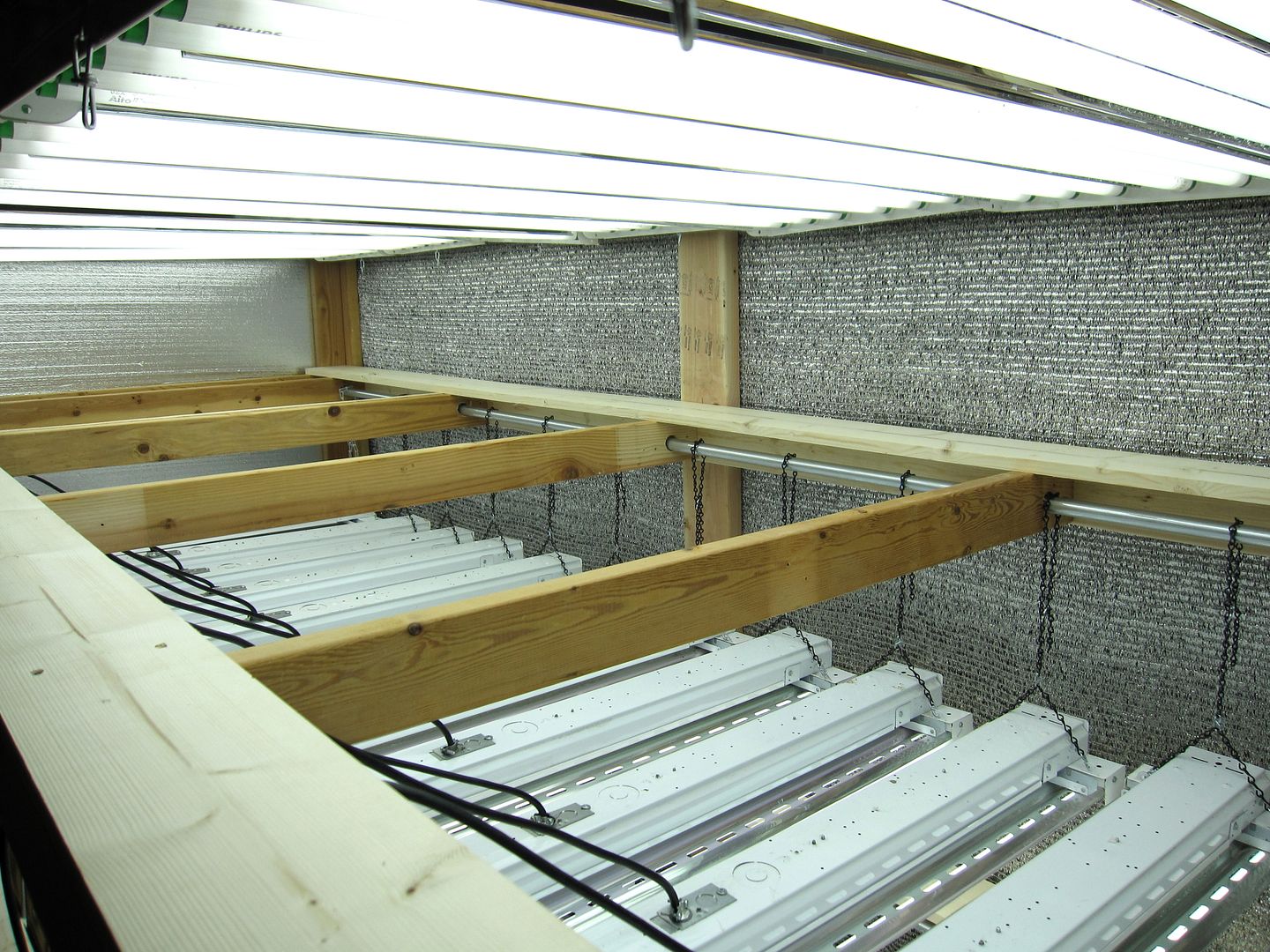 Here's a photo of the plant framing before the shelving is put into place. The deminsions are 54" wide and 12' long.
There's 3 tiers....top has 7 six bulb high bay T8 fixtures, middle tier (shown) has 10 four bulb close spaced T8's with a 6 bulb T8 at each end. The bottom has currently 4 six bulb T8's with a few more being added. The sides have 70% Aluminet shade cloth with can be rolled up unto a pvc pipe and secured to the ceiling. The cloth can let air circulation through by the means of a fan(s). The ends of the framing have foiled faced styro insulated panels.    
Here we have cups ready to go, each cup may have anywhere between 2 and 20 seeds depending on the variety.
I'm starting out alittle different with the seed soak this season. In the past I've used Potassium Nitrate (Salt Petre) for part of the soak. I'm out of it and its too late to order....what I'm doing instead is a 2 hr soak with 10% Hydrogen Peroxide/ water mix.......drain out then a 24hr soak with a brew of Chamomile Tea (4 tea bags to a gallon of distilled) plus one drop of Superthrive to the gallon. I haven't used the tea before but have heard excellent results in regards to damping off prevention or seed fungal issues.    
The mediums for the indoor grow.....Hoffmans for the seed starter. For the potting up I'm using a mix of Happy Frog, Ocean Forest and Pro-Mix. These will get equally mixed into thirds. My usual Fafards MetroMix is not in stock. These will give great results as I've used them in the past.  
a few more shots later after dinner...........did some body say Octopus in Red Sauce.....yum