I want to start off by saying I'm excited to be trying my hand at growing peppers again. This is the first time I'm doing any gardening aside from growing some countertop kitchen herbs in the last 8 or so years.
Anyway, I picked up a bunch of seeds from Texas Hot Peppers on Black Friday (fantastic sale), way more than I needed for myself. So I'll be starting seedlings and giving them away to friends and family as I decide what I want to keep in my garden this year. I'll add a post to the glog with the list later once I start prepping plants for what will be going outside, but for now, I'm just growing a few plants for indoors.
---
---
---
---
Equipment info if anyone is interested:
Spider Farmer SF1000Dv2? v3? Has a dimmer knob and uneven led spacing to get more light to the edges and lessen the hotspot in the center
HLG 100 Rspec (both lights purchased secondhand at great prices from facebook marketplace and ebay, just check frequently and you'll find deals eventually)
Mechanical timer for the lights
iPower 2'x4'x5' grow tent. Quite a few reviews say it leaks light/has pinholes. Well, I imagine most tents would have pinholes around the zipper areas. Almost no light leak for me and I was often having to check closely to see if the lights were still on. I'd definitely buy this tent again or a larger one if I ever needed another.
10x20" seedling heating mat with Inkbird ITC-308 to turn it on and off
---
---
12/8 - I started some seeds:
2x Sugar Rush Peach
2x Hot Paper Lantern
2x KS Lemon Starburst
3x Red Shark
---
12/17 - Got some sprouts after about a week to a week and a half. Unsurprisingly, the fastest to sprout were the SRP and then hot paper lantern. By this point, those are the only two to get sprouts. I have the heat mat on top of a folded towel and two small cardboard boxes to try and keep the heat from going anywhere other than into the seedlings.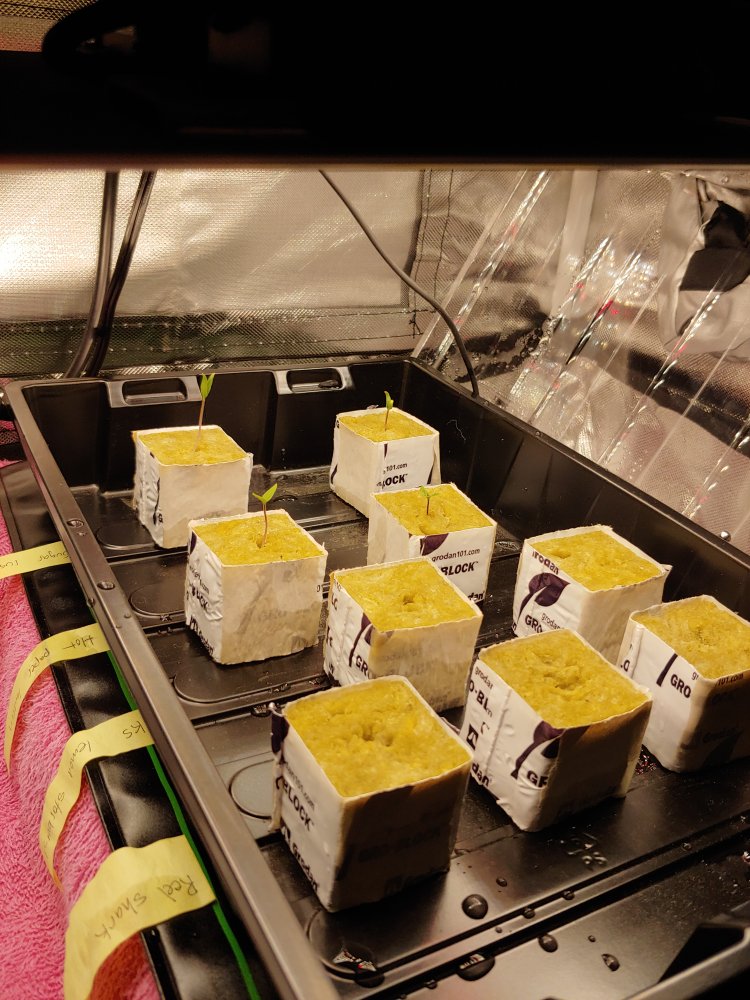 The SRP came in a little odd. I assumed the one on the left was just wanting more light, so I upped the strength of my light (Spider Farmer SF1000D v2? has a dimmer knob so I can hang it close and lower the power on it and save some electricity rather than use full power and adjust the height). Not sure about the one on the right, but it's survived so far, so I'm not too worried.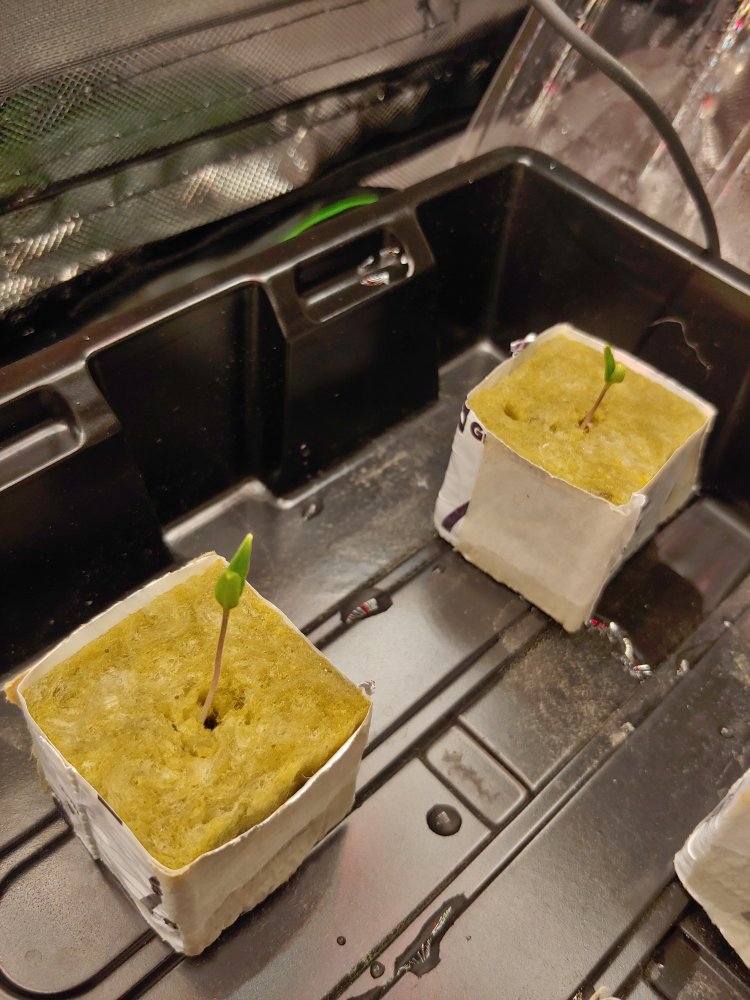 In this photo the light is probably 6" from the top of the dome, I've since lowered it, and is probably around 3" now.
---
12/21 - SRP first set of true leaves started to grow along with the hot paper lantern sprouts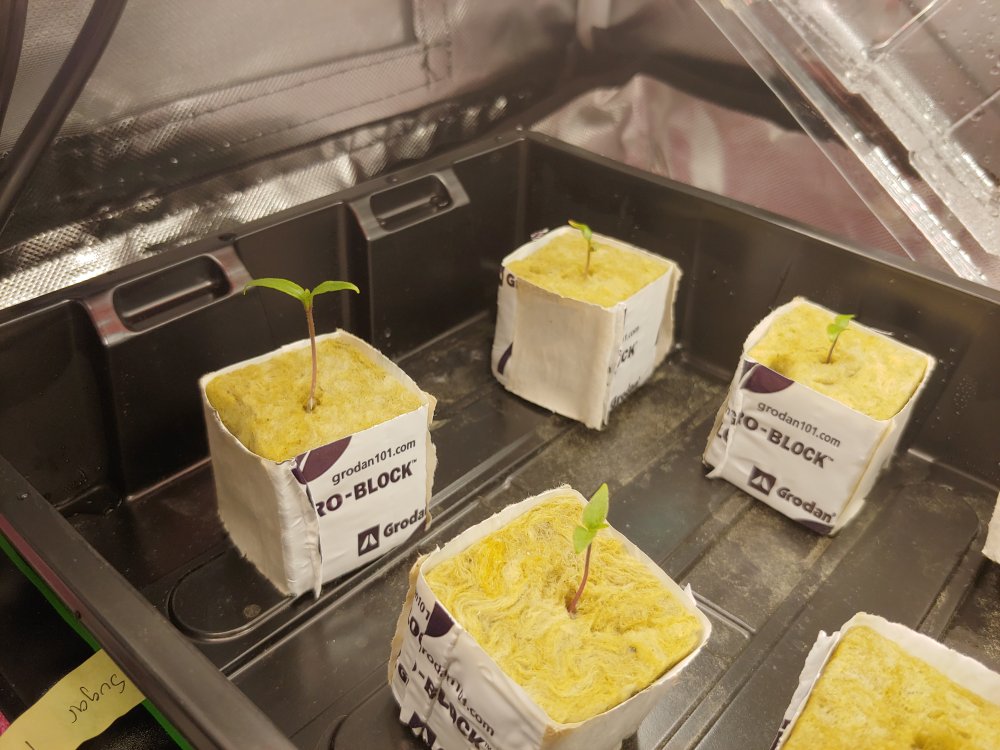 ---
Around 12/25ish one of the hot paper lanterns dried out despite all the other cubes having sufficient water. Also, one of the KS Lemon Starburst had started shooting its seedling root out, so I left it to do its thing. But it never tried pushing its way up and out of the rockwool cube, also the casing was turning black. So I tried to help it and right when I touched it it all fell apart and was soft and mushy. I'm guessing it stayed too wet after it had tried to grow? Anyway, I didn't take a photo of that or the other dried seedling.
---
12/27 - Added more seeds after my order from Baker Creek Peppers came in:
Shishito
Aji Charpita
re-seeded another 2 KS Lemon Starburst as I really want one of these to grow
Since those seed packs came with so many seeds I tried splitting a rockwool cube in half and putting 3 seeds on each, I also tried starting a seed or two on tiny pieces of rockwool to see if that'd end up working or not as a little experiment.
Also, one of the red shark sprouts has purple leaves and was the first one to sprout. So I'm hoping the pods have the dark purple to red coloration as well. If they do, I'll definitely be saving those seeds, hopefully moving another generation closer to being stabilized.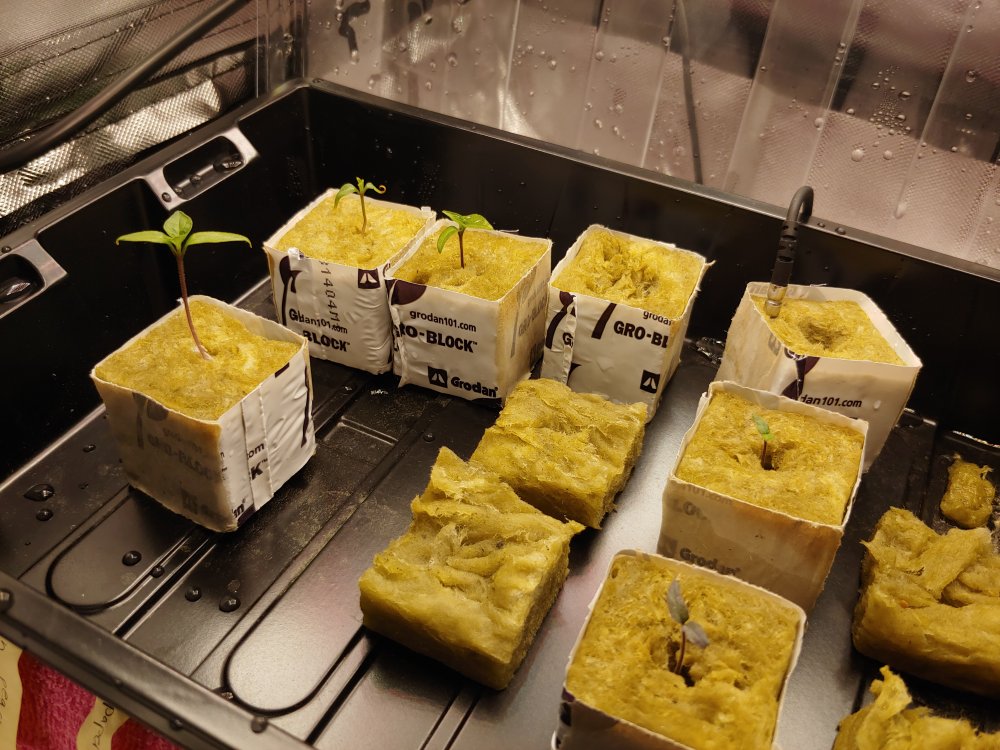 ---
12/29 - Transferred my big SRP sprout into a Kratky method hydroponics bucket. The buckets are 2gal buckets that I got from a friend who works at a bakery. Apparently, they sell the 5gal buckets that they get ingredients in 2/$1 and these small 2gal buckets are free since they have so many that normally just get thrown away.
I only used General Hydroponics Maxigrow for now as I figured I'd want more nitrogen than other things to get these sprouts to grow quickly. I know sprouts need weaker ferts so I used ~1.5tsp for 1.75gal of water (the bag said 1-2 tsp per gallon), I balanced with some PH down to get between 6.0-6.5PH as I've heard that's more ideal for peppers.
(If anyone has experience with hydro pepper grows, please let me know if I'm getting my amounts/numbers wrong. I want all these little seedlings to live!)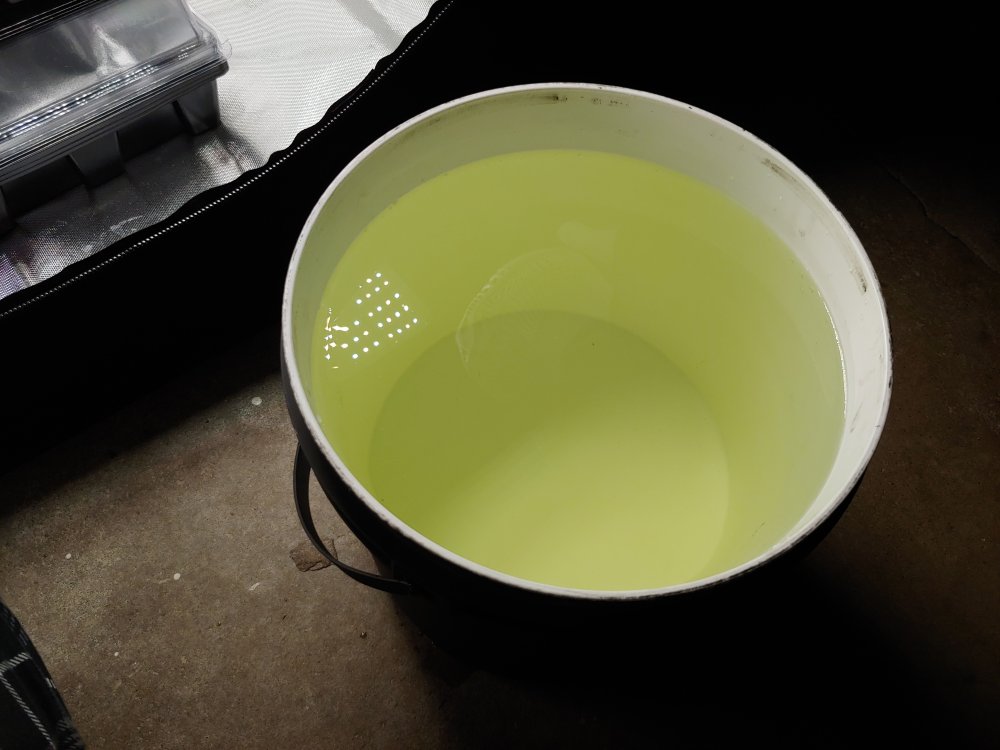 I've also got a 3D printer as that's another one of my hobbies. I found these little square netcups online and decided to try those as I didn't have round netcups or the filler materials people often use with them. I resized the cups as they were designed for 1" cubes but I had 1.5" cubes that I got from the person that sold me the HLG 100 light.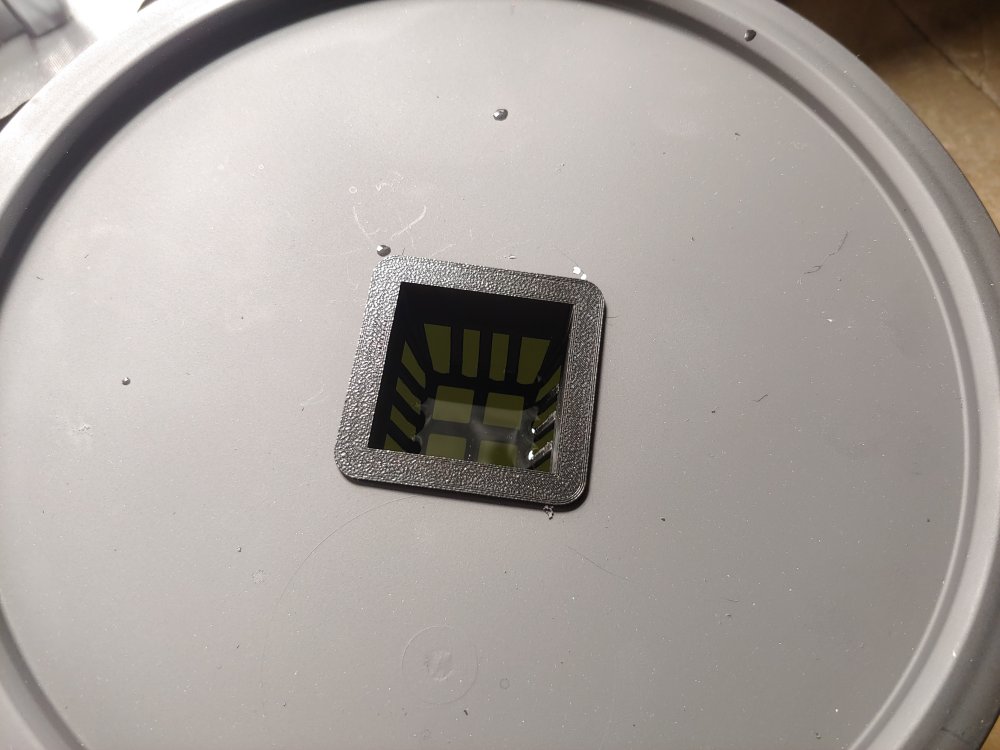 The seedling was starting to get roots to the bottom and even sides of the rockwool cube which surprised me.
I also painted the bucket black to try and block out light from getting inside and growing algea.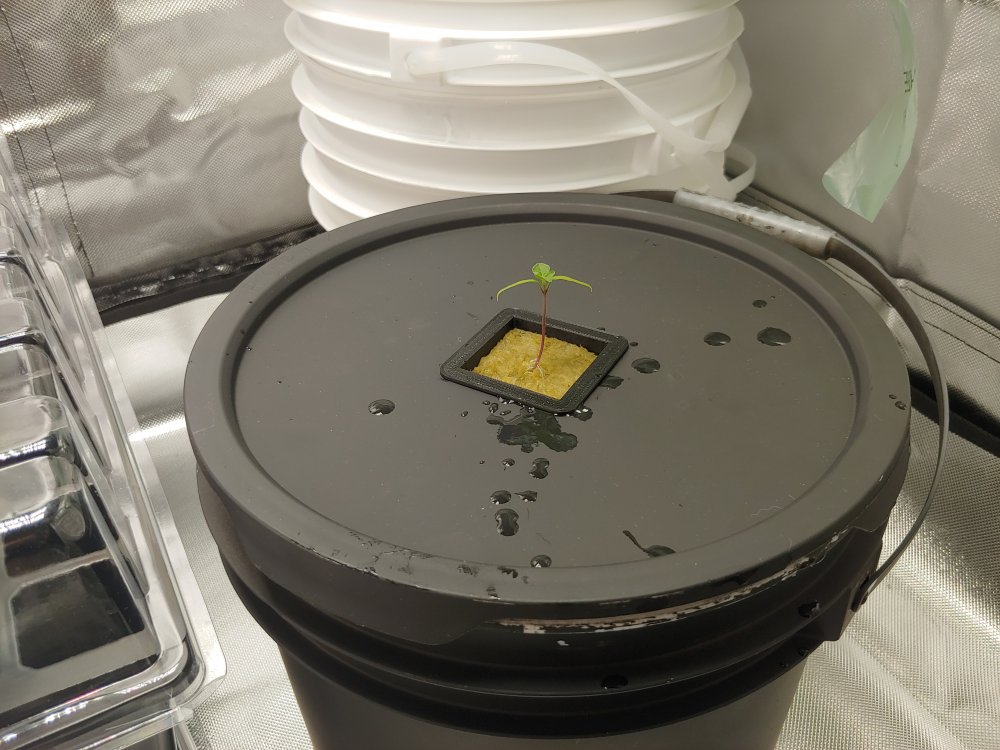 Unfortunately, I can't lower the HLG 100 any further (probably ~20-26" above the bucket) with the cheap straps that came with the grow tent. The ratcheting cords that came with the SF1000D are nice but I'm not going to buy more of them. For the time being, I'll probably just put the bucket on top of another bucket while I 3d print some mechanism to work with some paracord I think I have lying around somewhere.
I'm looking forward to being able to update this glog every few days or whenever any significant progress happens with the plants/grow set-up.
Last edited: