Hey guys,
Im relatively new to the gardening game, so Im looking forward to learning from all you pros. I love growing a wide variety of things but the peppers are what really gets me excited. This will be my 5th year gardening so Ill be expanding the list beyond jalapeños and sweet peppers, and see how the super hots treat me.
Due to moving, I made the mistake of placing my seedlings in with my overwintered plants. All was well until the older plants started showing signs of mite damage. I immediately sprayed a miticide on the OW, and a very light neem/soap mix on the seedlings. I think the mites are under control and the mature plants will bounce back just fine. My concern are the seedlings. Ive never had to deal with mites on such young plants. They also endured some cold nights in my garage. They started looking pretty bad; Brown spots all over the leaves and all new growth came in white/yellow. I wont trash them yet, but to play it safe I went ahead and started a new batch of seeds. It has been nine days now and everything has sprouted except for the Bhut Copenhagen. It was the last to sprout last time around as well, so no worries. The only one that Ive had a difficult time germinating has been the fatalli (1 out of 4 so far). Well see what happens though. Heres a list of this years peppers:
Fatalli
Bhut Copenhagen
Trinidad scorpion
Long tail scorpion
Genghis Kahn brain
Red Savina Hab
Orange Hab
Sugar rush peach
Piri Piri
Cayenne
Jalapeño
Shishito
Banana
Bell
Nothing fancy. A heat mat, tote, and a cheap led
Here is one from the first round of seeds that started looking rough.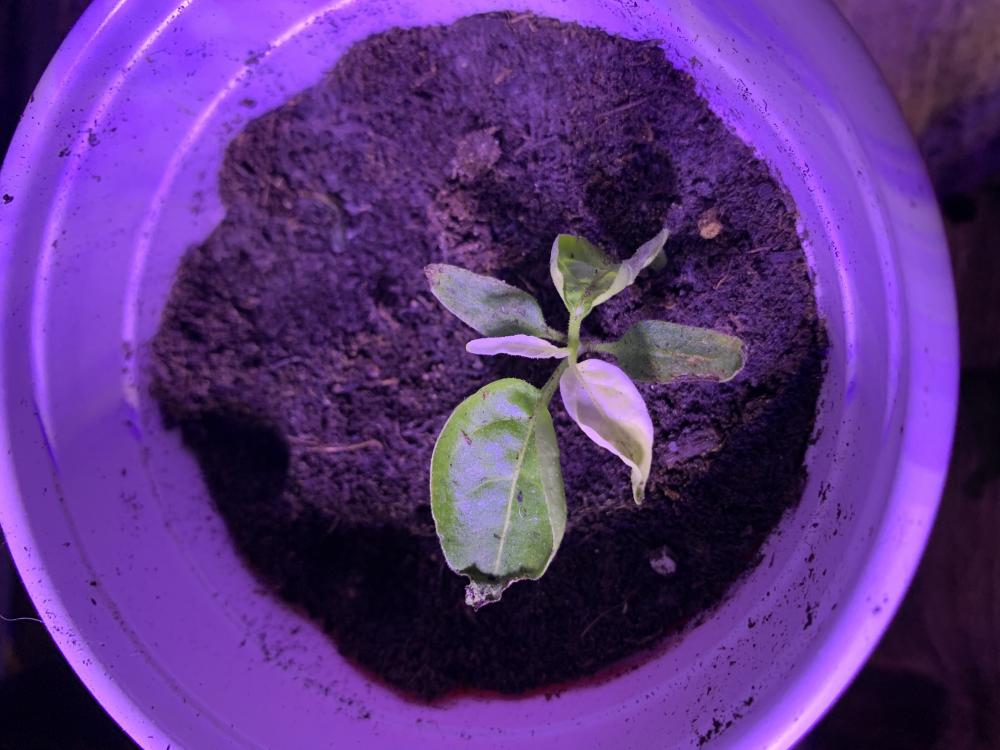 My over wintered japs and habs