Hello there pepperheads, long time no see!
I haven't grown anything since the 2018 season which was not a great one for me. Had okayish yield for an indoor grow, but I was swamped at work and tried too many new things which kind of made me burn out on the growing.
I live in an apartment in the city, with no balcony, so I'm a strict indoor grower which has it's challenges regarding space, light, and so forth. But I've had quite good yields despite this.
This year is no different, pure indoor grow in the same apartment with the same limitations.
This first post will be a bit long since it covers the first month, but I will do my best to do frequent updates for your reading pleasure.
With that said, let's go back to late 2022, and I got the itch to grow again after talking pepper growing with a colleague.
But this time things were going to be different! Scale back on number of plants(not have 30+), don't try a bunch of fancy things or new grow techniques, keep it simple.
So I sorted through my seed collection (106 varieties
), narrowed it down to 15ish candidates, I only planned to have at most 12 plants.
Then black friday came around, and TexasHotPeppers promotion was just too good to pass up considering there were a lot of interesting varieties I wanted to try.
Back to the drawing board:
In the end I decided on 13 plants and 13 different varieties:
GRIF 9165
SB7J
White Bullet Habanero
Sugar Rush X Mango
Dieghito Jalapeño
Galapagos Isabela Habanero
KS Lemon Starrburst
White Moruga
Olho De Mutum
Yellow Bullet Habanero
Chiltepin Amarillo
Chupetinho White
Trinidad Scorpion X Congo Chocolate
Since I've lost much of my tolerance for the super hots I decided to try and cover a lot of the scoville scale to help me ease back into eating my favourite peppers, Moruga Scorpions
Now the thing about not trying out new things lasted about two shakes of a lamb's tail, because I wanted to change my grow space. It was previously on shelves in the kitchen, but now it was going to be in the living room, so I needed to restrict the amount of light from the the grow space.
So say hello to my new Mars Hydro grow tent. It's 120x60x180cm (4x2x6'):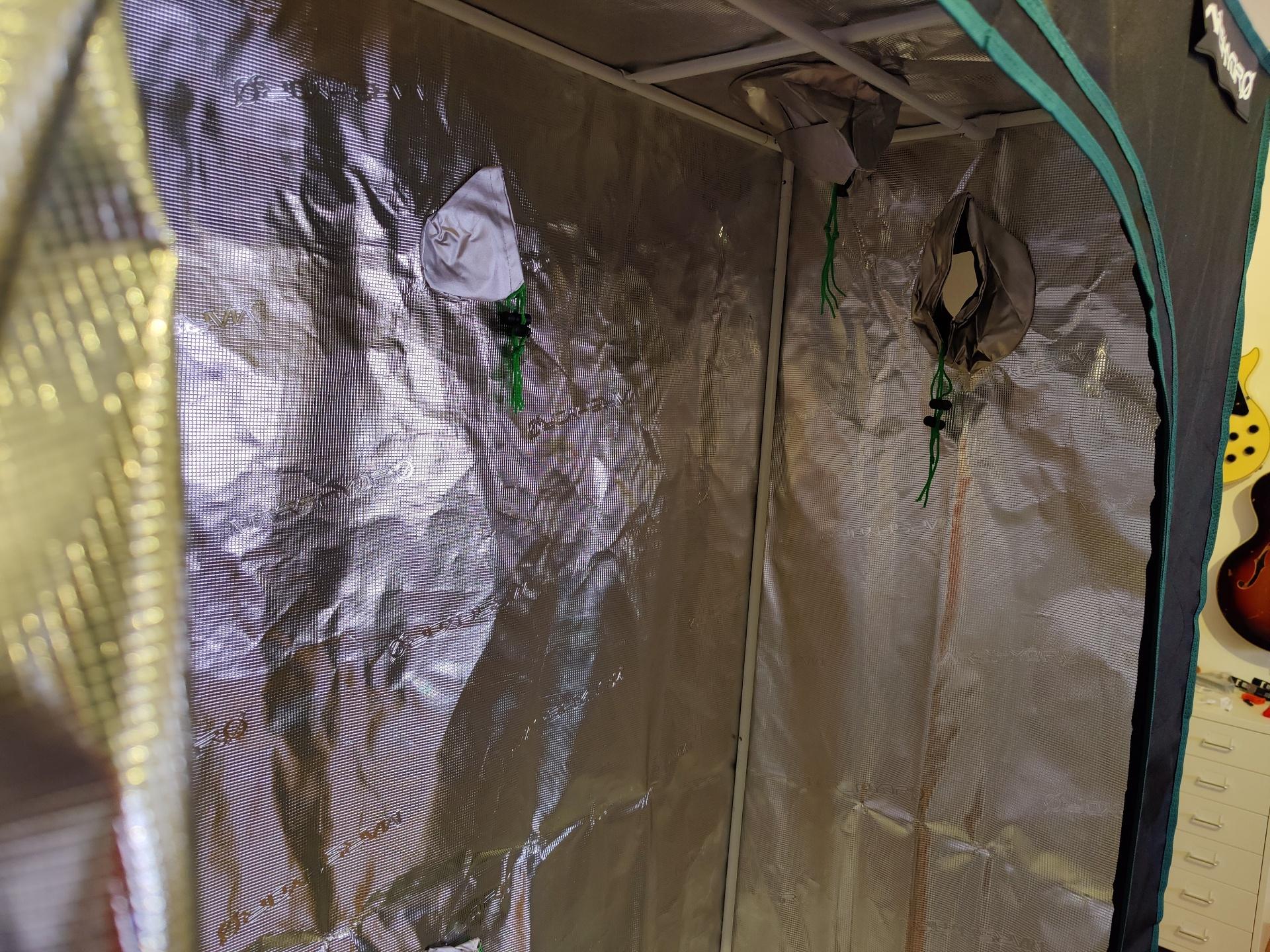 With that out of the way it was finally time to start growing. Seeds went into dirt on the 27th of December, two of each variety in case I would have germination issues:
I always start the grow with T5 lights for the extra heat output, so I generally don't need heat mats or other forms of heat generation: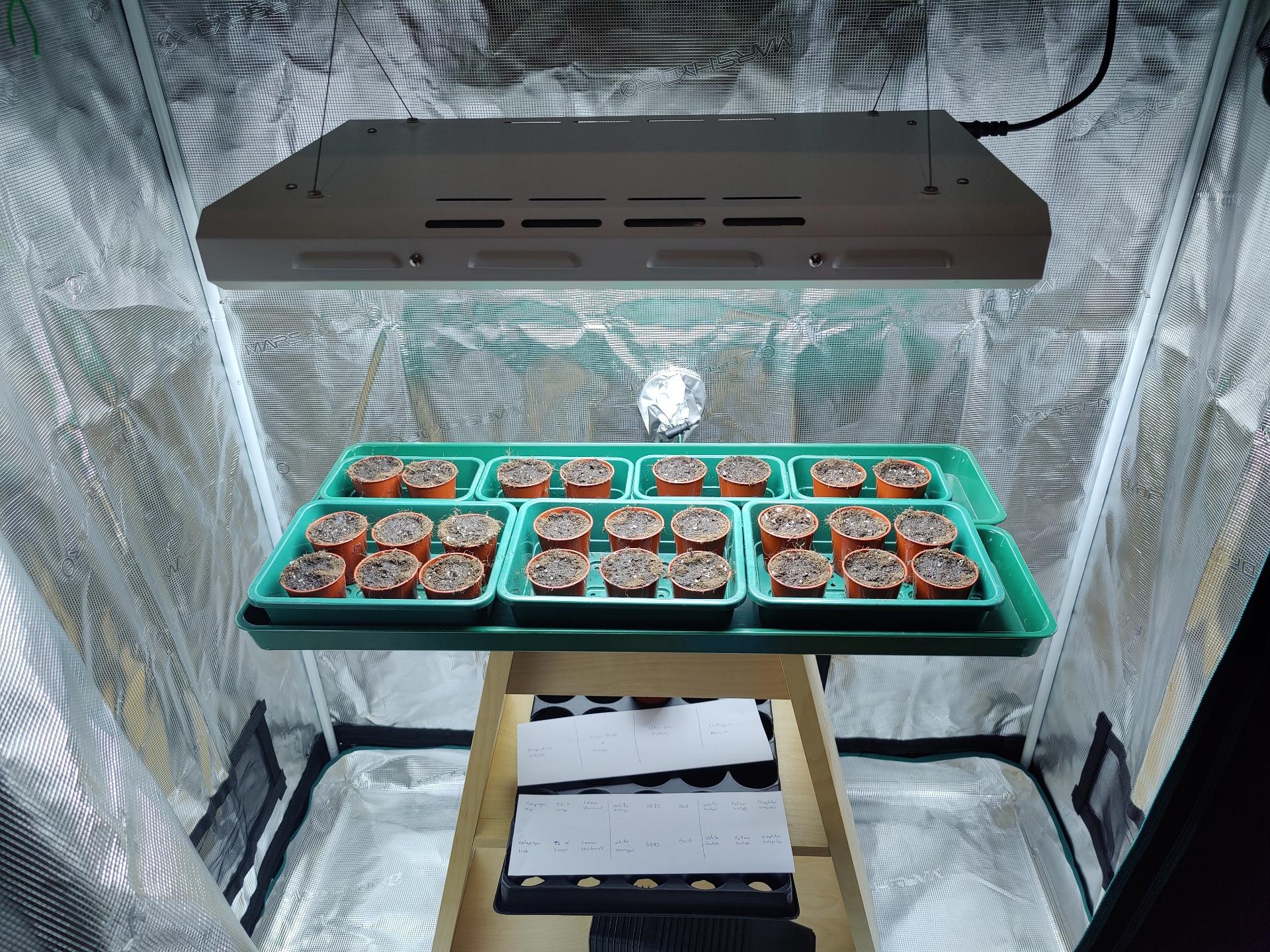 First hook came on 2nd of January, Chupetinho White:
Then the others started following:
All in all I got all varieties to germinate, but 4 seeds failed to germinate so in the end I have 22 plants and the plan is to give away the ones I won't keep and stick to the plan of 13 plants... or so I thought, but more on that later

Since the grow tent becomes it's own environment I felt it was prudent to keep an eye on temperature and humidity, and since I like technology I got me some "smart" sensors:
They've been added to my "smart home" setup and it's quite nifty to see how humidity and temperature changes based on lighting, when you water, and so on. This might be expanded on with more sensors, automation and whathaveyou, unless I actually manage to keep it simple
Fast forward about a week and the plants are growing nicely, but they are getting leggy:
My plan was to swap out the T5 for some LED lights I have so I can have the lights closer to the plants and not get any sunburn on them.
But as I swapped lights I realized that the light coverage was not nearly good enough, and even if I used my two LED lights it probably wouldn't be optimal.
So I went researching and hunting.
I've always been a fan of Mars Hydro products so I found a decent deal on a new LED light that was perfect for the tent.
Say hello to Mars Hydro SP 3000:
Initial impressions are really good and the possibility to dim the lights is really good because this thing gets very, very bright. Currently have it on 50% but 25% might also be enough.
Grow space has been adjusted and plants moved:
Still quite happy, except for the front left one on the middle tray which I accidentally let dry out and it never recovered:
Plants took a liking to the new light and grew some more, but they did start showing signs of nutrient deficiency:
I use soil that is almost devoid of nutes, so it's time to very carefully start feeding them some nutrient solution when watering.
Now we are caught up...
So my plan this year is to have 6 plants in the grow tent and the rest will go on my window sills, I'm still undecided on pot size for the tent but I'm leaning towards 2 gallon.
Or rather, I should say that
was
my plan, because my employer has asked me to relocate which I have agreed to. There is no rush, but there most likely will be a move within 6 months and perhaps that will give me an option to continue the grow outdoors, and to keep more plants

We'll simply have to see.
As for this Glog, I'm going to do my best to keep updating it and not stop towards the end of the season (I've failed every time, but this year will be different!

)
I'm also going to get back to using my photography equipment and take beautiful pictures of the plants and peppers.
Plus I intend to do tasting of the peppers and give reviews, only in text and images though, no videos.
Here's to a great grow season in 2023 fellow pepper heads!