Hello again, I'm back with a new grow log. This year I'm growing much the same as last year. The main difference is I've added 200 Aji Guyannas and some Jalapenos to the mix. I've never grown any annuums before, so that's a first. The Aji sauce was one of my best sellers last year. It came out with a sort of sour tomato taste, kind of salsa verde-like.
Growing in the same 3 spots as before. I started my seeds on 02/22/2023, and reseeded a bunch on 03/03, mainly because the top shelf got too hot and zapped most of the yellow 7 pots. I potted them up from 1" pots to 3" the week of 04/03. Got them outside to harden off on 05/05. Overall I'd say the plants this year are a bit less healthy than last year, not sure why. I partly blame the latest batch of potting soil I got from Lowes. Sometimes the yellow bag just lets a guy down. I'm seriously thinking to switching to foxfarm or something more reputable just for what I hope will be better consistency. The ones in the yellow bags I had leftover from last year are doing much better. I mixed in some organic tomato and vegetable fertilizer and epsom salts with all of them when I potted them up.
Here's the breakdown:
Code:
id    count    variety
1.    1008    yellow 7 pots
2.    300    chocolate habs
3.    100    p. dreddies
4.    100    ghosts
5.    200    aji guyannas
6.    25    reapers
7.    100    jalapenos
8.    6    7 pot caramel
9.    6    evergreen fatali
10.    6    red spaceship
11.    6    caribbean red
12.    6    aji panca
13.    6    7 pot bubblegum
14.    6    pink tiger
15.    6    white bullet hab
16.    6    7 pot chaguana
17.    6    moruga scorpion
18.    6    yakki blue
19.    6    7 pot congo sr gigantic red
Those higher numbered ones are a wide variety of the old seeds I had from 8 or 9 years ago. They've been in the fridge the whole time. I got full germination except for #12, of which none sprouted. I'm thinking I'll grow one of each in buckets in my yard in the hopes of saving seeds from them all, just to keep the lines going. Really looking forward to the white bullet habs, I remember those being really good. They originally came from a hab mixed pack from Pepper Joe. The jalapenos came from some good pods I got from a friend at the farmers market. Hoping they have as much heat as the parents did.
Pics!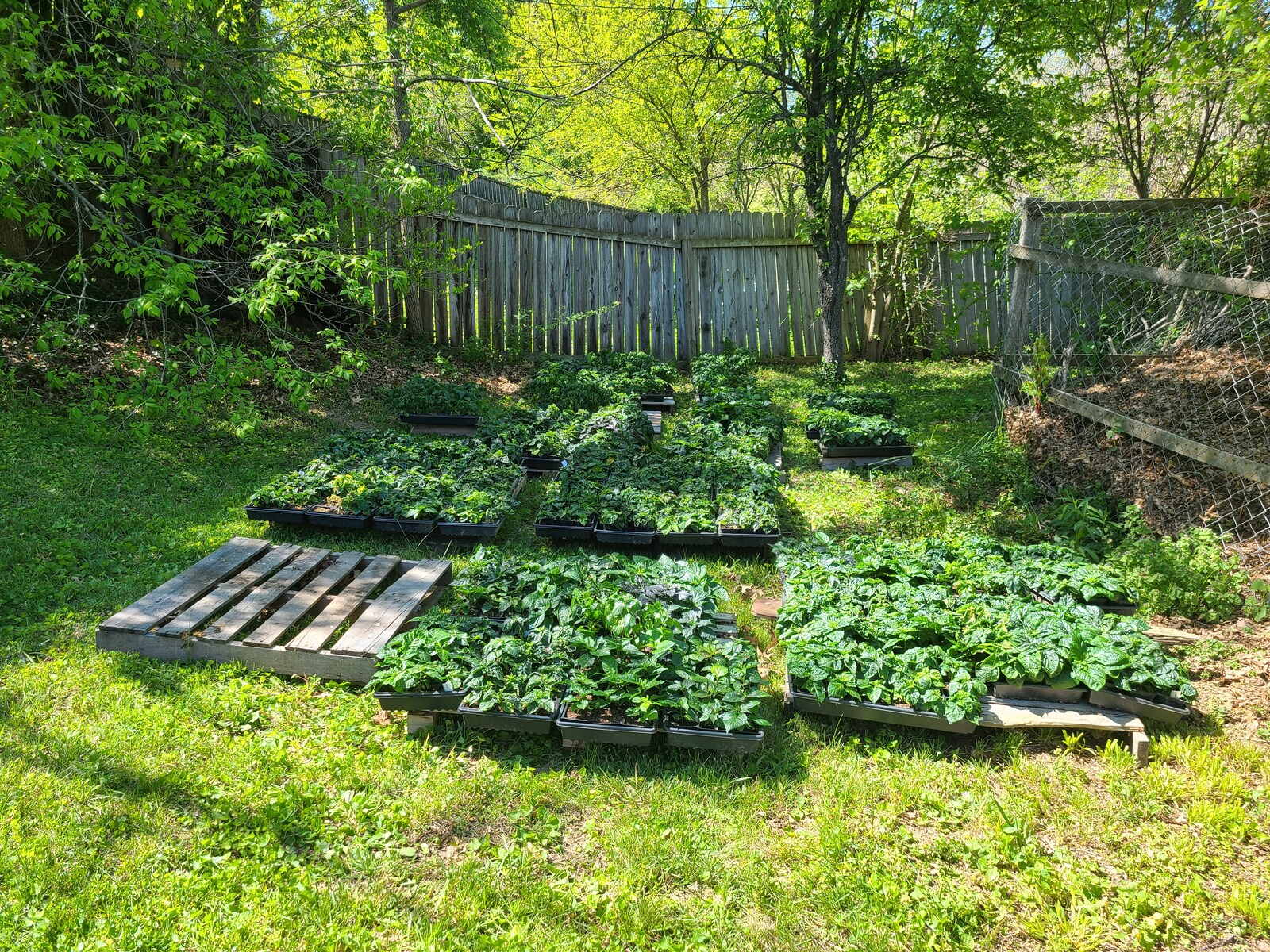 Teaser pic for the front page.
Nice Hobart continuous feed food processor I picked up from a surplus auction. Should save me some time. We had one of these when I worked at Long John Silvers back in the day to make the coleslaw. It had all kinds of warning stickers on it about how you could be permanently maimed if you weren't careful. We totally disregarded those, lol. I don't recall anyone ever losing a finger.
Aji sprouts on 02/28.
Aji sprouts on 03/06.
Chocolate hab sprouts on 03/06.
Taking up the row cover in the big field. We tilled it again this year so the soil will be much looser, should make it a lot easier to get the plants in. I still have to get it back down before I get the plants in. Planning to get started on that tomorrow night.
Yellow 7 pot sprouts on 03/18. These were reseeded on 03/02 so they're a little behind.
Shelf 1 on 03/23.
Row cover up.
Shelf on 03/28.
Ajis and jalapenos 03/28.
Yellow 7 pots 03/28.
Ghosts and one of the trays of outliers. Notice the dead #12s.
Sticking labels on some yellow 7 pots.
I started using a price gun for the lot numbers this year. This way I can reuse the labels from year to year since they aren't printed directly on it.
Plants 04/02.
Chocolate habs potted up 04/09.
Potted up yellow 7 pots.
Yellow 7 pots in the bad soil 04/12. These were already the worst of the plants that went into this soil because I potted up the healthiest ones first into the old soil. By the time I got to the new bags I was on the less healthy plants. But even aside from that, I had a few healthy ones that went into it and are doing way worse than they should be. The good stuff had lots of fibrous bits in it and the new stuff was more uniform, like coir. Even if I don't go with a higher quality soil I'll definitely be buying a bag and checking it to make sure it's the good stuff before I load up on it.
The sauce on the shelf at a local grocery store.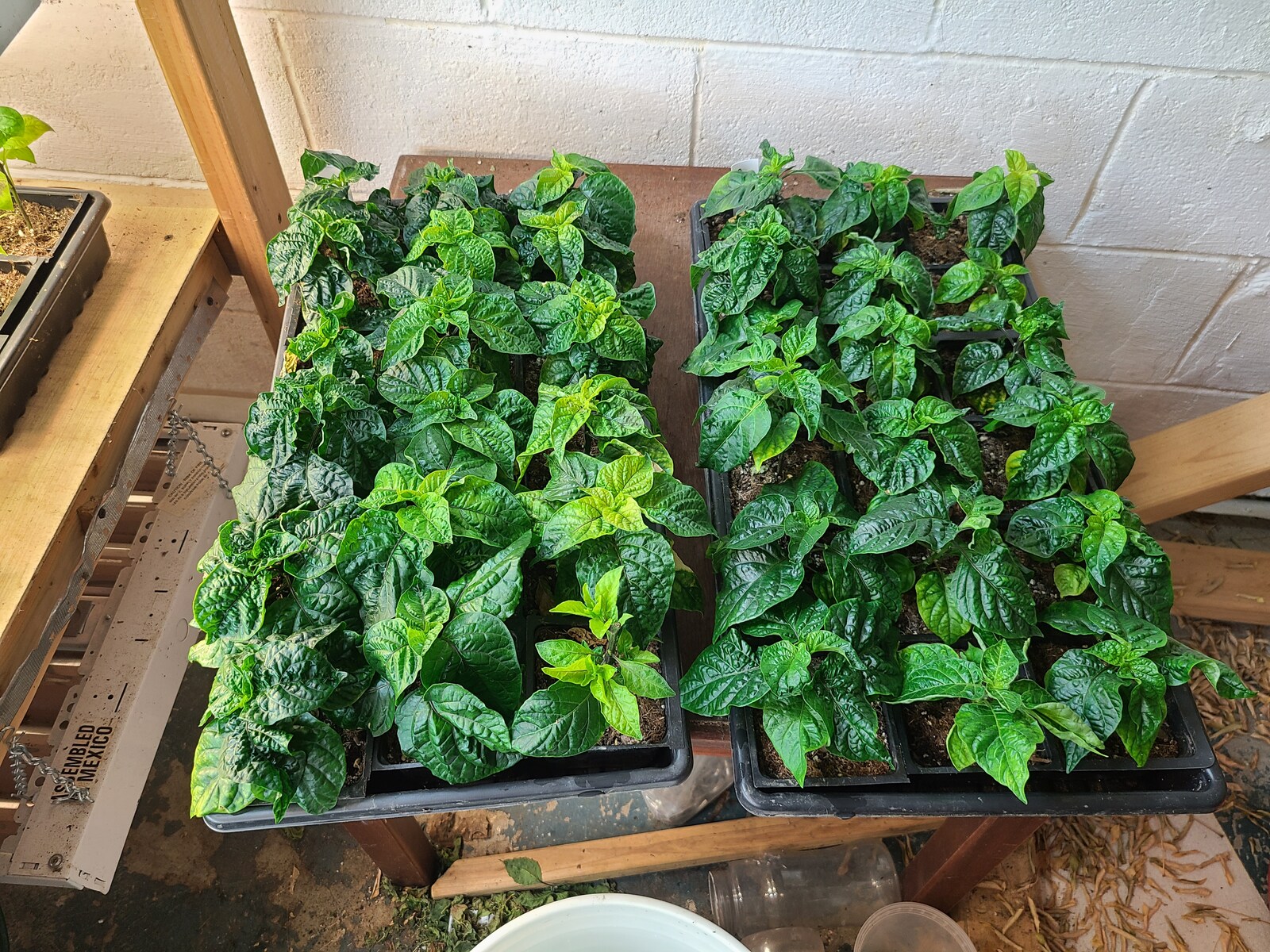 Chocolate habs 04/16.
Yellow 7 pots 04/19.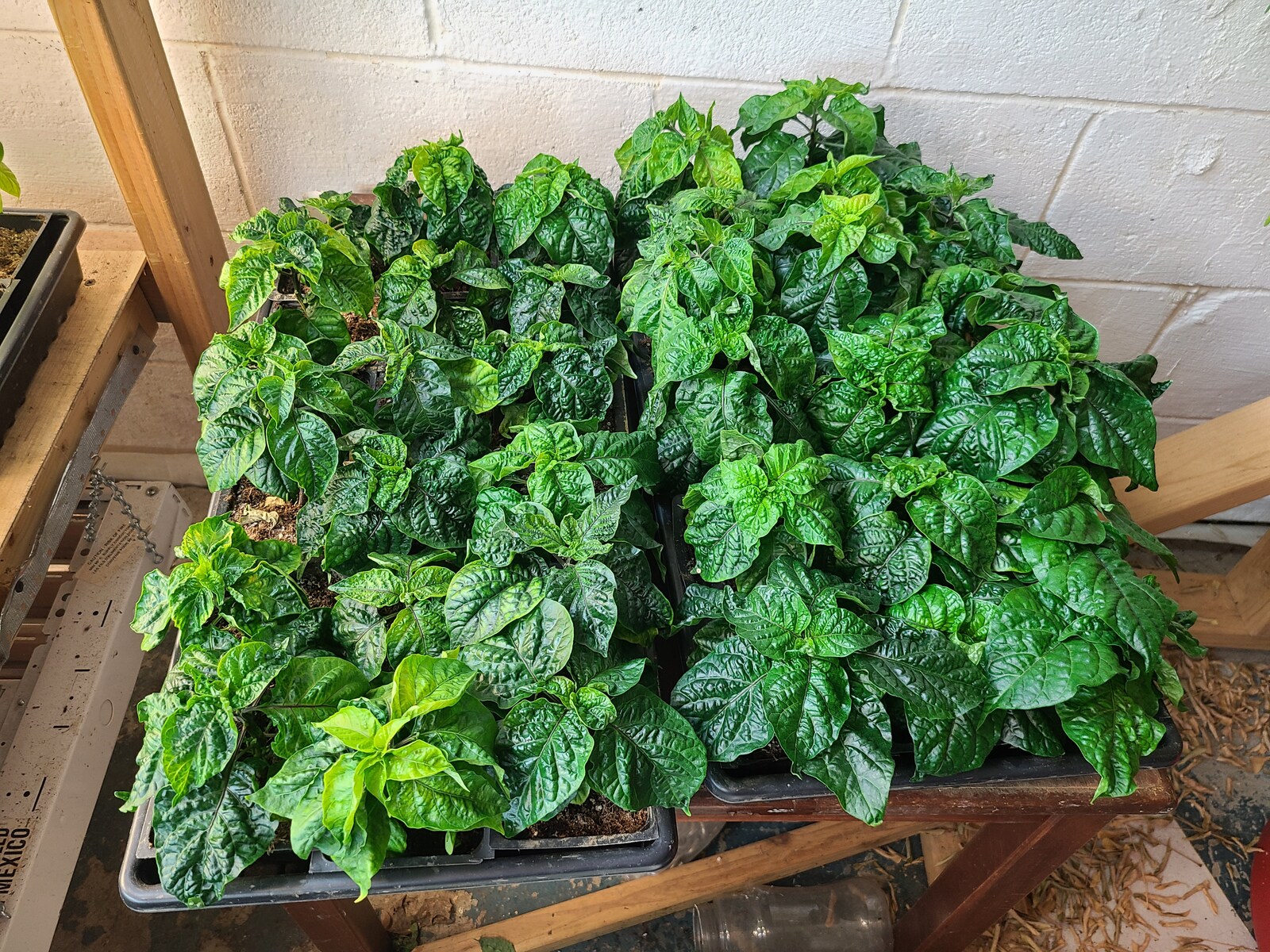 Chocolate habs 04/21.
Shelf 1 04/22.
Shelf 2 04/23.
Yellow 7 pots 05/02.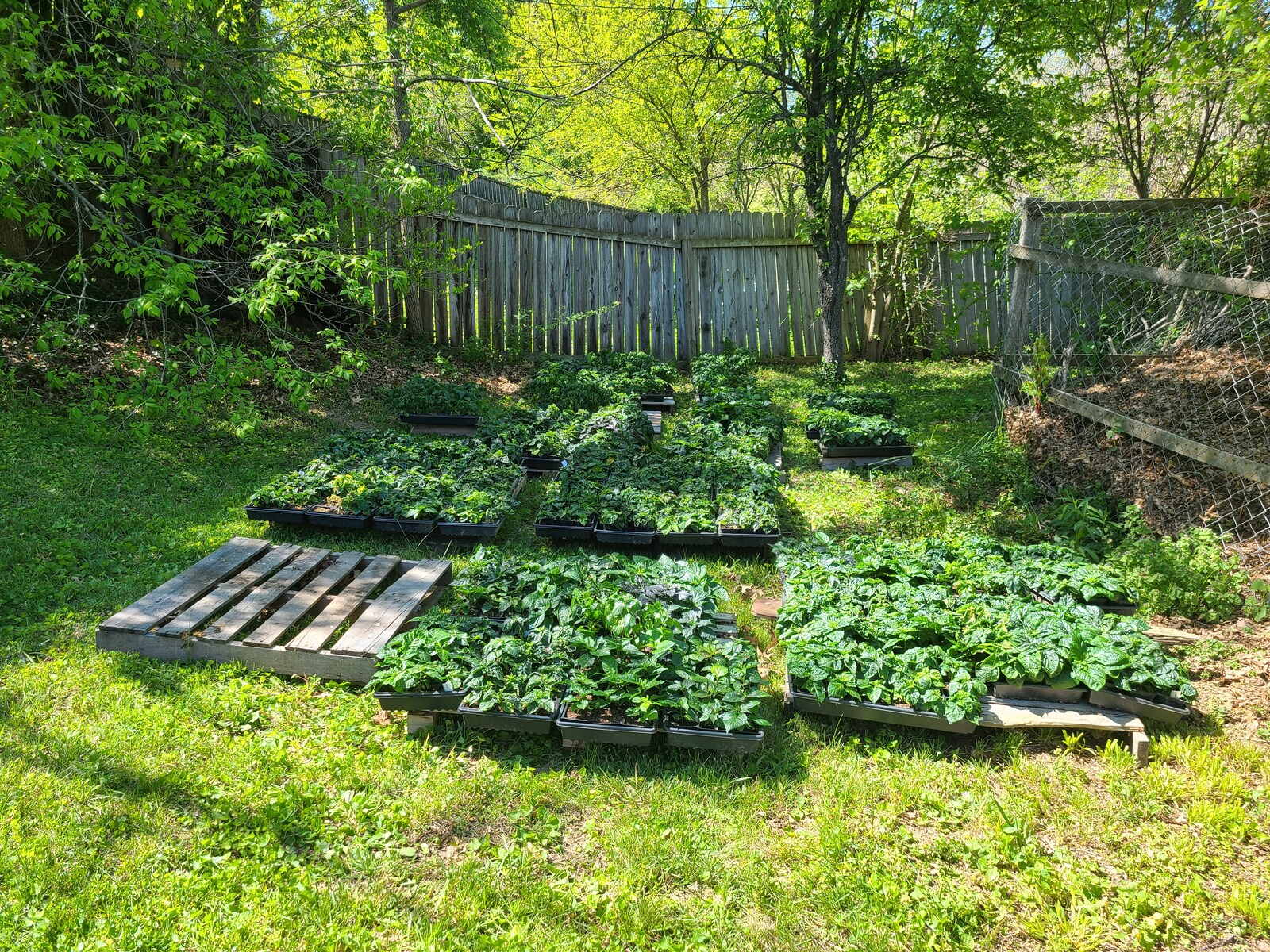 Plants outside on 05/05.
Outside 05/10.
I found this nest of baby rabbits in one of my community garden spots.
I'm shooting to start getting the plants in the ground on Monday. It's going to be a slog. Wish me luck.