So I'm new to growing peppers and basically anything except my belly. This February I started some seeds from Pepper Joe: Habaneros, Jalapeno Early and Black, Big Jim, Atomic Starfish, Sepia Serpent, and Apocalypse Scorpion. Long story short today I have 10 plants and 8 of them are not doing well and I can't figure out why.
Every one except Jalapenos is developing light yellow dots on the leaves which later progress to bright yellow and then gray thin dots of dead matter. You can see it in the pictures. Old leaves affected, new ones are okay.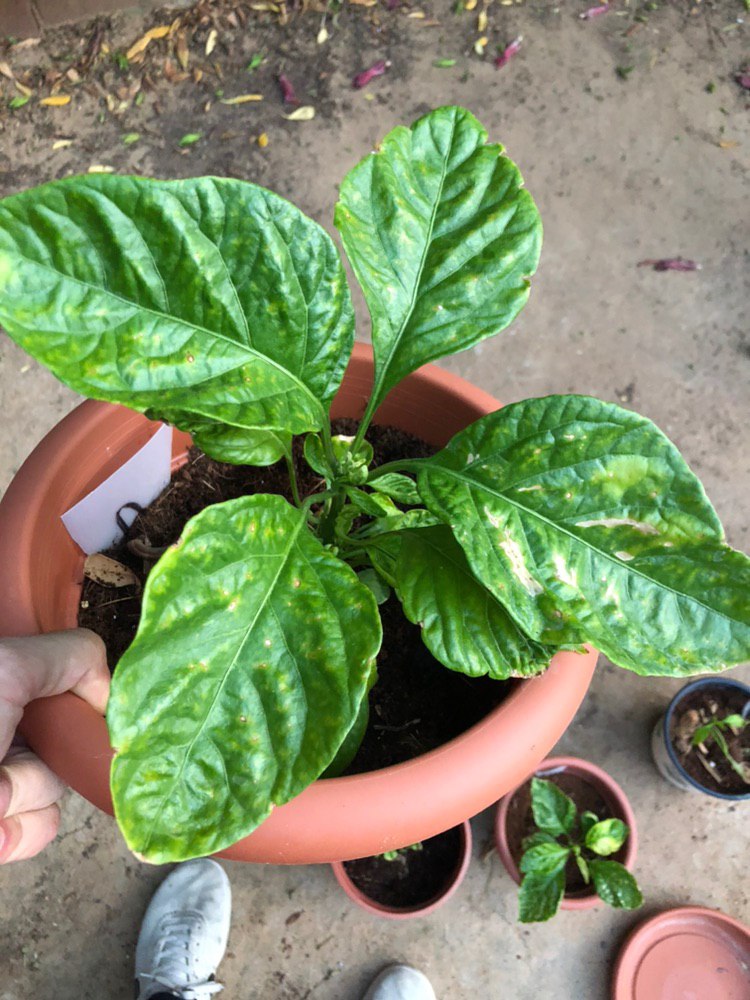 Here is full album with dates.
Some technical details:  
Earth mix is fresh - just 1.5 months after re-potting. It has some osmocot in it, some compost and should be okay, at least that's what I was told by the local gardening shop owner.   
I went through all the deficiency charts I could find, but still no idea whats happening. I tried to feed them cal-mag and Chilli Focus fertiliser in small amount (half of the recommended). No effect after 10 days, new leaves still curled, light in color and deformed.   
Water ph is between 7 and 8. Earth mix should also be in range, but I can't test it. No aphids - 2 months ago treated the plants with confidor. (Re-poted since, but still no aphids)  
I'm from Israel, so the weather is hot these days, it's 30 Celsius/86 Fahrenheit, even more on under the direct sun. So maybe I have burned them, don't know. Jalapenos and Starfish doing well under this sun.  
I have new peppers getting ready to be poted and want to understand what I'm doing wrong and how to fix it. Grateful for any help and ideas.