Captain Caliente and I traded some sauces.  Some things raised questions to me, but after some discussion with Captain Caliente, I was happy to learn that his sauces are made in a commissary kitchen in Florida and he is licensed with Florida and has had testing and all that stuff done. 
What I received was the Green-Go sauce, the Original sauce and an infused vinegar.      
Vinegar-
Apple Cider Vinegar
Pure Honey
Kosher Salt  
Test below ingredients says-
"the vinegar is infused with jalapeno, scorpion, 7-pot, ghost and cayenne peppers along with onion and garlic."  
The vinegar is a little cloudy, which is to be expected of something infused with vegetables and chiles like that.   I get a bit of sweet (from the honey) and can still taste the other peppers/onion/garlic.  The ACV isn't too strong.  I haven't used this vinegar in a dressing or anything yet.  I like it and will keep it available.    
Green-Go-
Apple cider vinegar
jalapeno
scorpion
7-pot
ghost
cayenne
Pure Honey
onion
garlic
kosher salt    
The Original-
ACV
jalapeno
scorpion
7-pot
ghost
cayenne
honey
onion
garlic
kosher salt    
Both sauces have a similar profile.  Peppers, sweet, tang.  The green sauce is a little more pulpy, the red sauce is smoother. 
Capt Caliente had been posting about highlighting the peppers and such.  The 2 sauces are good flavored sauces.  I don't get the whole "highlight the chile" flavor profile from these sauces.  They are sauces that have great pepper flavors, but nothing specific.  And looking at the ingredients, which lists several peppers in each sauce, the blend of peppers with the other ingredients works.  That might be the flavor profile to work with and highlight down the road.  
The green sauce is a good medium heat sauce that should appeal to a wide market.  The red sauce is a good solid hot pepper sauce.  Too hot for most people, but right there for the folks that hang around here on THP.  Those crazy-a$$ chileheads who like the really spicy blends.  Yea, you know who you are....  
Both sauces have similar profiles with the honey and ACV.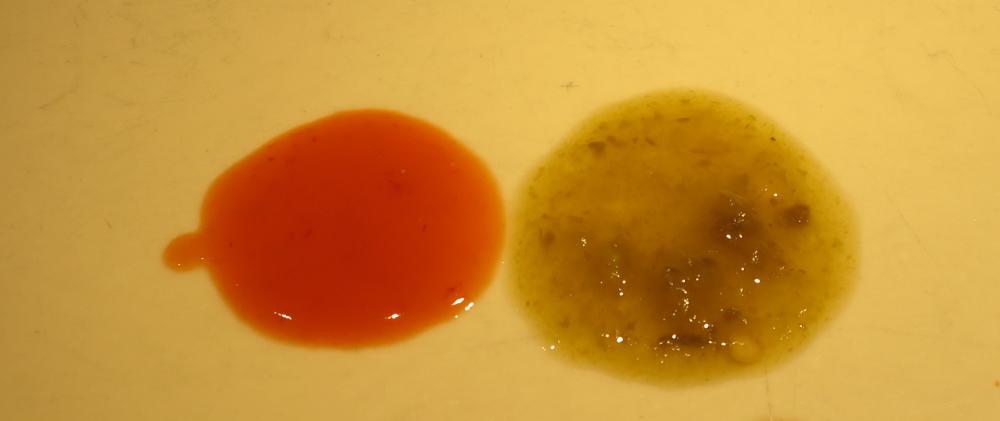 Some things to sort out with the labels and such.  For now, I'm happy to support a (new to us) hot sauce maker.