Hi guys!
Im new here, its my first post. Also new to growing peppers - thats my first season (hopefully of many to come).
I'd first give some details:
- i have 2 habanero & one yellow chilli that i grew from seeds. They perform well so far.
- there are other 11 plants that i got at 23rd of Apr. from local place.
After few days, i realised some of those 11 plants were infected with something.
Here are photos from the 23rd when i got em:
After asking around, i realised it's broad mites. I managed to get Abmactin only in 1 week and for that week i decided to go with a temporary weak solution that i saw on youtube - mixed dish soap with olive oil, water and 5% acid. I sprayed it on them. Most of their leaves dropped.
I was sad, at the weekend i got the abmactin and sprayed it as well. It seemed like the infestation has ended.
I also chopped some parts with bad leaves.
Since then i grew them inside under a 24w grow lamp, they were stunted. They all were in 0.5L pots. I ordered bigger pots (6.5L and 11L) and also checked their roots and chopped them. One had root locked, the rest were almost locked but not.
This is them now:
Yesterday i transplanted all of them into the bigger pots.
First question- i saw some threads regarding broad mites, i wonder if future pods will be damaged?
Second - why do they have this curled leaves?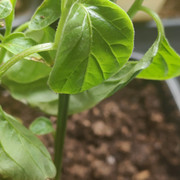 Third- this plant doesnt grow at all. I chopped some of its roots while transplanting yesterday. Any idea why? Also the color of the stem of the leaves is becoming brown a bit:
Last edited: