Hey everyone, I'm still getting my bearings straight on my Chili's but thought I'd share a GLOG of my *LEGAL* indoor cannabis adventures as I see some talking about it and making threads, this section of THP seems to be the place to share. In my state we have a 12 plant per two person household legal limit (flowering) and I'm well below that as in my tent I really only have space for 8 plants, and even that is a bit cramped as you'll see. On next run I'm planning on dropping back to 6 even as I like them to have a little breathing room and I think the plants appreciate it as well.
Right now I'm running the following equipment for those that like details:
8'x4' Secret Jardín tent
2 - HLG-650 Diablo lights
2- 6" AC infinity fans and scrubbers.
8 pot autopot system, using the 2.2 gallon pots with 2 of the 12.4 gallon reservoirs.
Nutrients and additives:
I use only RO water for everything.
Maxi grow, maxi bloom and Koolbloom in various ratios depending on plant stage of growth.
Additives that are always used:
Cal Mag
Silica blast
Hydroguard
SLF-100
I have water the plants once transplanted into the autopots. Once plants are established in the autopots then I flip on the reservoirs.
I run 1.7-1.9 EC throughout the grow until flush. PH at 5.5-5.6
I start out in veg with 100% maxigrow through to the end of week 1 of flower. Then I switch to 2/3 maxi bloom 1/3 maxi grow until around week 4-5. Then 100% bloom. During the last half of peak flowering I add Koolbloom for 2 weeks. It's a PK booster that really adds bulk to the flowers, increases resin content and terpines too.
Once plants are 2 weeks out from being done, I drop EC to 1.3 for one week. Then in the last week before chop I run only plain RO to let the plants eat up the stored nutrients and chlorophyll…. Allowing them to fade and yellow out before harvest.
Without further ado here's what I currently have going on now. Currently 7 plants in total as I had to yank one, it hermied on me.
First up: Exotic Genetix "Money Maker" she's a badass plant. Thick indica leaves but on a stretchy but robust structure with great internodal spacing. Structurally she's perfect.
Next up the Platinum Kush Breath. Stout stocky bushes, structure isn't quite as nice but to be fair these were topped randomly to keep them small while I was waiting for the flower tent to open up from the last run, so I can't hold that against them and the reviews of the strain are top notch.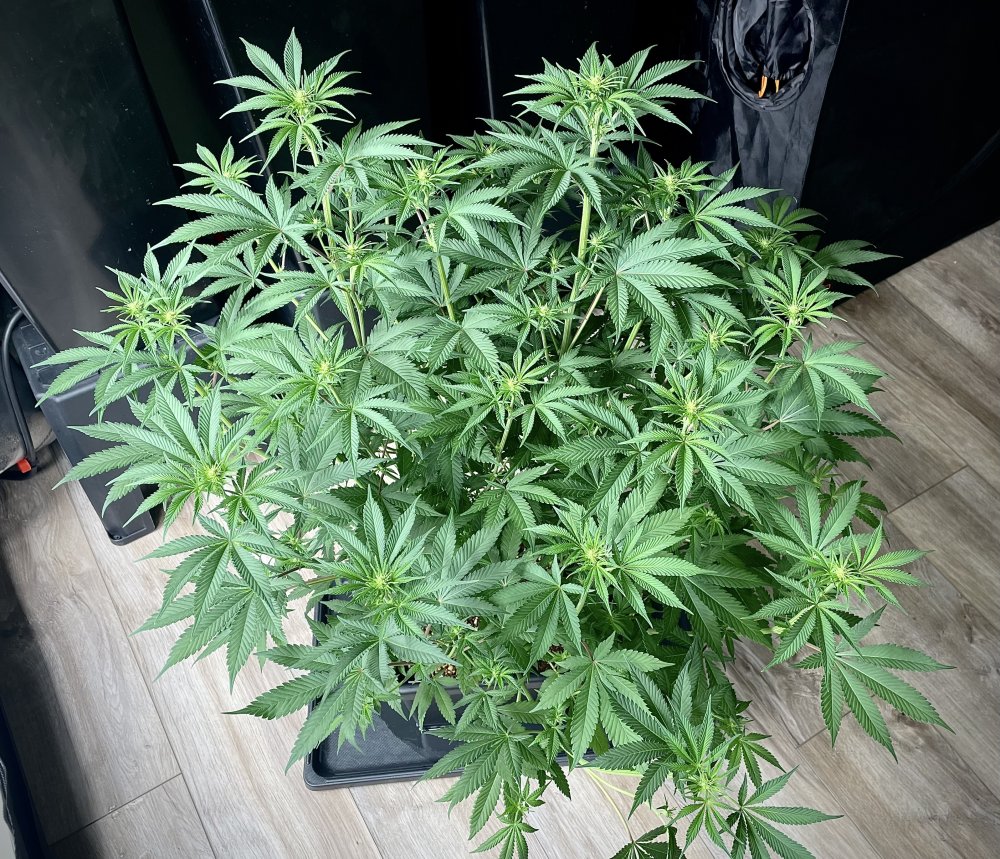 Next we have ACEs pure Malawi. This is a 100% pure African Sativa. Some phenos can hit 30% THC. These days modern hybrids hit 30% quite often but to have a pure landrace type Sativa hit that is unheard of. The effect is supposed to be devestating, we will see. Check out those leaves. She even looks aggressive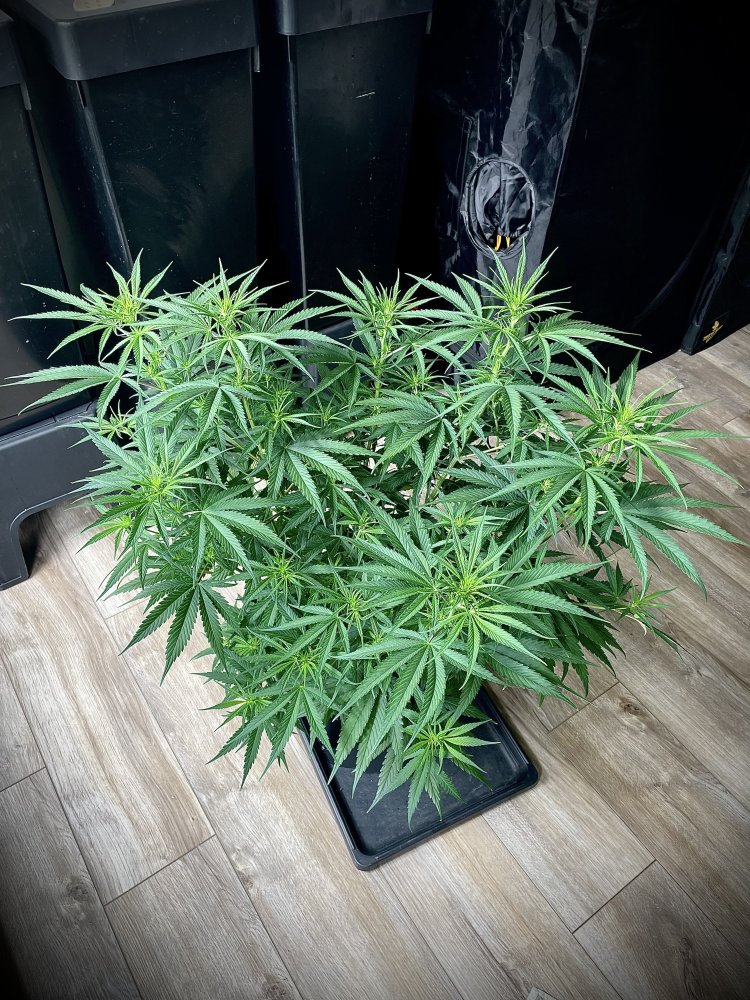 Next is an amazing cross that contains very rare old school genetics. The Doors x original haze. I have 2 other phenos I've grown out in the past. One (#2) might be my favorite smoke of all time. Strong black pepper and oriental spices on the nose and the effect is EXTREMELY energetic and uplifting. Herbal cocaine. This particular plant #3 … is a completely different seed plant then the ones I've ran before. So I'll compare it to #1 and #2 that I've been holding back and make a final selection as my keeper. As of now hands down it's #2 but we will have to see what this #3 brings to the table.
These pics were taken while she was still in the tent so the color is off from the others, due to the grow lights.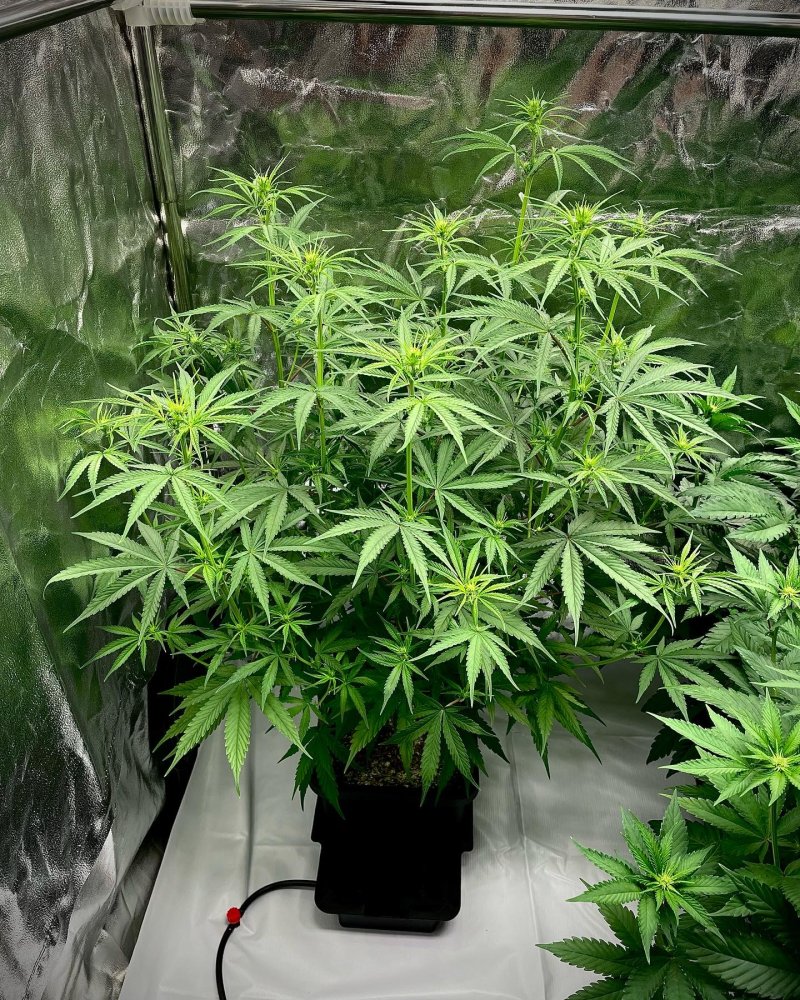 …. We are currently at 13 days 12/12. Will update as things progress.