Year 1
Year 2
Year 3
I thought it's about time I started this season. It's been an uncharacteristically sustained period of below freezing temps at night over the last month which has definitely killed all chilli plants that I grew last year. When it warms up a little, I will have to go out and clean everything up in preparation for this year.
So this time I thought I'd be extra lazy and bought these 100 seed rockwool trays rather than the 1"cubes I usually use. Two lots in a 1020 tray gives me 200 seeds with the hope of getting 30 or so plants. It's sitting on the heating mat set to 85F with the dome on and no lights for the moment. The plan is to fish them out once they pop and go straight to net pots or soil (assuming the weather behaves).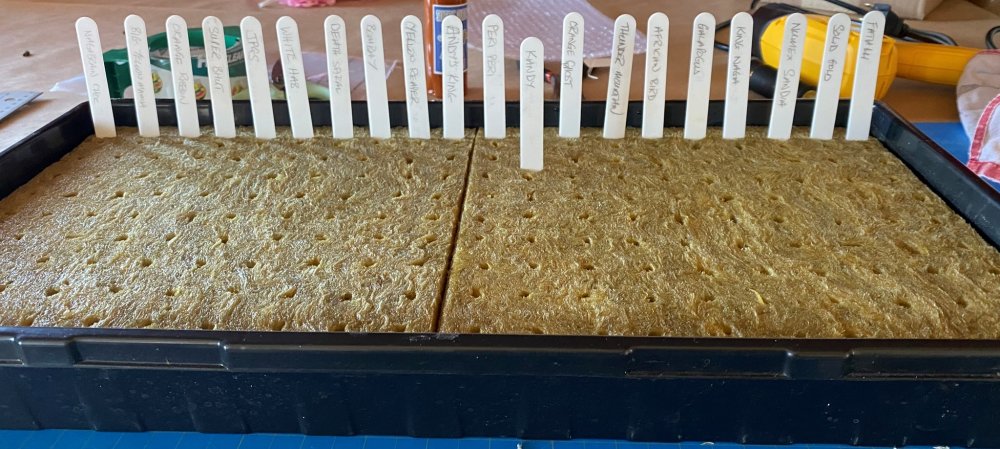 As a reaction to last years lack of super hots, I have gone Chinense heavy this year.
From left to right, the first lot of seeds are from WHP:
Nagabrain Chocolate (new)
Big Yellow Mama (new)
Orange Ribbon (a favourite from 2020 but not grown last year)
Super Bhut (new)
Jay's Peach Ghost Scorpion (new)
White Habanero (new)
Death Spiral (new)
Bombay Morich Orange (new)
Yellow Reaper (new)
Andy's King BOC (new)
The second lot are mainly from Texas Hot Peppers and others
Peri Peri (THP - grown other seed sources before but not this one)
Kandy Sri Lanka (THP - new)
Orange Ghost (WHP - new)
Thunder Mountain Longhorn (THP - new)
African Bird (THP - new orange peri peri type)
Galapagos Habanero (seed train from a few years ago - new)
King Naga (THP - new)
Numex Sandia (THP bonus seed - new)
Solid Gold (saved seed from 2020)
Fatalii (saved seed from 2020)
10 seeds of each variety other than Kandy where there were only 7 in the pack. Let's see how this works. Given my long growing season, if this is an abject failure then I'll go back to more tried and tested starting procedures in March.
Last edited: