It's Here! 
Texas Creek's Super Bowl Super Sauce Sale!
Pick 6 or Top 10

7 Pot Seasoning Salt
Spicy Worcestershire Sauce
Pear-Garlic Hot Sauce*
Jalapeno Sriracha Sauce
12mil Pure Evil*
GhostFire Hot Sauce
Tropical Ghost Sauce Glaze
Chipotle BBQ Sauce (

  It Does Exist!
)
Fermented Habanero Sauce
Fire Roasted Red Sauce
Super Sour Jalapeno Fermented Sauce
Jalapeno Seasoning Salt    
Pick6 box
- medium flat rate box, your choice of 6 items.  Pick 6 different items, pick 6 of the same. $49
Top10 box
- large flat rate box, your choice of 10 items.  Pick 10 different, pick 10 of the same. $75  
* Pear-Garlic and Pure Evil are limited to 1 each per order
** shipping is included for continental US addresses only.  I can ship international if customer pays the extra shipping.  
While most people will probably pay with PayPal, I do work with people who want to send a personal or cashiers check.  I can also send a PayRequest through Paypal to any email and the person can pay with a credit card or from their bank account.  Lots of options.  Post here or send me a PM if you have a question.   
For PayPal payments- send me a PM with your order, mailing address, paypal email.  I'll send a pay request from PayPal.  Once payment is received, your order will be packed and shipped.  
Sale goes from now through Feb 3rd (the Saturday before Super Bowl)  
See Below for Sauce pictures and details including heat levels-  
GhostFire Hot Sauce- 6.5/10- chipotle/cider vinegar/spices flavors, classic award winning hot sauce, 10oz bottle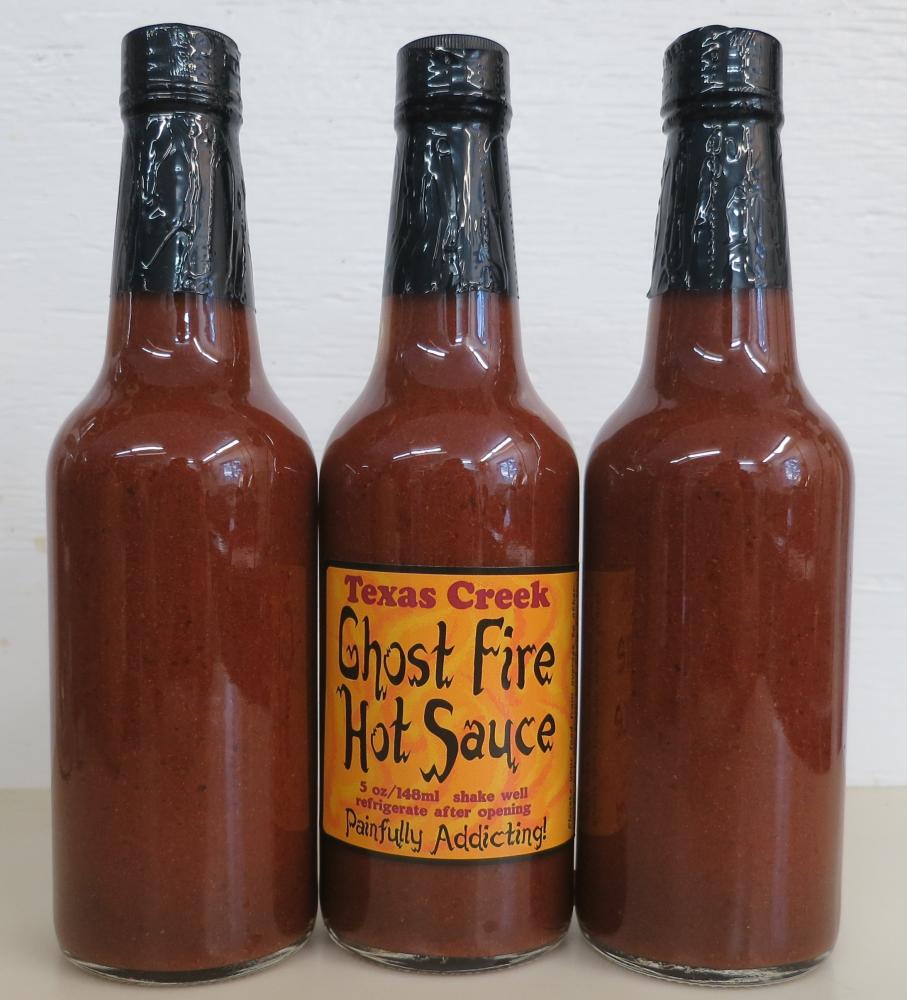 Chipotle BBQ Sauce- 6.5/10- mustard, sugar, chipotle and spices in this hot award winning sauce.  Contains-Milk, Soy
Tropical Ghost Sauce Glaze- 4/10- mandarin orange, pineapple, ginger and spices- a sweet glaze sauce excellent with fish, chicken, rice, veggies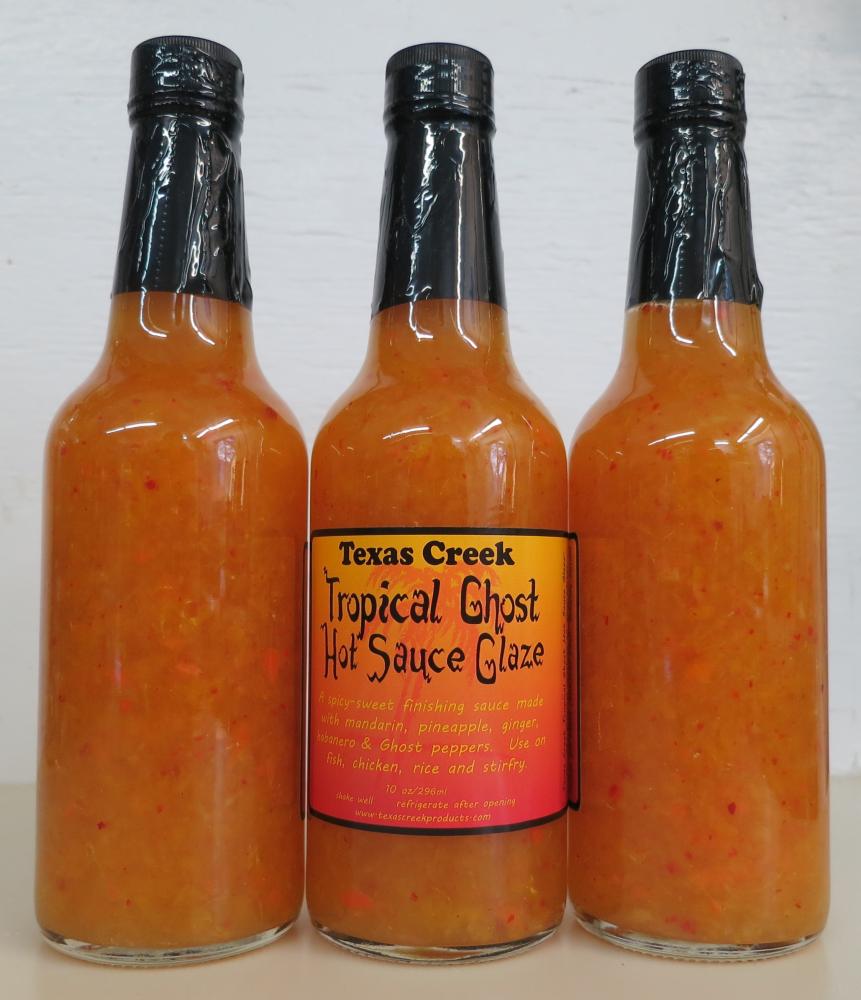 Fire Roasted Red Sauce- 5/10- fire roasted tomatoes, onion, garlic, and smoked habaneros, a nice thick tomato based sauce. Contains-Soy
Pear-Garlic Habanero Hot Sauce- 5/10- made with pears, garlic, onion, and smoked habanero chiles, this unique white sauce is great on nachos and perfect for pork, chicken, veggies.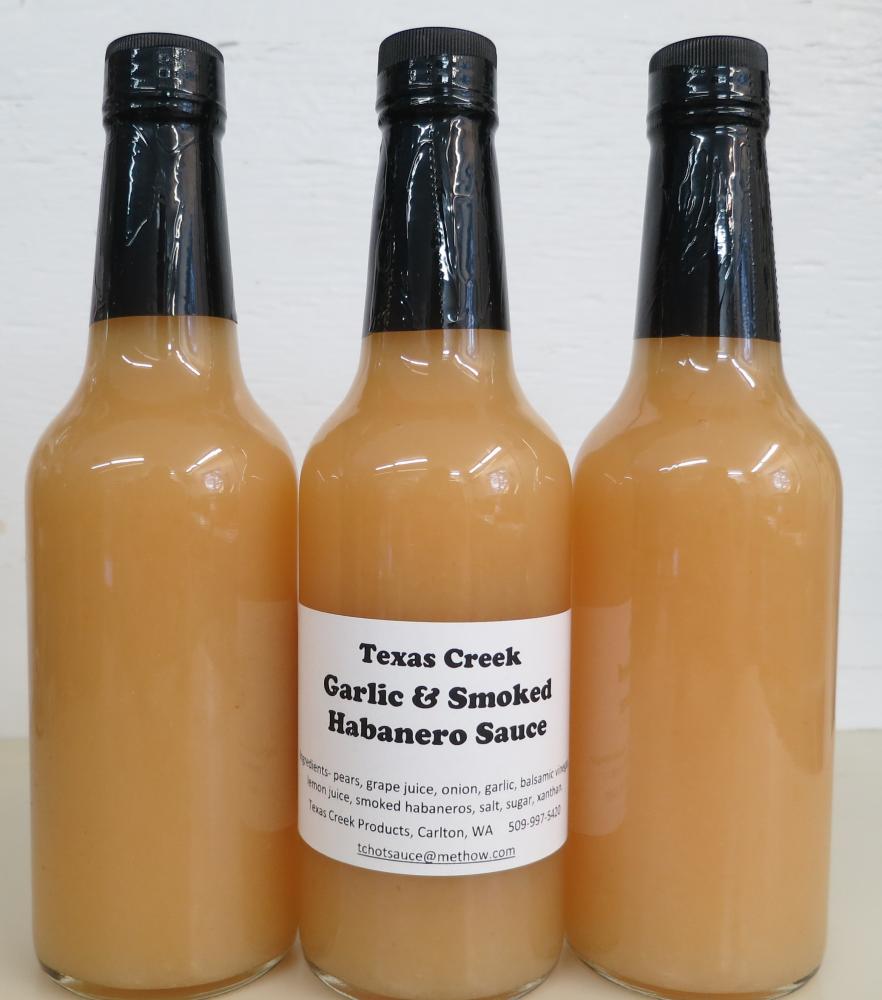 Red Jalapeno Sriracha Sauce- 5/10- fermented red jalapenos, with onion and garlic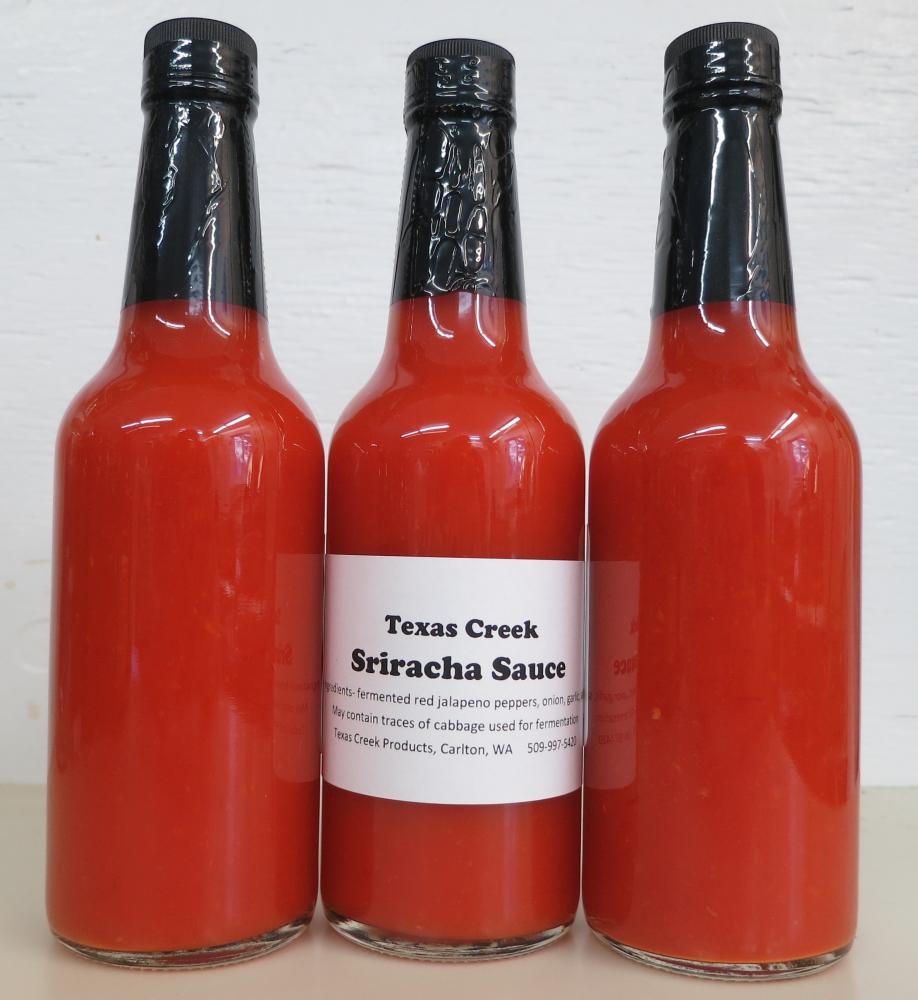 Spicy Worcestershire Sauce- 4/10- spicy, complex, no fish, wheat-free and no extra salt added.  Contains- Soy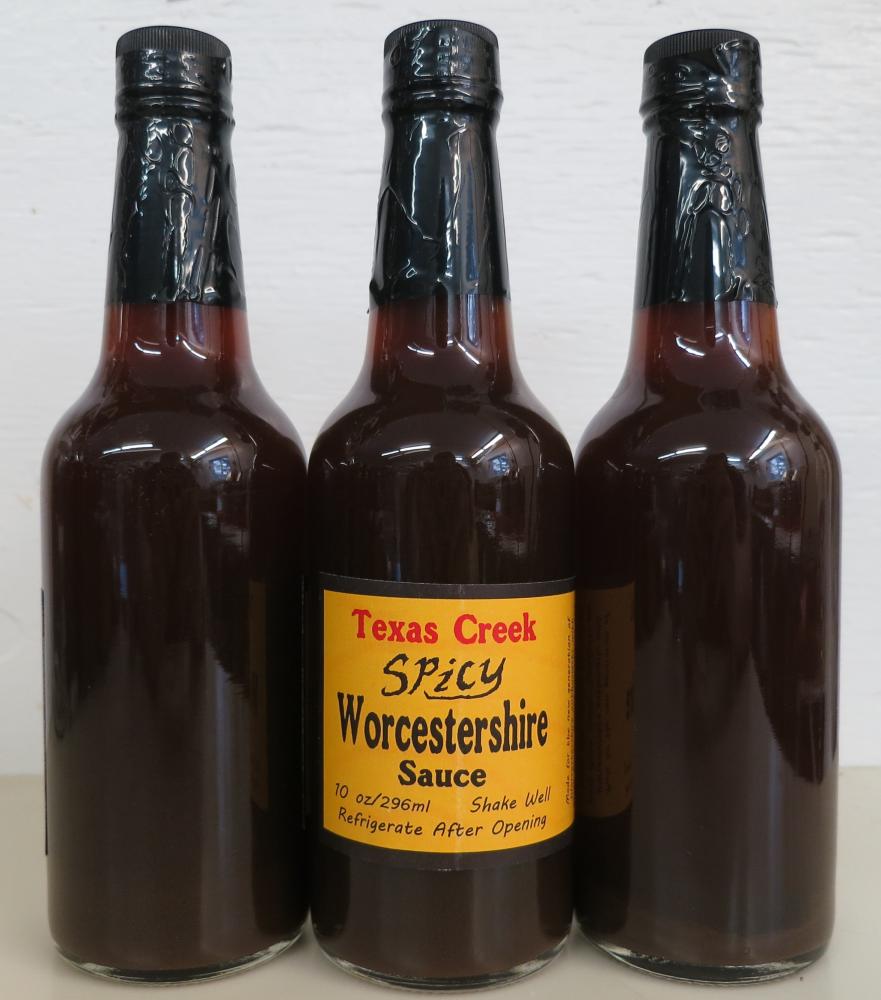 Habanero Sriracha- 6/10- fermented habanero peppers with oniion, garlic, and carrots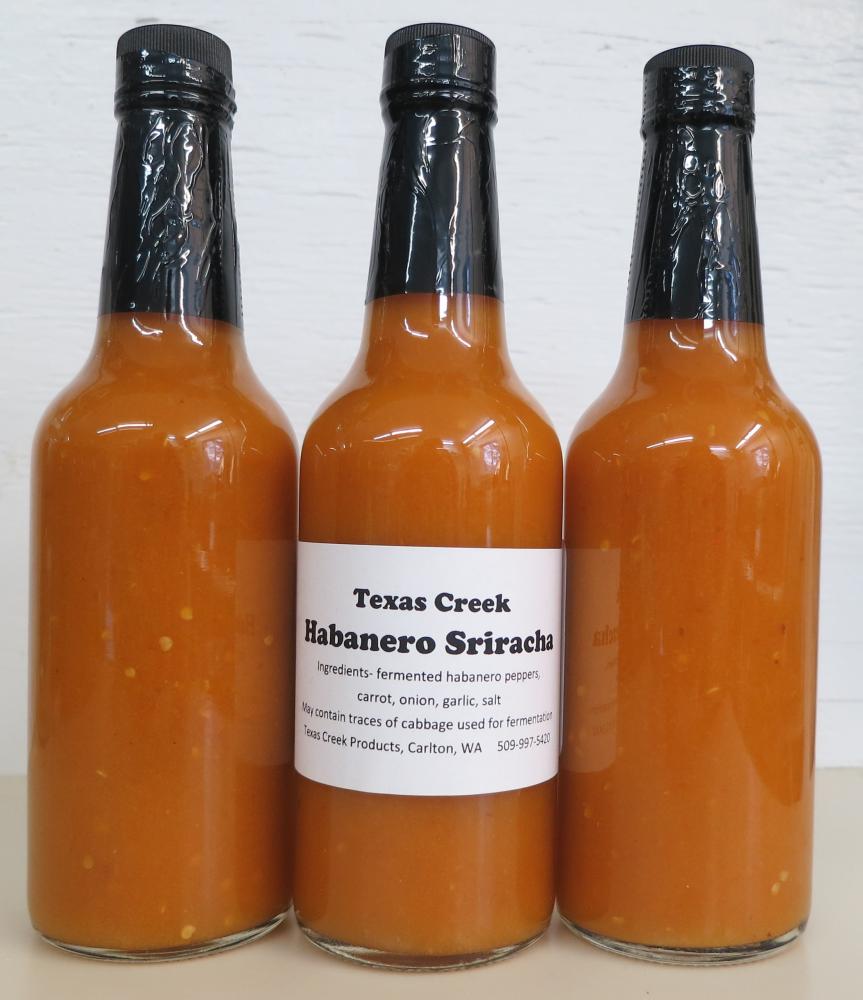 Super Sour Jalapeno Sauce- 4/10 fermented green jalapenos, onion and garlic.  For those who can't get it sour enough, this will do the trick!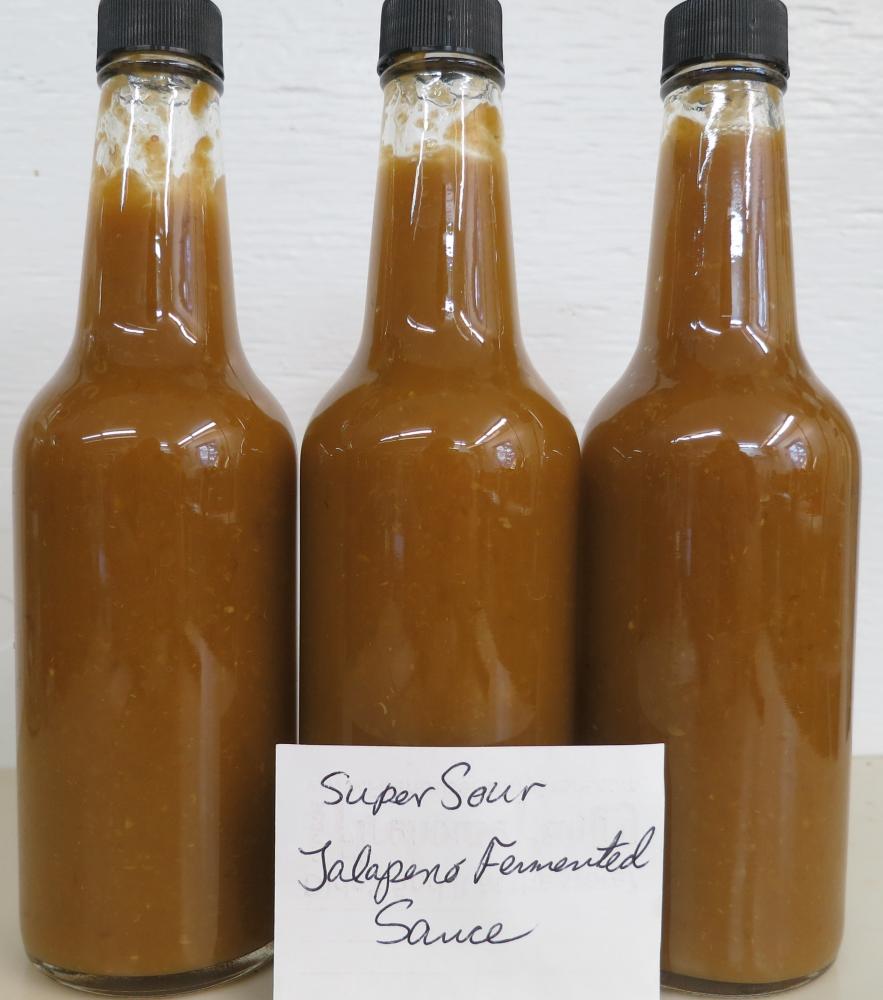 Seasoning Salts- 3/10,5/10- sea salt blended with jalapeno or Jonah 7 Pot chiles and spices.  In a reusable/refillable grinder top bottle.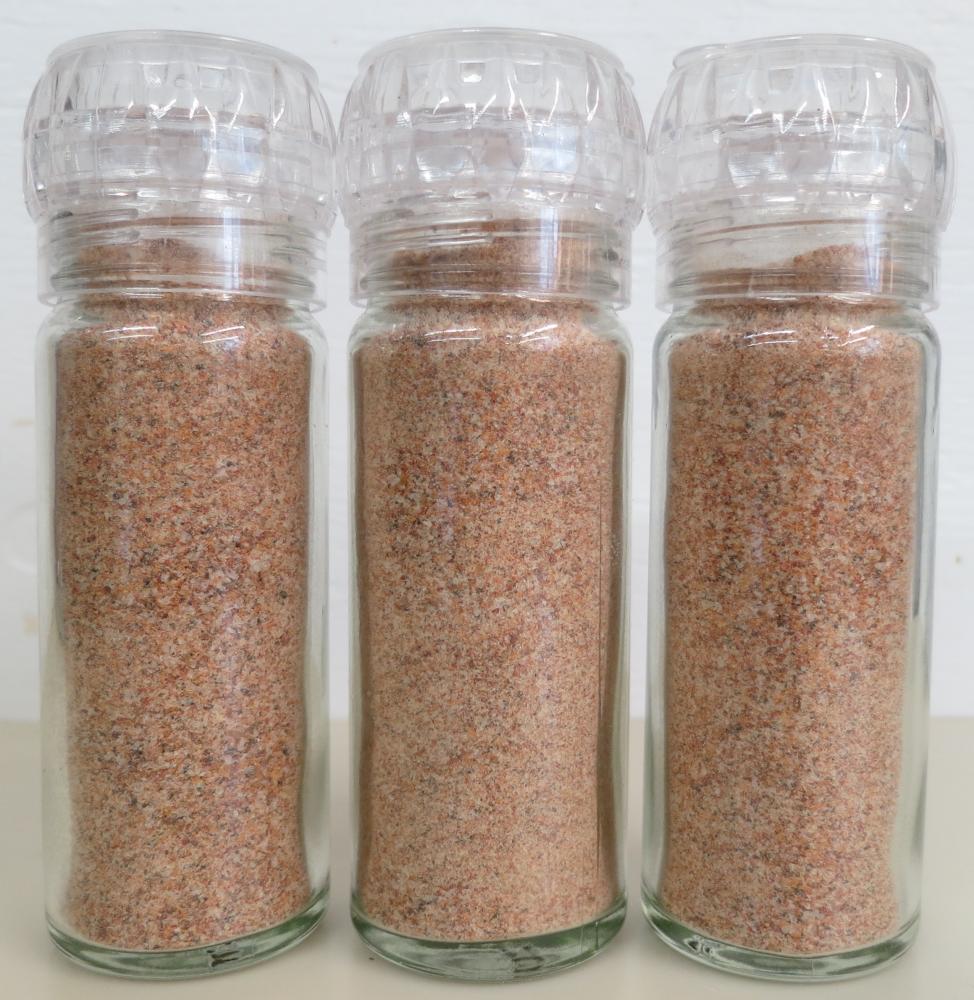 Pure Evil 12mil- 12/10- 12mil SHU Pure Evil Capsaicin Drops, pure extreme heat.  Use the drops in food to spice up the heat without changing the flavor.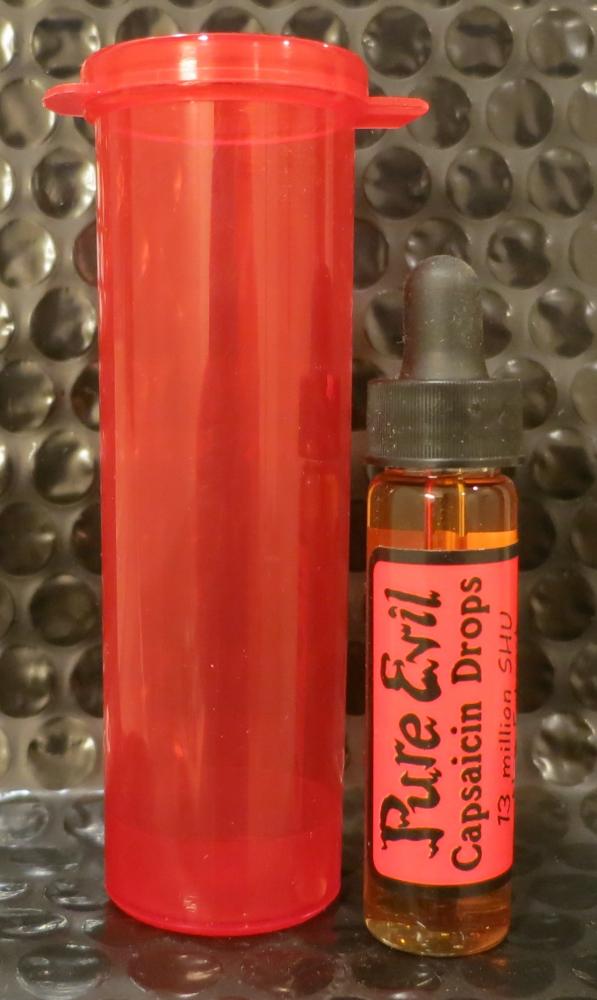 Thanks So Much for everyone's continuing support for Texas Creek Products!