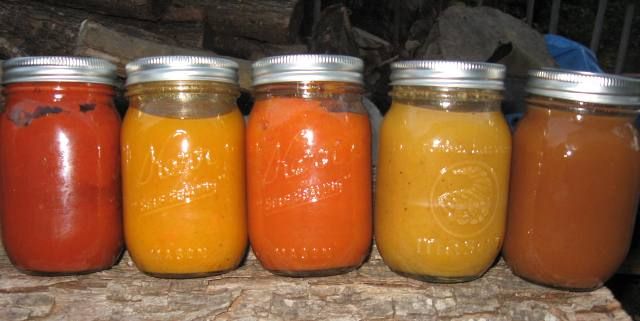 Left to right, Tabasco puree, St. Bart's Rum Pineapple, Carib Red Pineapple-Papaya, Fatalii pineapple, Bourbon Fatapple (thanks RM!)
Tabasco
(Puree)
1 gallon 50-100? Tabasco peppers—fermented for 1 month in kosher salt
10 cloves roasted garlic
2 roasted white sweet onion
1/2 cup brown sugar
2 T. salt (depending on salt from fermentation)
1 cup ACV
Add all. Cook in a stockpot until tender, then press through sieve to get out seeds from Tabs: spatula works best, imo. Simmer until blended well. Put in pint/half-pint jars, seals softened in boiling/simmering water. Pressure-can at 10 lbs. for 15 minutes OR water-bath can for 20 minutes. Yield of near puree? 6.5 pints. "May" be thinned with vinegar. This stuff has great flavor and is "warm."
St. Barts (Duval Crawl)
30-40 de-seeded St. Barts peppers (but leave membrane)
1 cup carrots
1 roasted sweet onion
8 roasted garlic cloves
2 15 oz. cans pineapple
2 cups mango puree
1 teaspoon coriander
1 tablespoon sea salt
1 teaspoon black pepper
1/2 cup agave
1 cup Jamaican white rum
1 cum key lime juice
Cook all (except agave and key lime) in rum for an hour. Medium simmer. Put in blender, blend well, put back in stockpot. Taste. Add agave and lime juice, judiciously. Tasting: less, more, per taste. Bring to med boil and hold it for 15 minutes. Pour into pint jars. Pressure-can @ 10 lbs. 15 minutes or water-bath can for 20 minutes. Yield: 6 pints.
* note found a cool way of prepping (for me) ahead: roast all garlic and onion ahead, store in frig in quart jars. Carrots: to sweeten and pre-soften, small cut, add kosher salt, touch of agave, microwave in quart jar, keep that in frig.
Carib Red (Santo Chac-Mool)
20 Carib Red peppers, deseeded but left membrane
2 15. oz. cans tropical fruit (papaya, guava, banana, pineapple)
1 cup mango puree
2 roasted sweet white onion
2 teaspoons allspice
2 teaspoons coriander
1 tablespoon sea salt
1 teaspoon black pepper
1 1" slice ginger minced
1/2 cup agave
1 cup mango juice
1/4 cup rice vinegar
3/4 cup Realime juice
2 tablespoons vanilla extract
Do as above: cook all (but vanilla extract) in mango juice on med. simmer. To blender, then back to stockpot. Taste. Add spices to taste or not. Med simmer 15 minutes. Pressure-can or water-bath. Yield: 5 pints
Fatalii Pineapple
16 fatalii peppers, de-seeded, left membrane
1 roasted white onion
2 roasted garlic cloves
3 cans pineapple chunks
1/4 cup brown sugar
1/2 cup agave
2 teaspoons allspice
1 cup Realime juice
1 tablespoon sea salt
1 tablespoon course ground black and white pepper
2 cups pineapple juice
Cook/medium-hot simmer in pineapple juice and do as above. Yield: 5 pints
Fatalli Apple Butter
(many thanks to
RocketMan
for much of this recipe!)
12 fatalli, de-seeded, membrane left
2 pints homemade apple butter
25 oz. unsweetened applesauce
1 cup brown sugar
1/2 teaspoon ground cloves
1 teaspoon allspice
1 cup apple cider
1 cup bourbon
Simmer fatalii in cider and bourbon for 30 minutes. Add the rest and medium-hot simmer for 1 hour. Into blender, back into stockpot, get it hot again. Into jars and pressure-can. If water-bathing, I would add ACV, lemon juice, rice vinegar--something acidic to make shelf-stable if desired. Yield: 4.5 pints.
*using homemade apple cider (pulpy), this stuff can get thick! Good deal.
Thanks, enjoy and any ideas for improvement, ideas, period, please contact!
Peace,
Annie