Back Story
This is my second year growing any peppers. Last year I got a late start and was only able to grow jalapenos, and habanero, this was also partially due to me only knowing about a few pepper types also. 
Last summer I found this forum and learned a great deal about peppers. I started collecting seeds, some from donations from members of the forum and purchasing them myself in preperation for my 2013 grow.
At the beginning of December I started many plants, and they were doing great, I had the seedlings in solo cups and placed under a cheap $10 grow light from walmart. In the beginning of January I went on vacation for a week. I watered the plants and left the light on them. Upon arriving back home I discovered something evil had appeared. APHIDS!!!
Most of the plants were gonners. I am pretty sure its because I used recycled dirt. Lesson learned! Only a few survived, like down to just one leaf. This set them back pretty bad it seemed as they didnt seem to start to recover until late march, weak light might have been a factor also.  The survivors were 2x Trinidad Moruga, 2 yellow Bhuts, 1 carolina reaper, and 1 prick kee noo suan. 
Spring
Spring
Well the weather this spring was terrible and the lack of plants had me a bit depressed, after cruising the forums, i saw member selling plants I figured this would be a perfect way to add to my collection. I got several plants from Dia Atton, actually quite a few, trinidad scopion green, and yellow(cardi), yellow fatalli, naga morich, 2xchocolate bhut, 7pot infinity, and a bhut mystery mix.  THANKS DIA ATTON FOR THAT!
I also went into lowes one day and saw a few milder types from bonnie plants. I got a tabasco, cayenne, golden cayenne, and Sandia.
This was all in April. It was still to cold to plant out though. May 3rd this area had a freak snow storm! In the second week of May I was able to plant out, aka Walmart bag on the balcony. Then the plants took off.
The Present
OK enough text, heres the pics.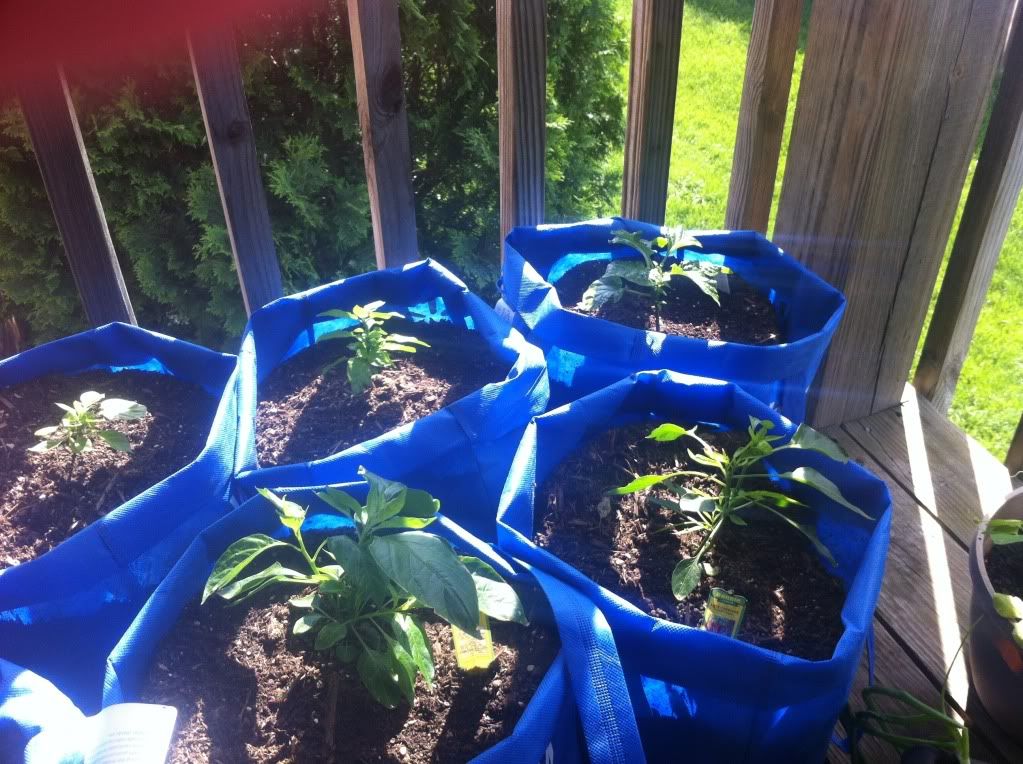 The back Right going left is: yellow fatalli, trinidad scorpion moruga (tree), carolina reaper
Front right to left: red cayenne, tabasco, 
Back Left to Right: sandia, yellow bhut, prick kee noo suan, and on the edge is the reaper again
Front Left to Right: 7pot infinity, trinidad scorpion green, trinidad scorpion yellow (cardi)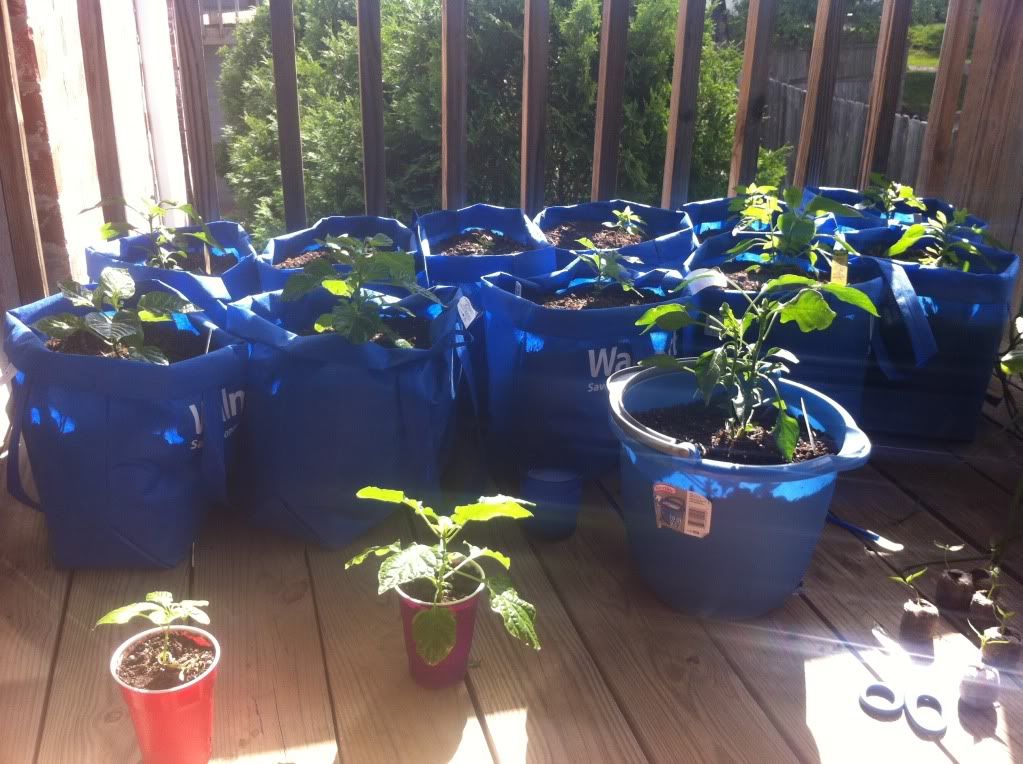 Foreground Left to Right: chocolate bhut, naga morich,  and golden yellow cayenne.
Edited by knucks, 23 May 2013 - 09:07 PM.