Ok friends of THP I have been getting some interest and PM's asking about the progress of my diy hydroponic system I am making ..So I figured I will start a thread ...I'm not done with it but I can start this and update as I go
***these are made by me but I used ideas and plans from others so I'm not saying or implying I came up or created these simple functioning systems, I simply took their ideas and made my own...🍻****
What I am making is a system that is pretty much a GH water farm (sorry I stole GH' idea...😉) because I personally know a few people that have grown massive plants using the GH water farm but I didn't want to spend over $400 on the 8 module water farm so I spent just over $200 and made my own. I did have some things already so I didn't have to purchase them such as the buckets or grow modules I was able to get for free from my uncles wife , she works in the food industry..I had all the air line that I needed . I also had 64 feet of the blue tubing for the water/nutrient solution to flow to/from each module and controller /reservoir, also have numerous air pumps and manifolds from my reef keeping days...so originally I got 2 of the 4-gallon buckets one each for the controller and reservoir but realized that I would be refilling it way more them I wanted to with has many grow modules as I will be running and the plants reaching fruit bearing size and age so I went ahead and just purchased a GH controller/reservoir for the 13 gallon and 8 gallon capacity..Much easier in my opinion ...so that is my biggest $$ investment out of this whole thing and one of very few things I didn't make or modify...🍻
So I'm waiting on some grommets and things like the such, also waiting on a new 4 gallon bucket from uncles wife cause I cracked one of them while I was drilling it . Also waiting for a bunch of on/off valves so I can put them on all of the in/out hoses of each bucket/module and controller/reservoir so I can isolate a single module separately for ease of cleaning etc...much easier then having to drain the whole system just to work/ clean one module etc...
I also made a cloning/seed germination machine (again I used ideas that I have seen on the internet that people sell for ridiculous prices..😉)... ..simply used an old 5 gallon planter cleaned it out , I already had a water pump from reef keeping days , I had to purchase some black tubing, spray nozzles, foam inserts and 2" net pots from local hydro store ...went to Lowe's and bought a sheet of acrylic and drilled out the holes for the net pots to fit..foam inserts fit in the net pots for clones or I can use rock wool that fits into the net pots for seed starting ..both have worked like a charm..I would say near 98% for clones I have done and seeds for my garden have been near 85-90%... I haven't done pepper seeds in it yet but I'm assuming they will germinate just as well as my cucumber, tomato etc seeds I have done for our garden...keep in my mind I don't use and matter of fact don't need a dome while starting seeds due to the humidity created under acrylic sheet with the under spray coming from manifold/nozzles..thought I would run into mold/fungus issues with the rock wool being sprayed but I have not as of yet, fingers crossed...
So here are 2 pics to get this going...as soon as I get the new bucket from my uncles wife and the valves etc from UPS I will start my clones and maybe some seeds and get a diy hydro glog going ...I'm not sure if I want to clone some of my pepper plants that are doing well or start some seeds that I have received from THP members ....
My DIY clone/seed germinator
-5 gallon planter (already had for previous gardening)
-Water pump (already had from old reef keeping days) mine is 317 gph but a smaller gph would work fine
-Manifold (had to purchase and make)
-Spray nozzles (purchased from local hydro store)
-Net pots (purchased from local hydro store)
-Foam inserts (purchased form local hydro store)
-Rock wool (purchased from local hydro store)
-Sheet of acrylic (purchased from Lowe's) used my fathers 2" attachment to drill holes
-Knobs from cabinets to lift acrylic (had laying around)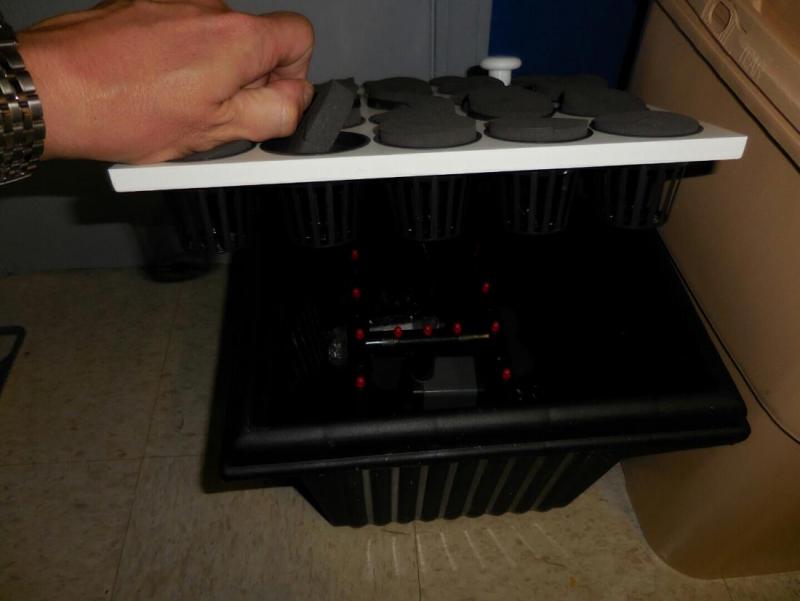 DIY DWC/drip hydro system
-Ten 4-gallon buckets with eight 2-gallon inserts for the plant and growstone for a total of 8 grow modules
-air pump (dual diaphragm 80L/minute)
The following are inside of buckets and currently not visible
----air manifold
----air line
----60+ feet of blue tubing
----drip halos
----grommets
----elbow fittings
-GH controller and reservoir
----Since I'm using the GH controller and reservoir that leaves me with two 4-gallon buckets one for controller and one for reservoir , I also only have enough room for 6 grow modules in my grow tent so that also leaves me with 2 extra grow modules so I am going to use the 2 extra grow modules and the original two 4-gallon buckets for the controller and reservoir for the 2 grow modules and grow something else just haven't decided yet, I will get this all finished and going before I worry about that..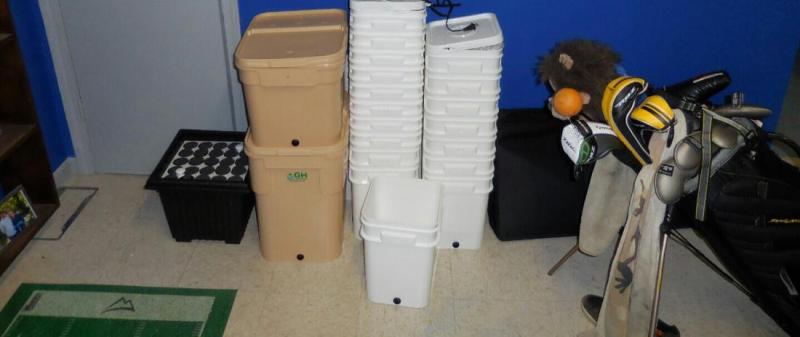 Please stay tuned and follow my adventure ....as always with me any and all feedback/advice or opinions are always encouraged and respected, so please post away...and most importantly enjoy ...👍
Edited by sp33d, 25 August 2014 - 09:45 PM.