Hello.  I see you have Datil's on your list!  My wife and I love Datil's.  
We found the following recipe photo on the web of this "relish" recipe and have made it several times now.  Ours came out like a sauce.  More on the thin side.  We reduced all of the ingredients to make the amount we wanted.  You could add more sugar/honey or whatever you like for the desired sweetness.  
It is a very basic recipe but it is also supposed to be authentic St. Augustine.  I couldn't vouch for that as I am from VA but have read that ketchup is a popular ingredient.  Maybe someone actually from St. Augustine will chime in and give us the "facts"!  Recipes too.  We won't spread them around!
We have also substituted Scotch Bonnets and it still made a good sauce.  Like I said, it's pretty basic.
Anyway here goes: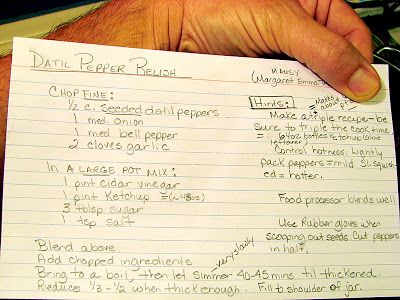 If you have an exhaust fan for your oven, use it.  Open windows if not.  It didn't bother me so much but our dog didn't seem to like the vapors very much.