I've been using a small grow tent to raise cacti seedlings using 84 watts of LEC or CMH light per square foot with a Sun Systems 315 watt Light Emitting Ceramic grow light and bulb.
The high light intensity and high temperature of my grow tent were ideal for cacti but when I put a few Capsicum plants in there I observed some leaf burn and signs of stress.
I had been thinking of building a 4x4x6' PVC frame and using it to hang some panda film Mylar sheeting from it to make a new box with nearly 20 watts per square foot light intensity however instead of this I chose to use materials I had on hand.
This is what I ended up doing: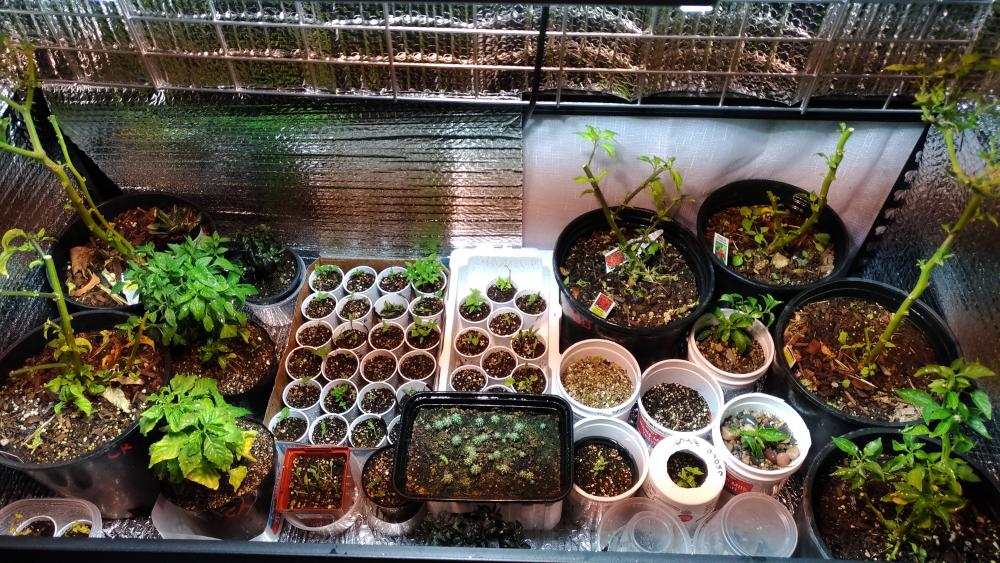 This grow box is actually a steel shelf that can hold up to 5000 lbs with 1000 lbs on each shelf equally distributed. The floor dimensions inside it are essentially 2x4' for 8 square feet total making the watts per square foot value a little less than 40. Although that's brighter than what I had planned it falls right into the upper range (30-40W/sq') of HID light intensity recommendations found in various threads here at the forum.
Another perspective: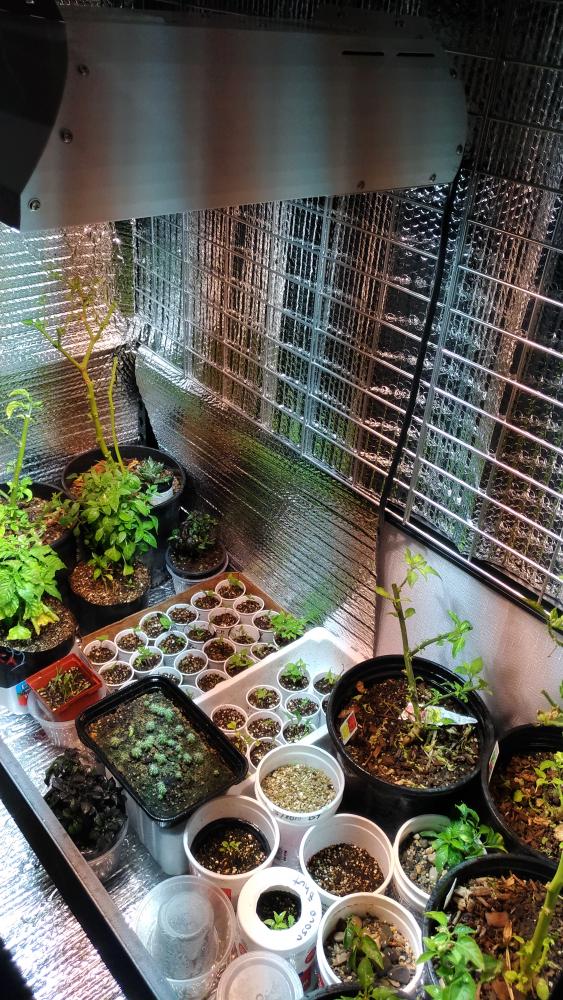 I used a couple of 2x10' Mylar bubble wrap type insulation rolls as the primary reflective surface with some white Styrofoam as well. I have two more shelves of this type in my garage and I didn't need a couple of the stainless steel grid panels for those shelves so I used a bunch of zip ties to use those grid panels to reinforce the sides of the grow unit and I used one panel from the unit as a back wall for the growing space. I used zip ties to hold the Mylar pieces onto the steel grids and for the front piece of Mylar that serves as a reflective curtain I used a few adhesive Velcro-like fasteners making it easy to remove and replace for access to the box.
This next photo shows the Velcro-like product, it is made by 3M and 4 of these little guys can hold 16 lbs according to the manufacturer. That's 4 lbs each and the front piece of Mylar insulation only weighs a couple of lbs at most: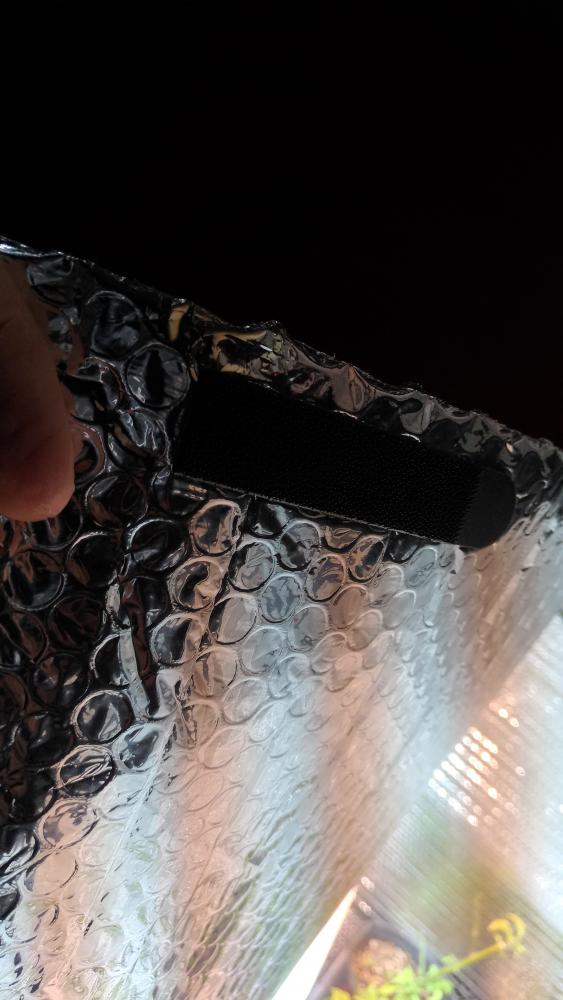 I will add a bit more Mylar later and remove the styrofoam panels I am making do with currently.
In this next photo you can see a shelf grid I zip tied to the outside of the shelving unit to reinforce it and to form an open front box shaped cage:
I hung the lamp from the steel grid of one of the upper shelves. The lamp has a built-in ballast so there is it's weight and heat output to consider and the shelves are sturdy and don't trap heat or restrict air movement. I put a small fan inside the box hanging from the same shelf as the light and it both circulates air in the box and pushes it out into the room so the heat doesn't build up.
In this next photo you can see the back shelf panel, and the light and fan hanging from the shelf that forms the top of the inside of the box: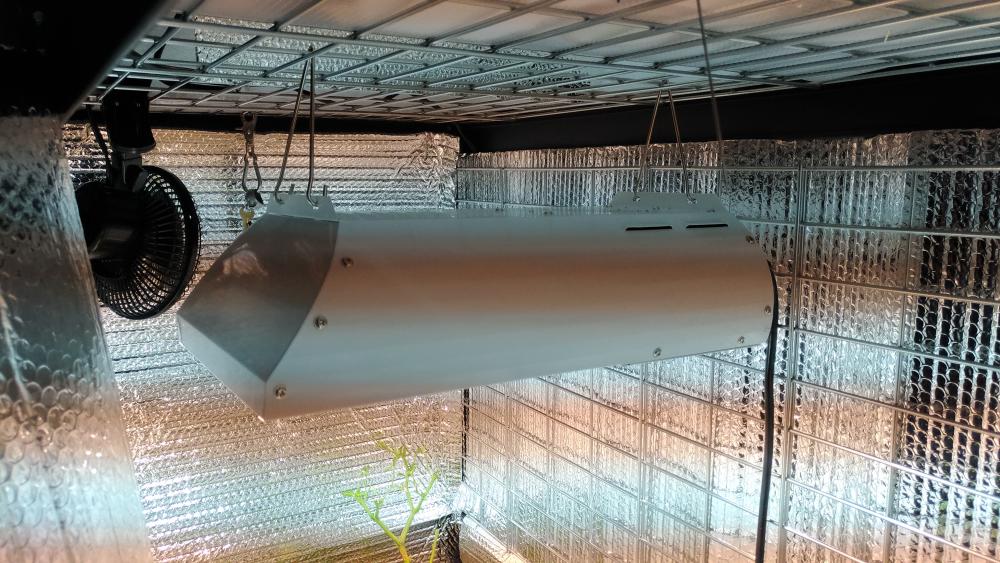 At the moment I put a couple of pieces of Mylar on the lower inner shelf to create a water repellant uniform flat surface although I will likely replace it with something that can actually hold a few inches of water without leaking so that I can bottom water and drench from the top to leach out fertilizer salts as needed if and when they accumulate in the media.
Right now the plants I have in the box include some super-hot specimens and a Tabasco in #3 nursery containers. I don't plan on keeping these plants in there for long and will mostly over winter them in the garage by a window. For this season I plan on using recycled 32 fluid ounce polypropylene yogurt containers in the box. I should be able to fit about 50 of them in there and for my breeding project I tentatively want about 3 pots each of 15 varieties for a total 45 pots, which should fit without problems.
_____________________________________________
For the purpose of setting up an indoor growing environment it is important to carefully consider lighting options. The next section of this post deals primarily with considerations about lighting and common myths about lighting for plants and how the information recently made available about lighting has illuminated several widespread beliefs about lighting and revealed them to be misconceptions based upon primitive and outdated information from earlier studies on photosynthesis. Lastly some links are provided for educational purposes that pertain directly to the recent advancement of knowledge about horticultural lighting, photosynthesis and the effects of, plant responses to, and the utility of different frequencies of light both alone and in combination. Please be warned that for many people much of the following information contained herein may seem controversial because it contradicts various widespread beliefs, claims and concepts about horticultural lighting that are based upon somewhat primitive, outdated and incomplete information that resulted in what we now know was a flawed understanding of the biology of photosynthesis. I ask you to please consider that, for the most part, until further information on the subject became available through and from recent studies... what we now realize to be misconceptions were based upon the best information available at the time those misconceptions became widespread. At present these misconceptions and mistaken beliefs are still widespread and form the basis of what many people think they know about the subject of plant lighting. If you are among these people please do not take the presentation of this information personally.
Thanks,
[/\/\][/\/]
____________________________________________

Considerations on the Subject of Horticultural Lighting.
It is important to note that the light from bulbs of Light Emitting Ceramic (aka Ceramic Metal Halide) is not safe to to be exposed to. It is very much like sunlight with spectrum that includes Far Red, UV-a and even some UV-b and it isn't healthy to repeatedly and continuously expose eyes and skin to such light however the same spectral components that pose a hazard to people are important for plants which have adapted to make use of the entirety of the solar spectrum that reaches Earth. This even includes green light which is a major source of photosynthesis despite the peak photosynthetic response of chlorophyll a and being in the blue-violet and red-orange nanometer ranges. The green color of leaves serves less to reflect green light and more to allow it to be transmitted
through
the leaves reaching much further into the canopy than other colors of light with the exception of Far Red.
Previous light research had focused on spectrum of peak absorption for chlorophyll a and b. This resulted in misconceptions about artificial lighting and there are numerous examples of lamps on market that contains mainly blue and red frequencies of light. The light from these lamps tends to be a reddish purple. It turns out that these types of so called grow lights are based on outdated and inaccurate information about photosynthesis. A bright white looking light source with plenty of visible bright lumens in the green spectrum is actually superior to the purple grow lights.
It is a common misconception that the frequencies of light that appear bright to the human eye are not ideal for growing plants and the same basic misconception claims that brightness lumens are a poor measure of the quality of lamps rich in red and blue frequencies because the lamps specialize in PAR output or Photosyntheticaly Active Radiation. Unfortunately the truth is that the same frequencies of light that are perceived as bright to the human eye are also those frequencies of high energy photons that that penetrate through the upper leaves and reach the lower leaves and they produce a very large amount of photosynthesis.
The light from lamps producing reddish purple light doesn't penetrate very far through leaves of the plant canopy and that means that the majority of the leaves of a plant with a canopy are not harvesting photons for photosynthesis despite both evolution making most leaves green to allow green light to penetrate through the top leaves so it can reach the majority of the photosynthetic tissue and despite the primary purpose of a leaf being photosynthesis itself.
Using mainly red and blue light decreases the total amount of plant material that can actively harvest photons because red and blue penetrate poorly through the canopy. Growth of plants is a result of photon harvest in photosynthesis and having more leaves photosynthesizing results in more energy for growth. Using grow lights with purplish color red and blue combined light frequencies results in reduced plant growth and development when compared to light sources that can reach more leaves resulting in a higher total photon harvest capacity per plant per day.
Lights that appear brighter to the human eye due to higher values of brightness lumens are actually superior to the reddish purple light of grow lights and I have repeatedly observed this over the years.
About 22 years ago in the late 90s I purchased a two tube four foot long 80 watt shop light fixture and 2 40 watt 4 foot long fluorescent grow bulbs that produced a pinkish purple light. This light was mostly in the red and blue frequencies that primitive chlorophyll studies indicated was specifically Photosynthetically Active Radiation (PAR).
After months of using these bulbs I read an interesting claim that bulbs which look brighter were superior to the purple grow lights because basically brighter means more light and more light means more and faster growth to a point.
So I bought new 4 foot fluorescent tubes... with one being warm white the other being cool white. Each of these tubes produced about 4000 brightness lumens and within a week the difference in growth was so profound that it was hard to believe without seeing it first hand. The so called grow lights were inferior for growing plants when compared to lights designed for residential use and at the time I thought that this was because the residential lights were brighter and produced more light overall. After all more light equates to more photons and more photons equates to more available energy for photosynthesis.
However with the new information that has recently become available I now realize that the increased growth from the residential types of bulbs isn't only a result of the lights being brighter. The residential fluorescent lights also produced more green light which reached more leaves and promoted more photosynthesis. For the record yes I was mostly growing Cannabis at the time and it was illegal to do so. I have not grown Cannabis since 2013 and at that time I was legally growing medical Cannabis in California. I have not
illegally
grown Cannabis for more than 20 years.
It is a myth that lights appearing brighter to people because they have more green in them are poor choices for plant growth. It is also a myth that plants cannot make good use of the frequencies of light that appear brighter to the human eye. Another related myth is the notion that although reddish purple grow lights appear dimmer to the eye they are actually more efficient for photosynthesis because they provide light in the exact or precise frequencies that plants use.
Plants on this planet are adapted to sunlight and leaves are green to allow green frequency photons to penetrate through them and reach even more leaves that can make use of them thus increasing the total amount of photosynthesis a plant can perform.
High PAR grow lights that cast reddish purple tinted light are nothing more than a gimmick and don't actually produce more growth, faster growth or higher quality growth when compared with lights of the same equivalent watt value that produce light that in comparison to the grow bulbs appears to be brighter and whiter to the human eye. Brightness lumens ratings matter and a bulb that producing more lumens is going to be superior for plant growth in comparison to a bulb that produces less lumens regardless of the frequencies it provides light in.
For more information about spectral quality and plant response I suggest watching the following educational videos.
Despite the majority of the videos being oriented towards Cannabis growers they contain recent and accurate information about lighting and photosynthesis and that information is applicable to nearly all vascular plants including Capsicum.