Been way too long since I've linked up some sausages, and I've had a hank of casings staring at me every time I open the garage fridge, so today was the day. Just a 5lb batch. Ground up a bit over 4lbs of pork shoulder, and 1+ lbs of pork belly in my #12 Cabela's grinder. Mixed that with the following:
1.8% Kosher salt
.27% Black pepper, fresh ground
.22% Ginger, Dried
.22% Nutmeg, Dried
8% Water, Ice Cold
2 Eggs, Large
6 Jalapenos, small dice (per 5lbs fat/lean)
6 oz Sharp Cheddar Cheese, small dice (per 5lbs fat/lean)
~10 Feet 32/35mm hog casings (Syracuse Casing Company)
*percentages are of the total lean/fat amount
I have to plug the casings from Syracuse Casing Company......best quality I've ever found, incredibly consistent, and the pre-tubed ones, in addition to being SO EASY to load on the stuffing horn, are way cheaper than the standard "home pack" casings. These are 32-35mm hog casings.
Loaded up my ~1940's era Enterprise stuffer with the mix, and got 'em stuffed. Linked into 21 ~5" links, with about 8 oz of mix left in the bottom of the stuffer. Good stuff, though lacking heat after seeding the jalapenos.....will add some Chipotle powder to the next batch. All in all, a pretty quick batch, and turned up just as expected.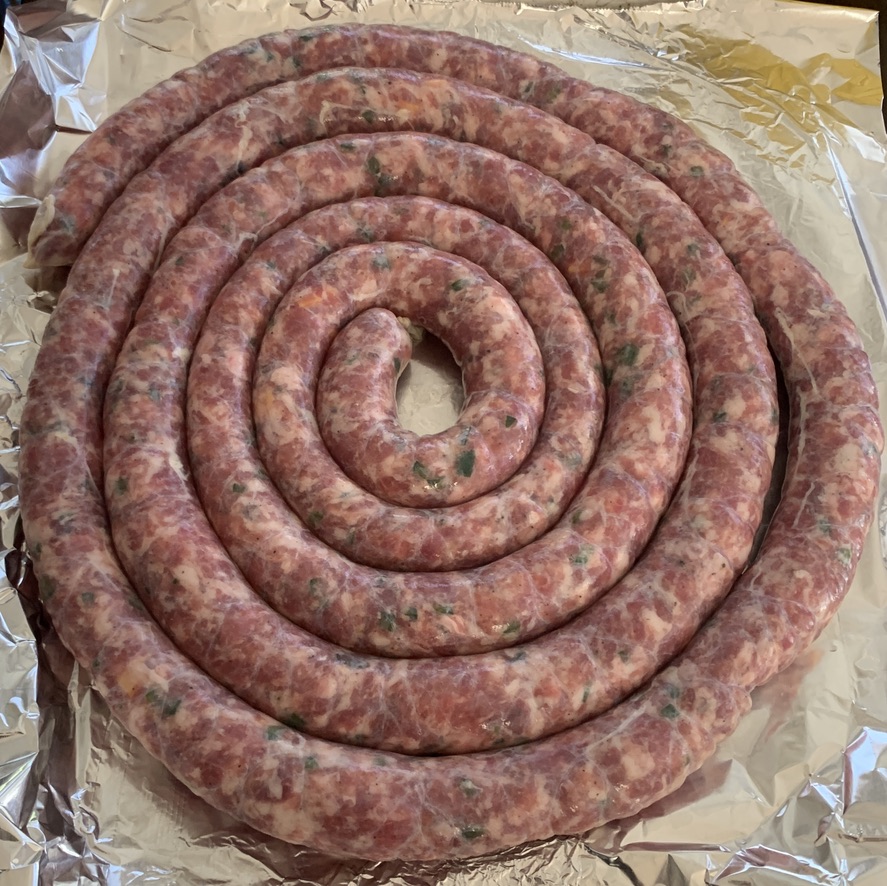 I made a "burger from some of the leftover mix, and the "mini" link at the end of the snake became part of my daughter's lunch.