Good day to all my fellow pepperheads out there. Given that 2020 is well underway, I figured it's time to get my new glog going. I'm hoping this year's will be full of delicious peppers, learning moments, new things to try out and last but not least, a lot of fun growing these tasty little devils together with the awesome community that makes THP the mecca it is.
I'm almost exclusively growing new varieties this year, which is not due to the fact that I didn't like last year's peppers, but rather taking the opportunity to create the illusion of making a dent in trying the many cultivars that have found their way onto my bucket list. I've sourced seeds from various places including Semillas and South Lincs Chili boys, and am forever grateful for the awesome trades I got to do with PaulG and Dr. Cane McDog, which have shaped this and even next year's grow already.

So now to the good stuff, the peppers. The list (thus far, after lots and lots of back and forth in Google sheets) looks as follows:  
Autopot
Sugar Rush Peach
Numex Pumpkin Spice
Numex Lemon Spice
Numex vaquero
Jalapeño Zapotec (CaneDog)
Jay's Peach Ghost Scorpion
Paper lantern
Dorset Naga Orange
Fabric bags
Rocoto Cristobal
Jamaican yellow hot
Hyper Pube (CaneDog)
Buckets
BJ hybrid-2 (PaulG)
7 pot burgundy (PaulG)
Aji Amarillo (PaulG)
Indoor / Tent
BJ Purple x Aji Mango
Aji Lemon x BJ Purple
B. O. C. crosses
Early Jalapeño
Bahamian goat
Rocoto Oculto  
For those of you that remember my glog from last year, Sugar Rush Peach is the only cultivar I'm repeating, which is because it was a huge hit at home, with both me and the missus enjoying it on lots of different dishes. Sweet, but still with a nice kick, especially when added to a hot meal. Other than that, there are lots of Jalapeno varieties as this must still be my favorite type, and I took a "why not try them all" approach, which I hope to continue over the years. Seeds will be planted in 2 batches, with the first batch having been put in the rockwool just before New Year's:  
Jay's Peach Ghost Scorpion
Paper lantern
Dorset Naga Orange
Rocoto Cristobal
Jamaican yellow hot
Hyper Pube (CaneDog)
PaulG's BJ hybrid-2
7 pot burgundy (PaulG)
I'm extremely excited to be able to grow some Rocotos this year, so thanks for edging me on to that, CaneDog and others in the forums. I have a feeling they will like the Danish climate which tends to have cool nights even during the summer, and will be grown fully outside, not in the greenhouse (space limitations).  
I had already started a small winter indoors grow consisting of my own Aji Lemon x BJ Purple cross (F1), which has been making good progress.
Oct 11th:
Nov 14th:
December 5th:
Today (bear in mind it was on a non-sunny windowsill for 3 weeks during the holidays in order to not let it dry out under the intense lights, where it also aborted its recently set first fruit):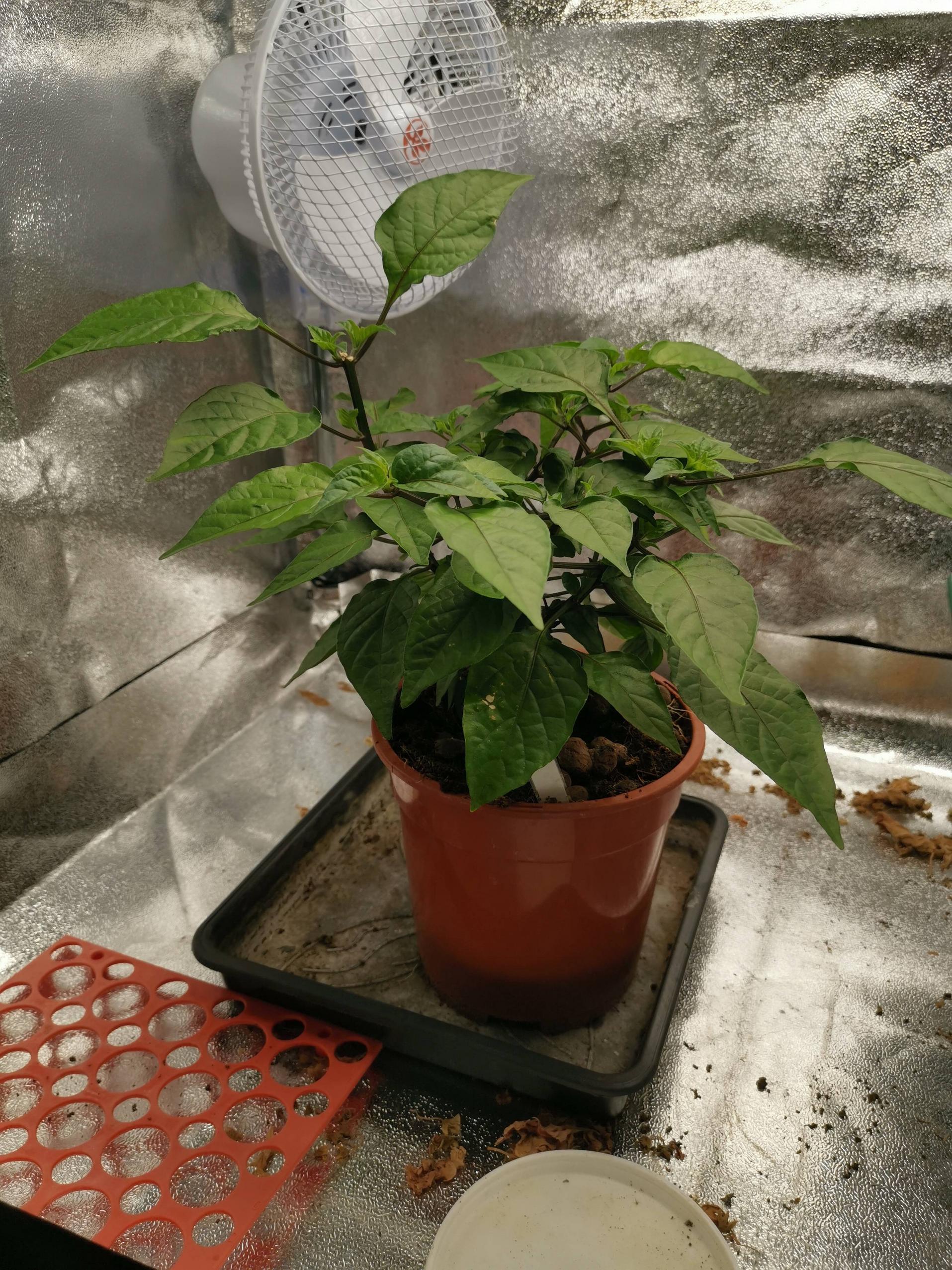 Once the other seedlings made their way outdoors, I will expand the indoor grow according to the plan above (yeah, right! xD) and keep that going too, simply just to get as many peppers sampled this year as possible. 
So at the start, the tent looked as follows:
Soon after, I moved the bulk of the seed starter rockwool cubes into a heated dome, and am transferring the cubes to the tent as the seeds pop. Currently, the JPGS, Jamaican Yellow and PaulG's BJ hybrid have already popped, so let's see how quickly the others follow. From seed to seedling in basically a week is as good as I could have ever asked for.

As always, thanks for reading and any input/criticism/feedback you may have, and I will try to keep it saucy in terms of pictures and taste reviews etc....

Happy 2020!