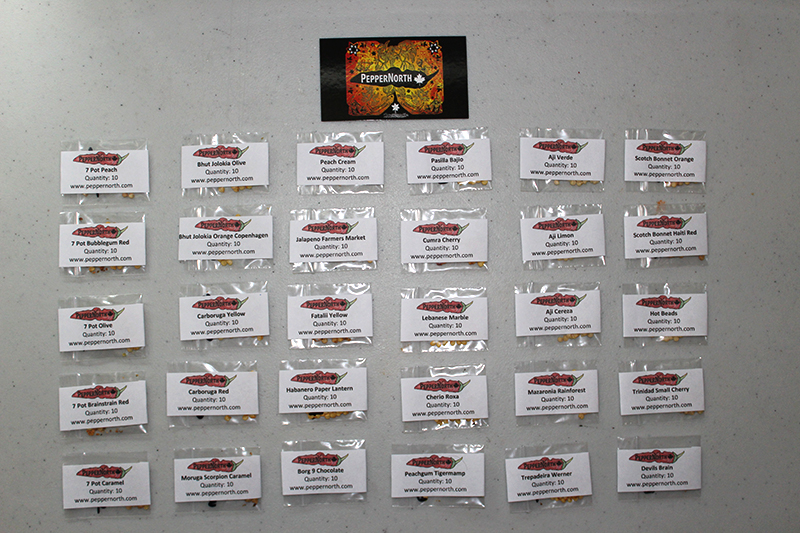 Hot off our 14 Hot Pepper Award wins we are giving away a collection of 30 hot pepper seed varieties (well over 300 seeds in total ) ranging from super-hots to some less common and beautiful mid-low range heat varieties. No catches, we just want to give something back to the THP community for all their support.  
This giveaway is open to members in all countries (but it is up to you to know your import laws! - shipping is from Canada)
To enter, simply reply to this post and we will use a random name picker to choose the winner.
Although not required, we would greatly appreciate a like on our Facebook page (
https://www.facebook.com/peppernorth
) where we are also doing a separate seed giveaway with a T-shirt that you can also enter, or you can subscribe to our YouTube channel (
https://www.youtube.com/c/peppernorth
) or follow us on Instagram (
https://www.instagram.com/peppernorth
).  
The winner will receive 10+ seeds of each of the following pepper varieties:  
7 Pot Brainstrain Red
7 Pot Bubblegum Red
7 Pot Caramel
7 Pot Olive
7 Pot Peach
Borg 9 Chocolate
Devils Brain
Moruga Scorpion Caramel
Carboruga Red
Carboruga Yellow
Bhut Jolokia Orange Copenhagen
Bhut Jolokia Olive
Fatalii Yellow
Peachgum Tigermamp
Peach Cream
Scotch Bonnet Haiti Red
Scotch Bonnet Orange
Habanero Paper Lantern
Jalapeno Farmers Market
Trinidad Small Cherry
Trepadeira Werner
Mazaronia Rainforest
Lebanese Marble
Pasilla Bajio
Cherio Roxa
Cumra Cherry
Hot Beads
Aji Cereza
Aji Verde
Aji Limon  
Thanks to everyone for entering and good luck.
The winner will be picked randomly on Saturday March 18th and the prize will be sent out the following Monday.