I have never grown anything intentionally before but I wanted to try. Last year I bought some seeds from a local supplier here and tried to germinate them and failed. Not a single sprout. I kinda gave up. But around May I saw a sorry looking ghost pepper plant (at least that's what it was labeled as) sitting at Lowes so I bought it and put it in a small pot. Despite my neglect (and being away for a month during summer), the thing grew and put out a good set of pods. So this year, I'm highly motivated to give some serious pepper growing a go.
Determined to succeed this time, I educated myself and learned about the need for heat mats etc. I also watched a ton of Peter Stanley and Kangstar's videos which were hugely helpful.  
I started with the leftover seeds from last year and here's the status:
Kraken - 10 started, 6 sprouted
Douglah - 10 started, 2 sprouted
Chocolate Moruga - 10 started, 0 sprouted
Then I placed an order with Sandia seeds on 4th Feb:
Ring of Fire - 10 started
Aji Limo - 10 started
White Ghost - 10 started
Fatalii - 10 started
Rocoto - 10 started
Of this lot, most of the seeds have sprouted so I have transplanted around four of each into wicking cups (half in soil and half in hydroton) to see what happens: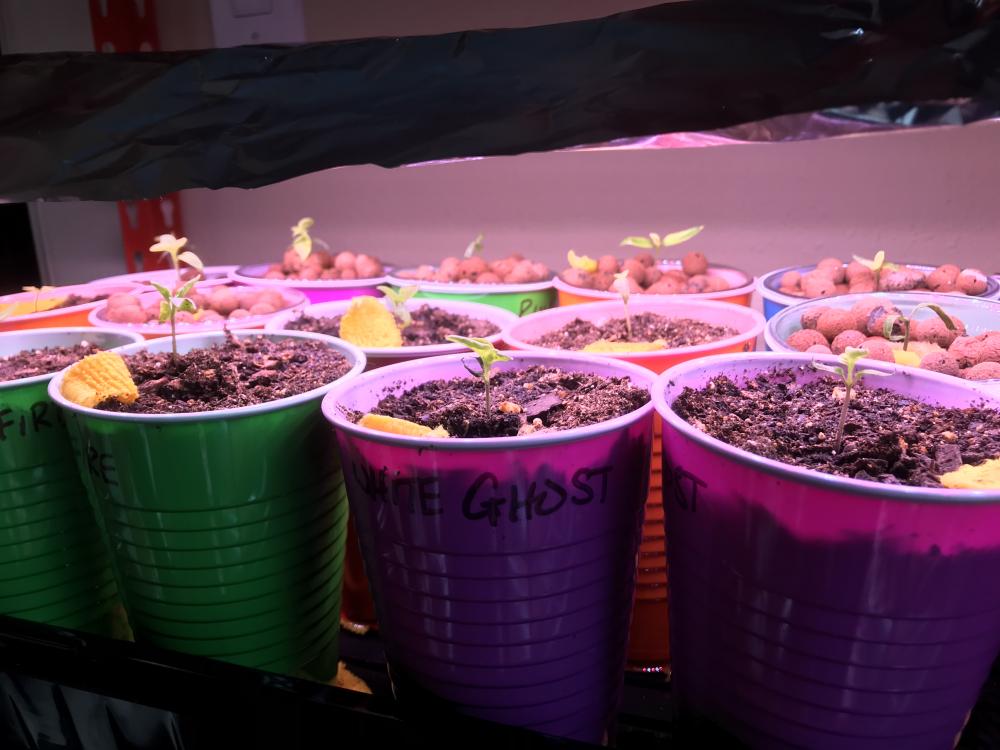 Then Sandia seeds sent a coupon for 25% off and I'm a sucker for a sale so my second order was placed on 19th Feb:
Bhut Jolokia Yellow - 10 started
Bulgarian Carrot - 10 started
Devil's Tongue - 10 started
Yellow Jalapeño Lemon Spice - 10 started
Mulato Isleño Chile - Chocolate Poblano - 10 started
Bell Purple Beauty Sweet - 20+ started
The yellow jalapeno and bulgarian carrot have already sprung up, as well as lots of the purple bell. The first yellow ghost just popped up this morning:
I probably shouldn't have done this but after seeing the love for these varieties, I made a third seed order yesterday:
Bahamian Goat
Sugar Rush Peach
So my first lesson learned: Now that I know the importance of heat, humidity and light, I don't need to put so many seeds in. I have way too many seedlings now! I'm only gonna attempt 2 or 3 of the new seeds this time!  
Now I'm debating how to grow these on. I have plenty of room in my garden so I'm thinking about a whole bunch of 5 gal buckets with one lot as self watering in compost and another as a drip watered hydro. I may do dutch bucket or I may try a venturi style nute injection, not sure.  
Anyway, I look forward to seeing what happens to all these plants over this year!