Been thinking about it.. pretty sure I'm growing peppers because I'm bored.  Like, deeply, existentially bored.  Plus, a little harmless pain never hurt anybody, right?  Hell, it's probably even good for you.  We'll see if those are good enough reasons, I guess.  I bought me some "Scotch Bonnet Orange" seeds from Amazon before I found you fine folk, lurked around here for a while, then planted them anyway along with other, infinitely less suspect seeds I ordered from far flung places around the globe(!) as recommended by the very venerable Vendor Vault.  I've got them growing here by my chair.  I sit here and read. (The wall to my right as I took this picture is lined with bookshelves I'm slowing filling as I try to forget the world each afternoon.  Mostly scifi the last few years.)  It would be distracting to have a big boxy tent looming over me, so I've just got them sitting there on a cardboard box.  I hope to replace the box with a little table here soon.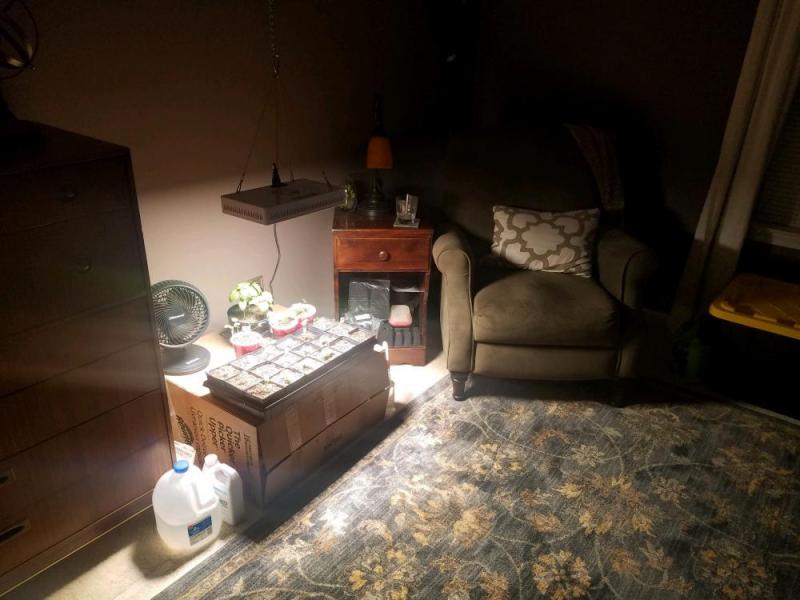 My rig consists of something like a quarter of the full Amazon Indoor Garden of Tomorrow-orrow-orrow-orrow ®.  This LED light I got is something else, man.  It's REALLY bright!  Paper towel germination, used a few Jiffy pellets, stuck some seeds straight in some old Miracle Grow I had, kept them in the Jiffy box there until they sprouted.  I'm glad to be rid of that Jiffy dome now; it was a pain in the ass.  Ahh.. let's see.. I'm mixing CNS17 Grow into RO/DI water, testing and adjusting up with GH pH kit, pouring it over my little darlings there in about 3:1 coco:perlite.  Just culled and potted up today to 3.5 inches.  All seems to be going well except for some slight canoeing of leaves, which I'm ready to blame on the 24% humidity (We wake up half mummified in the winter.  I know - grow tent.) and a few early spills on my rug.  Trying to keep it simple and not drive myself crazier futzing with dozens of parameters here, so I'm not going to sweat it unless things turn worse.  I'm not!  Worry verges on religion with me, so this will either be therapeutic or turn out to have been a bad idea.. 
Any and all comments or criticisms are very welcome and I thank you all most warmly for having me and schooling me and reading my noodlings!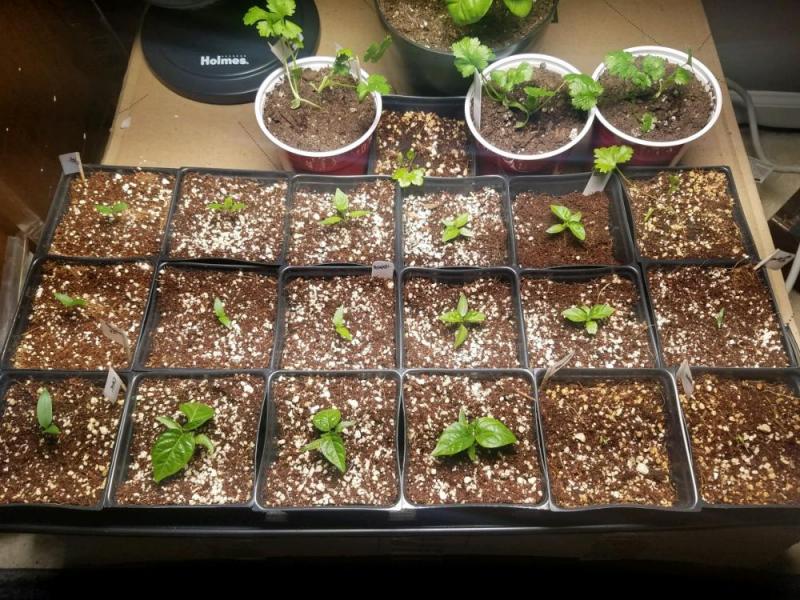 Edited by Uncle_Eccoli, 12 January 2019 - 09:54 AM.