Last year, several local folks put on some cooking classes through the local Grange hall.  I did a Making Hot Sauce class.  It was very well received and several people requested that we do it again this year.  4 people were attendees of first class so I changed up the sauces a bit.  After the January class, even more people called me who missed hearing about the class or couldn't make it, so we have another one scheduled in March. 
I do a quick talk about chiles, scoville, capsaicin, processing, etc...a very abridged version of Making Hot Sauce 101, then everyone divides up into teams and start making sauces.  At the end of the class, the bottles get divided up and everyone goes home with the goods.  
Here's some pictures of the Twisp class in progress and the sauces.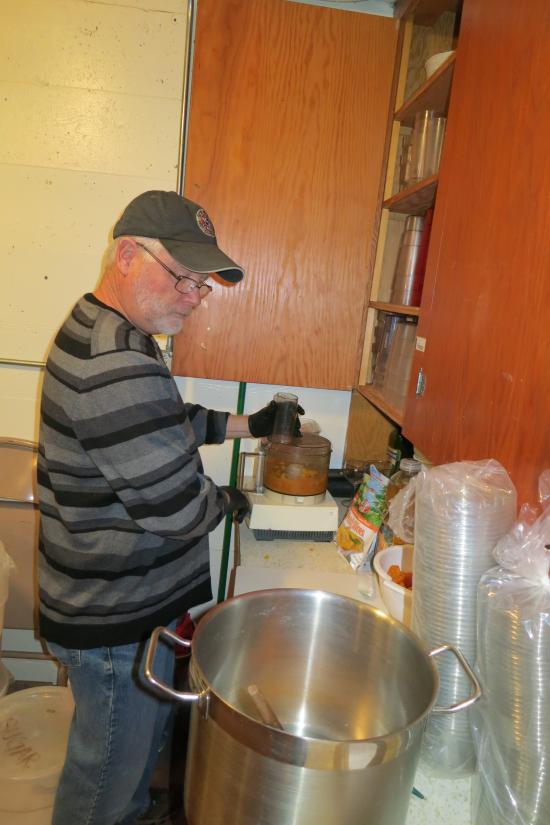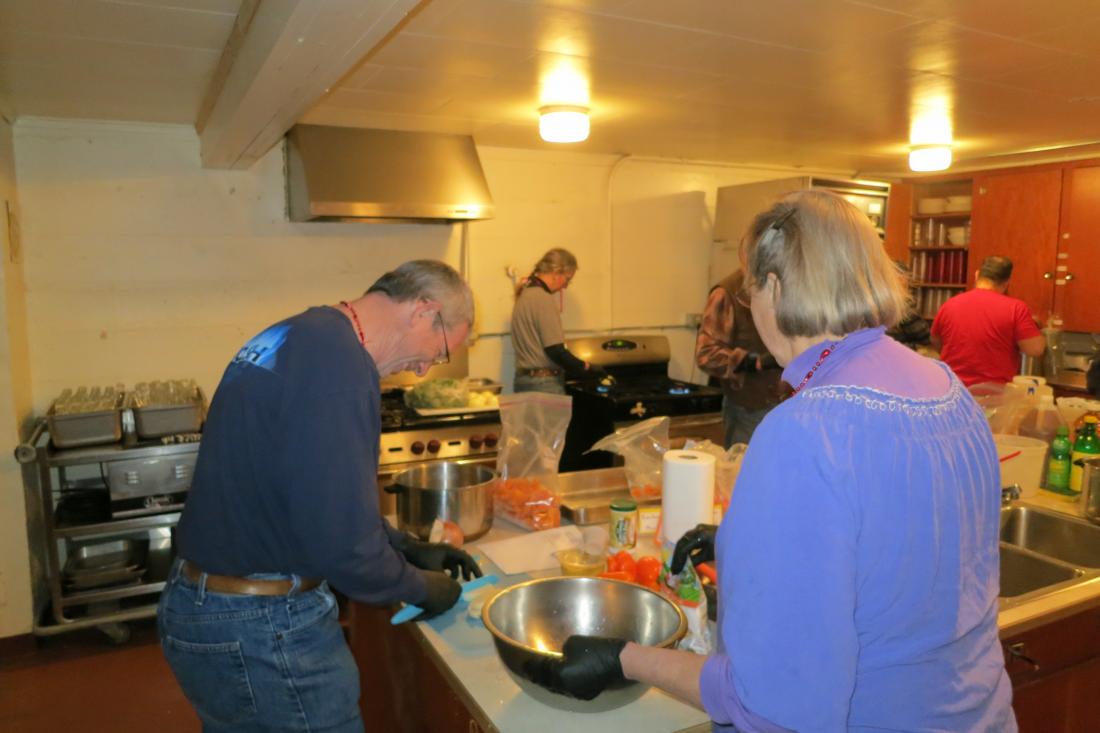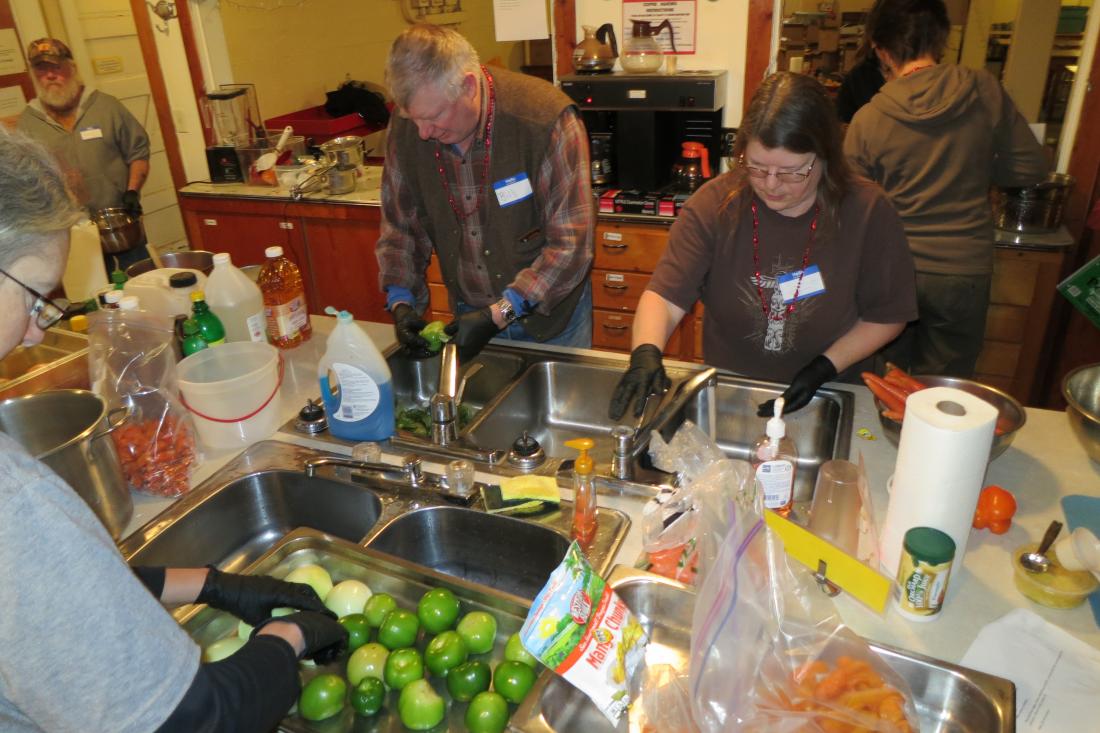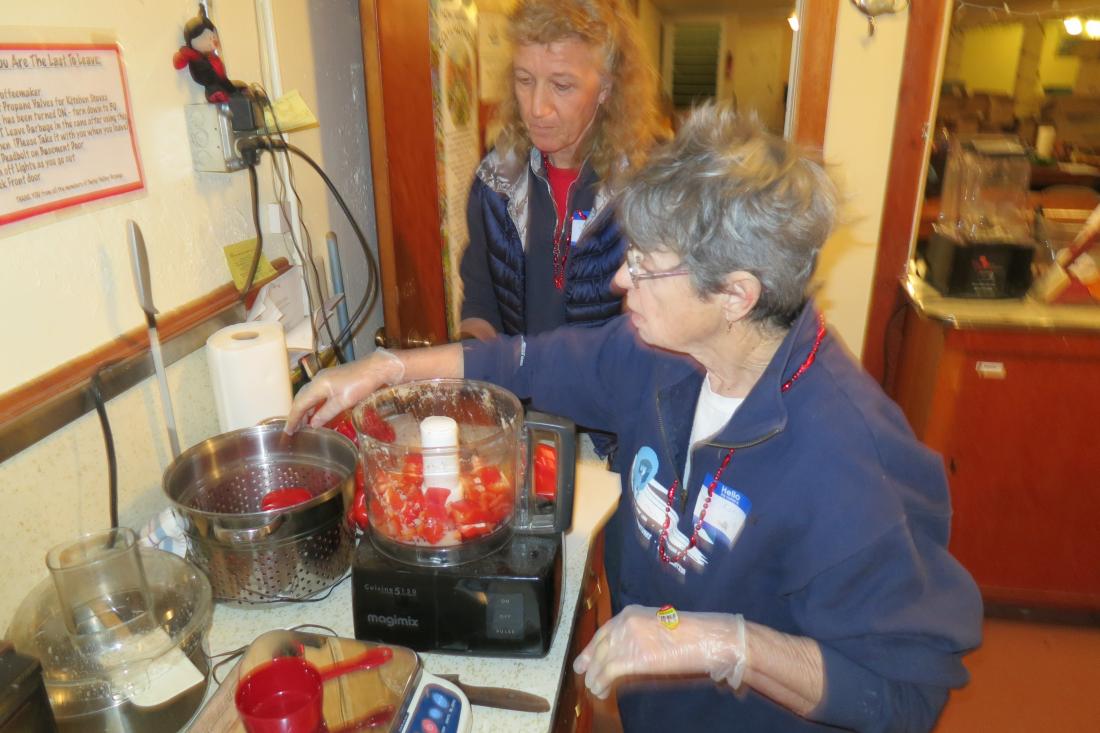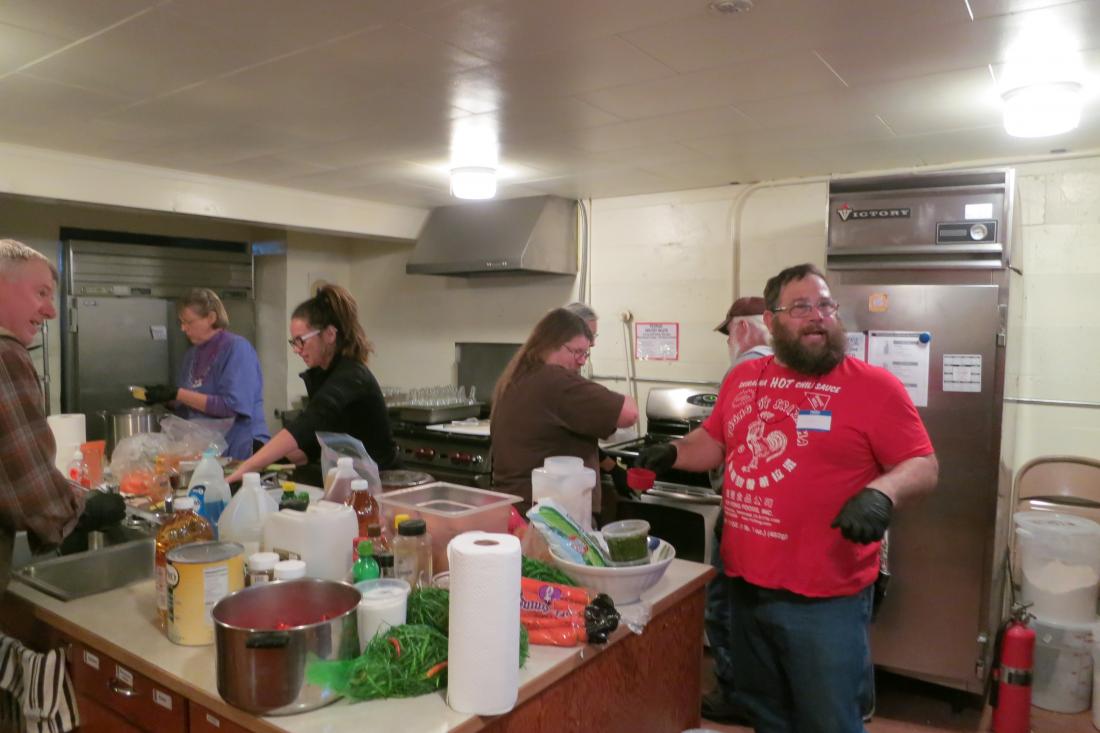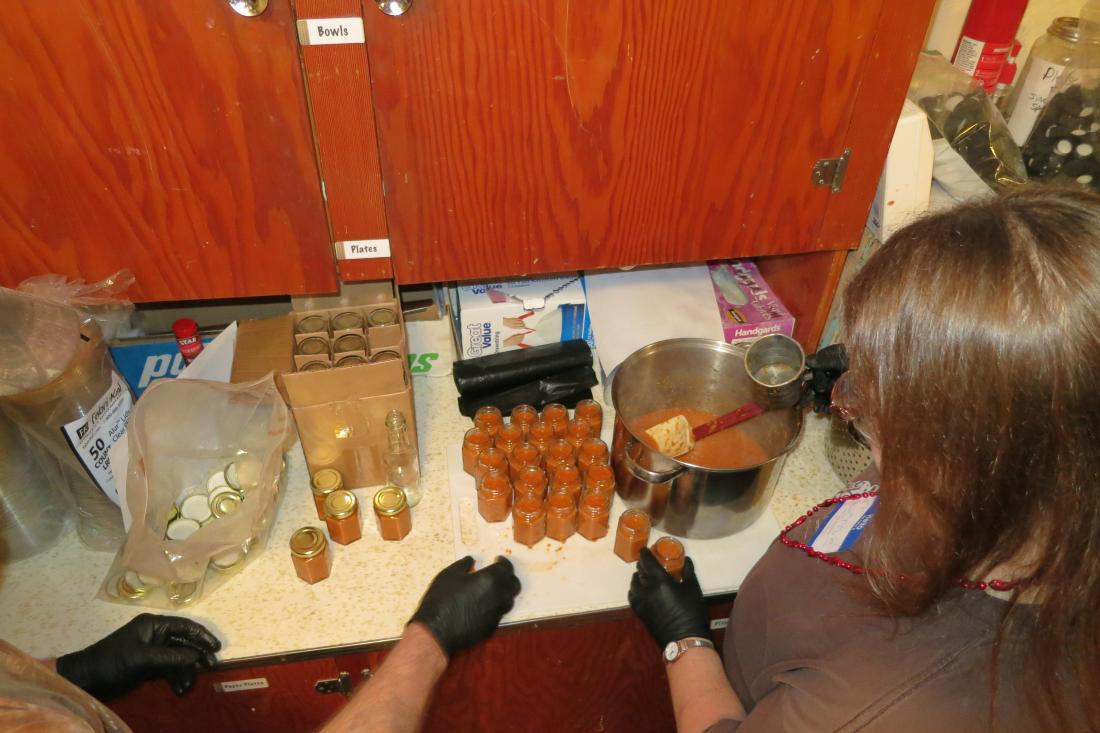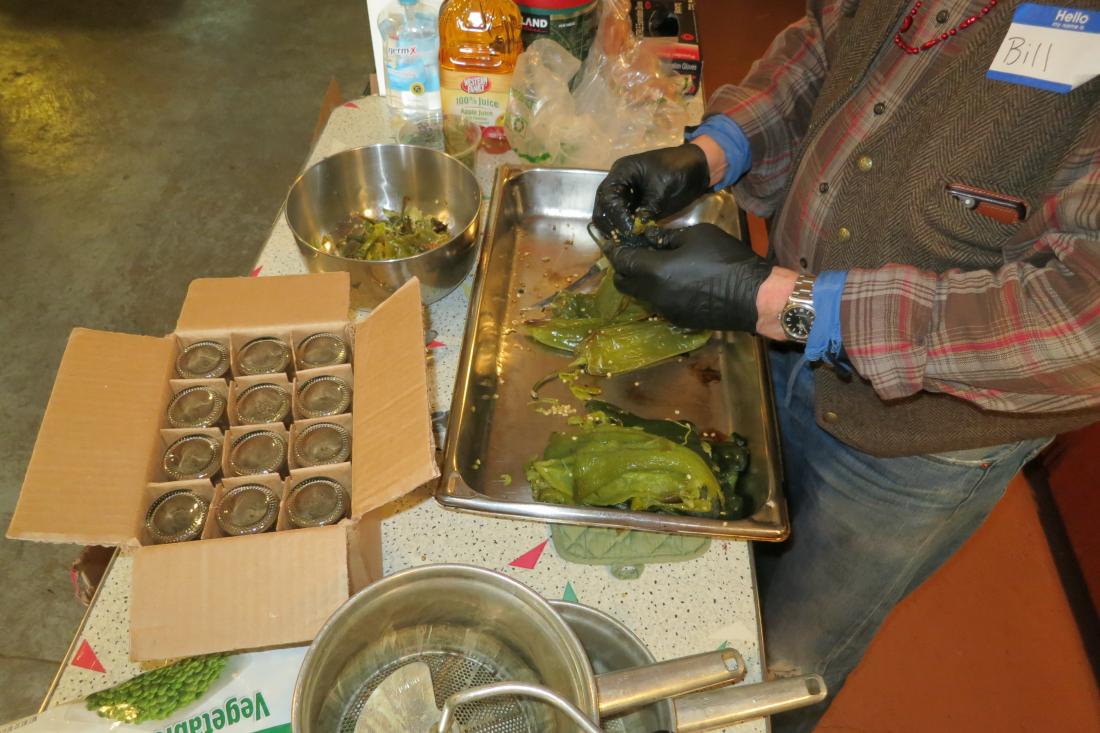 The Sauces-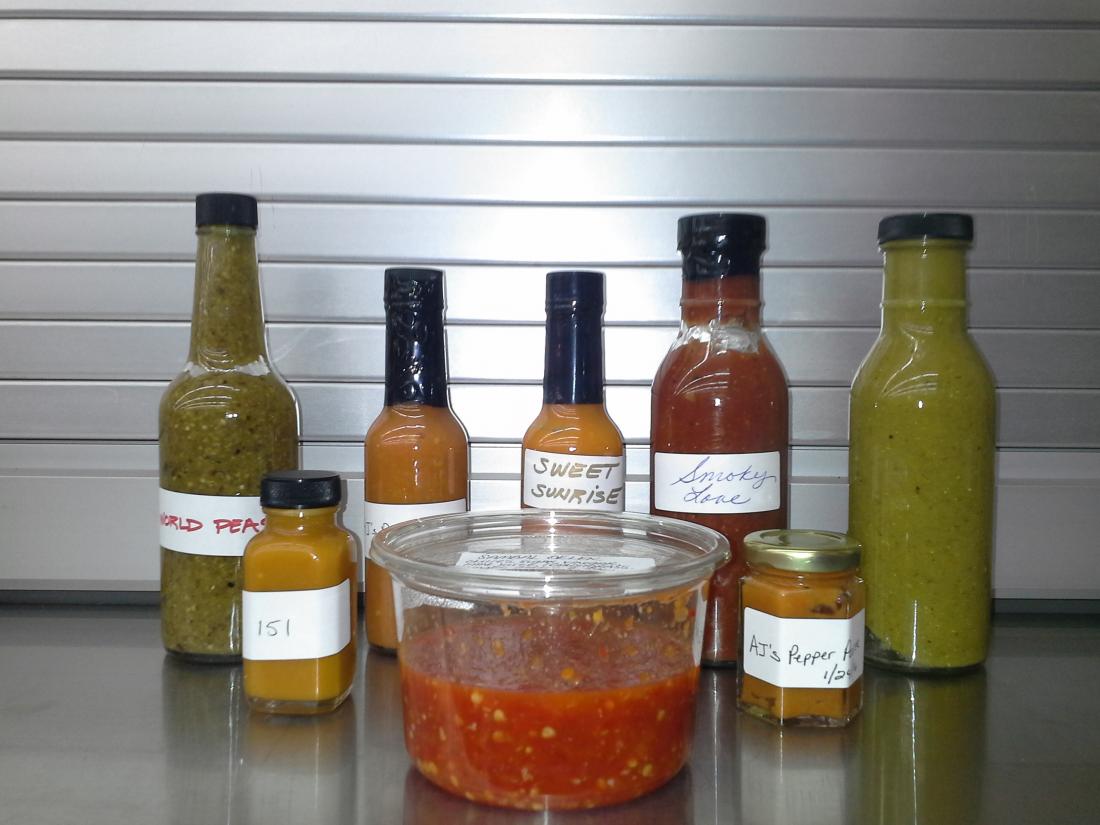 World Peas (Whirled Peas/World Peace)-
charred tomatillos, anaheim, jalapeno, peas, onion, garlic, apple juice, vinegar, lime juice, tamari, salt, cilantro, cumin
AJ's Pepper Puree
- yep, Alabama Jack's
original puree recipe
Smoky Love
- fire roasted tomatoes, smoked habaneros, onion, garlic, bell pepper, vinegar, pepper (sorry, geeme), cumin, salt 
Sambal Oelek
- red chiles, garlic, ginger, vinegar, lemon grass, salt, lime juice and zest
151- in honor of Wilbur Scovilles 151st birthday which was 2 days before the class-
fatalli, mango, peach, pineapple juice, vinegar, ginger sugar, moruga powder
Sweet Sunrise
-carrot, orange bell pepper, peaches, onion, garlic, fatalii, pineapple and apple juice, vinegar, coriander, agave
Untitled Kitchen Sink Green Sauce-
green Thai chiles, onion, garlic, cilantro, tamari, cumin, dunno what else as this was non-recipe.  3 people throwing stuff in the pot trying to get it done before we had to vacate the kitchen for another group.       
Chelan Class- a bottle from last year's class made it's way over the river and through the woods to the right person in Chelan.  We scheduled a class down there using a private catering kitchen for the space.  What they didn't tell me until the last minute was... the class was all guys who all knew each other and were foodies of some sort or in the food service industry, they were cooking up some food and bringing beer!  WOOHOO!     
I set out a table of some sauces for everyone to try.  Everything from Lucky Dog MILD to Cappy's Brain Strain and Pure Evil.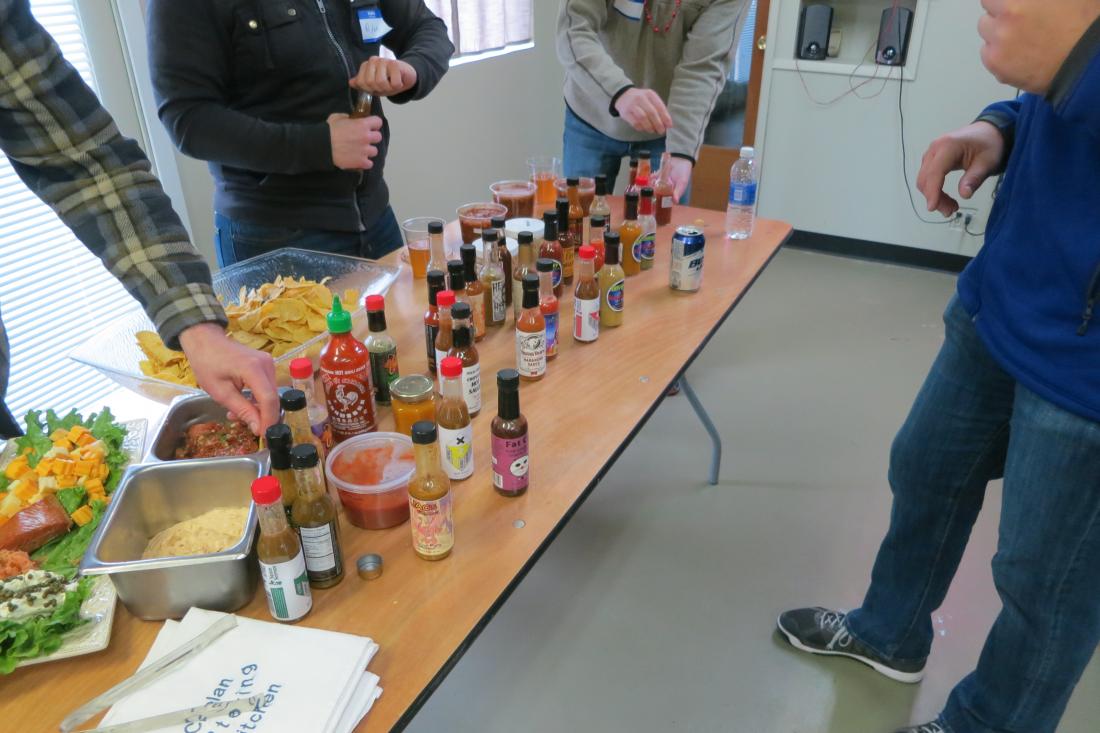 Some random pics of the afternoon's shenanigans~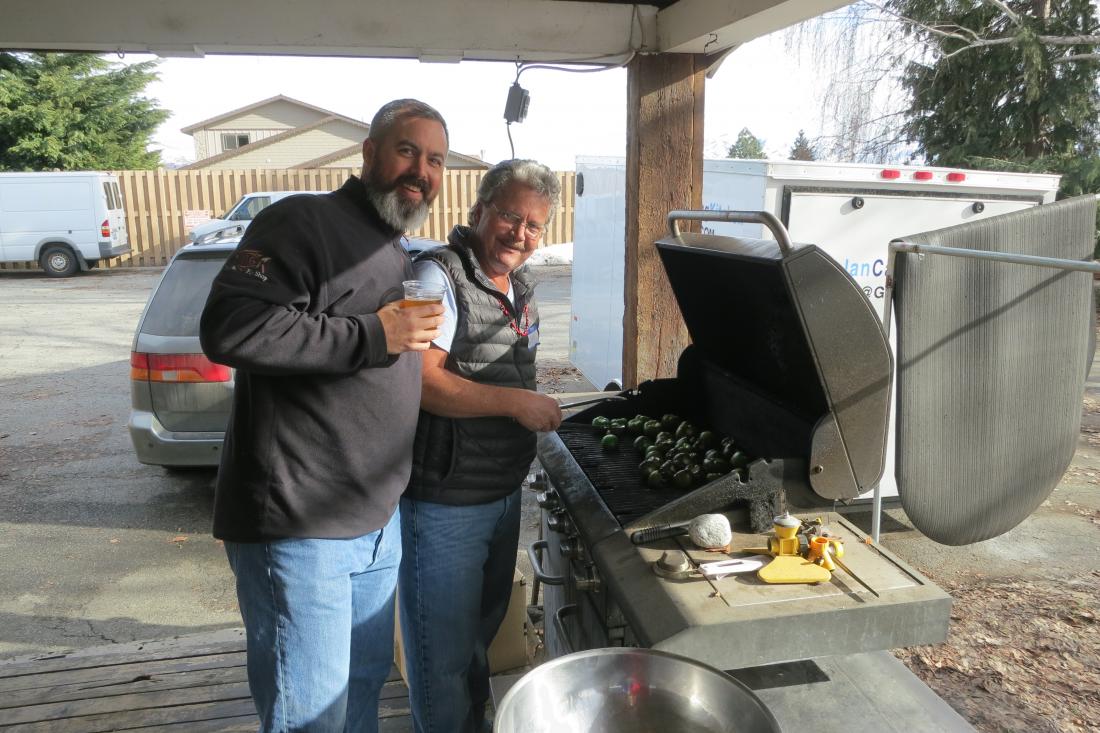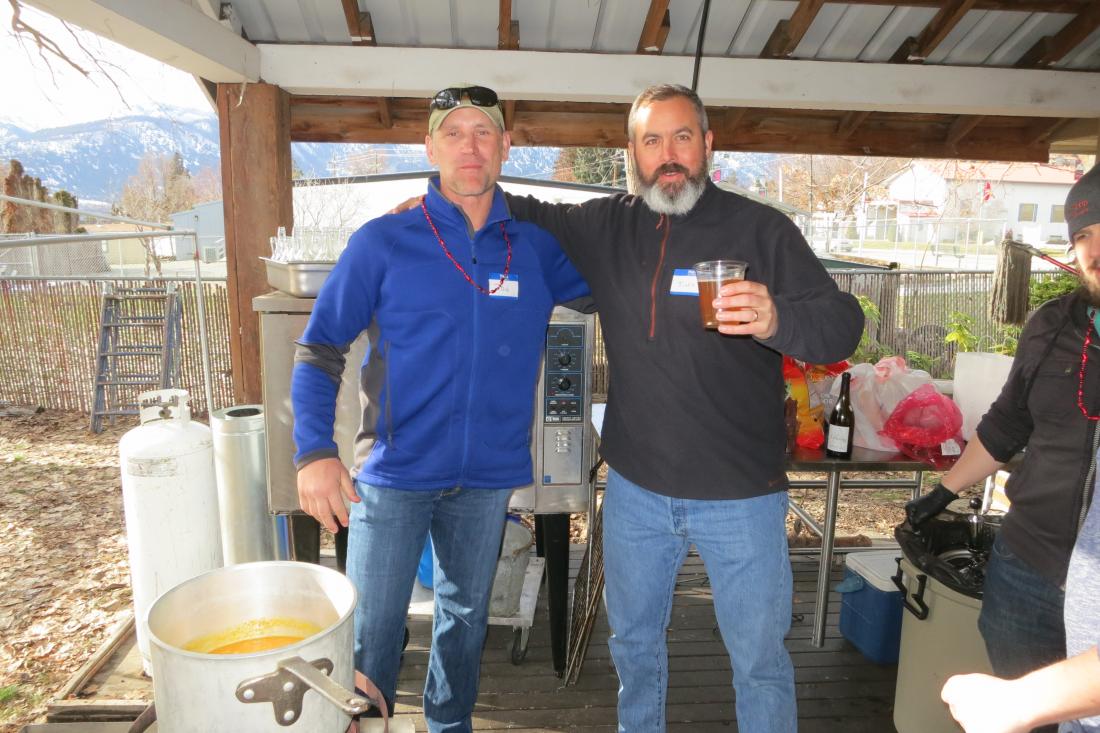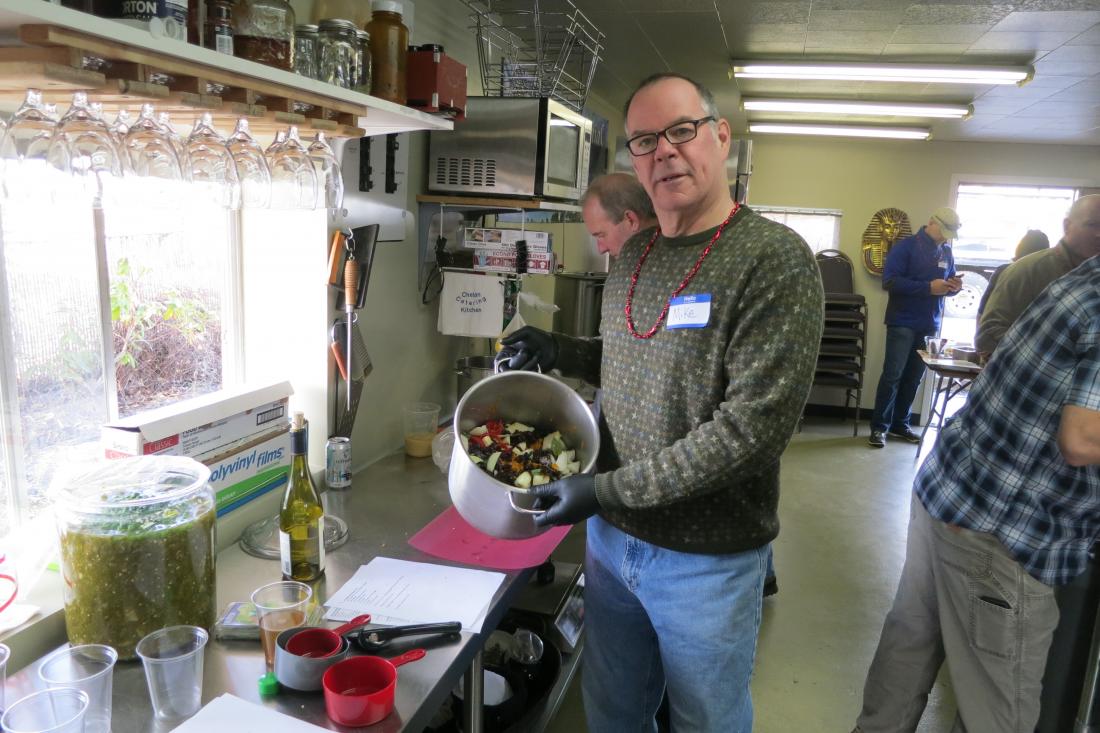 Notice the crock of green stuff on the left by the window.  That's the fermenting jalapenos and stuff that will be Green Funk.  I started this about 4 weeks before the class.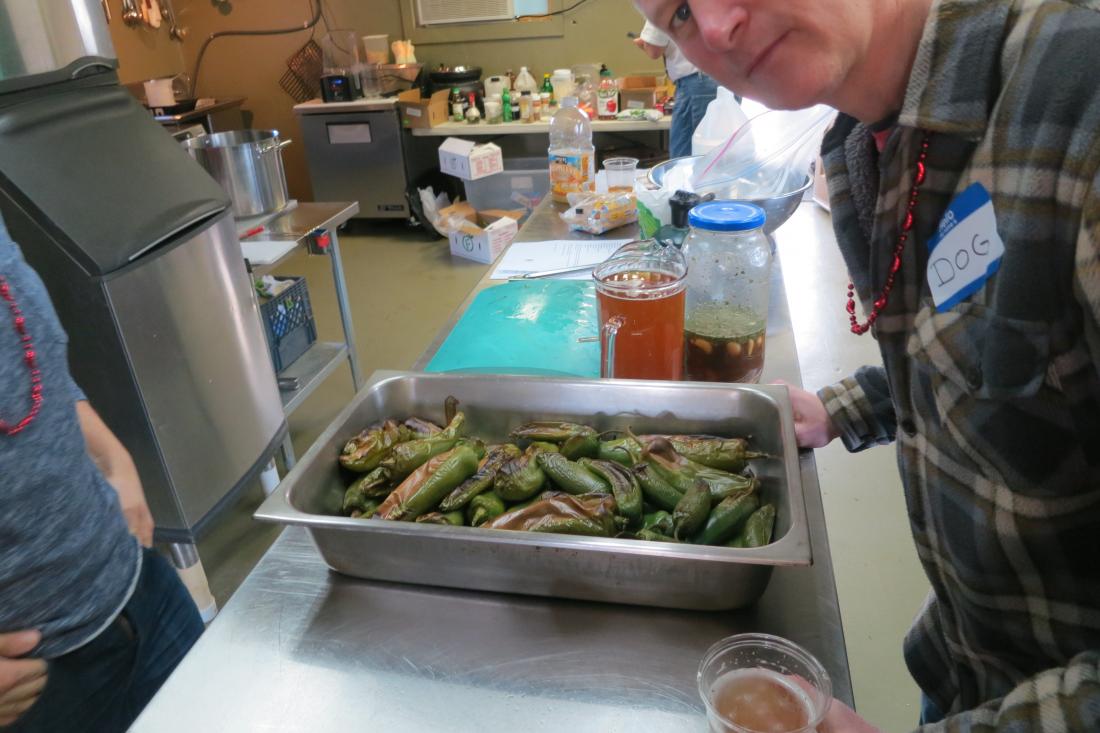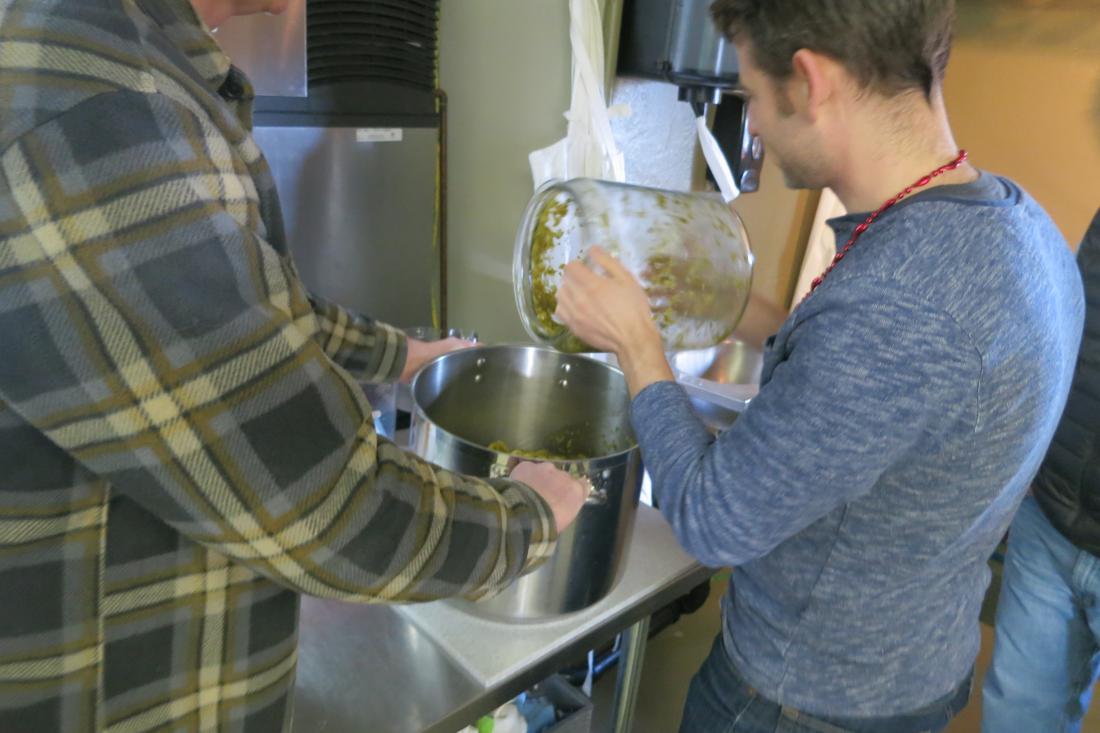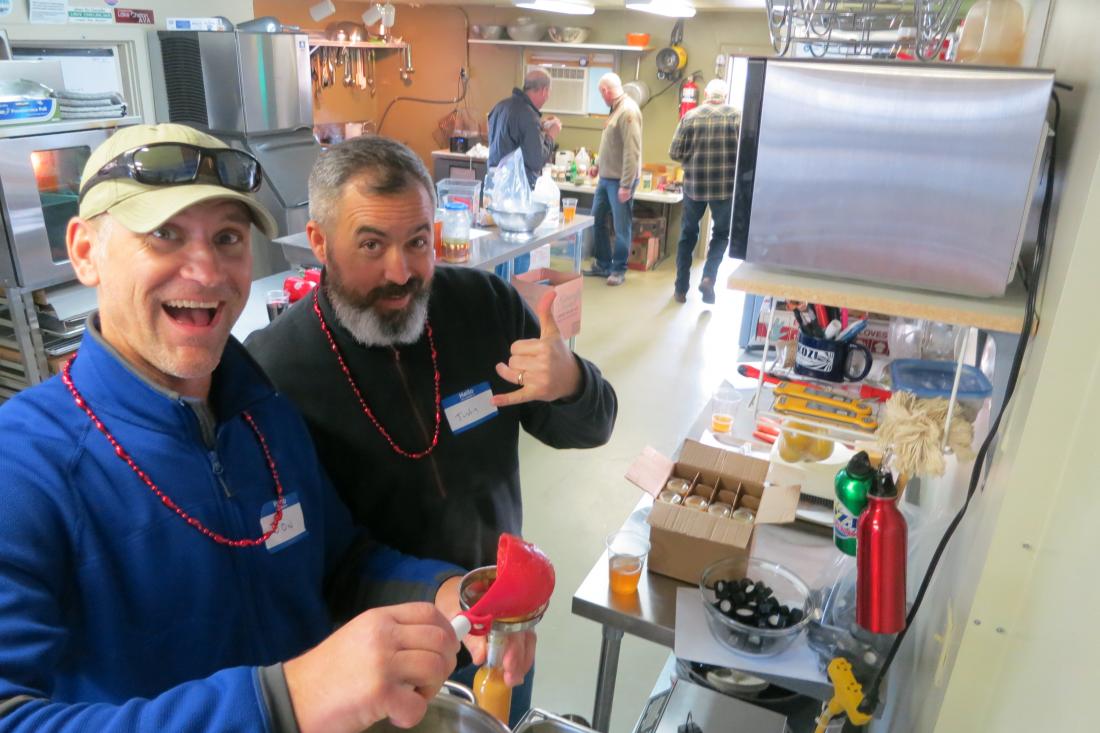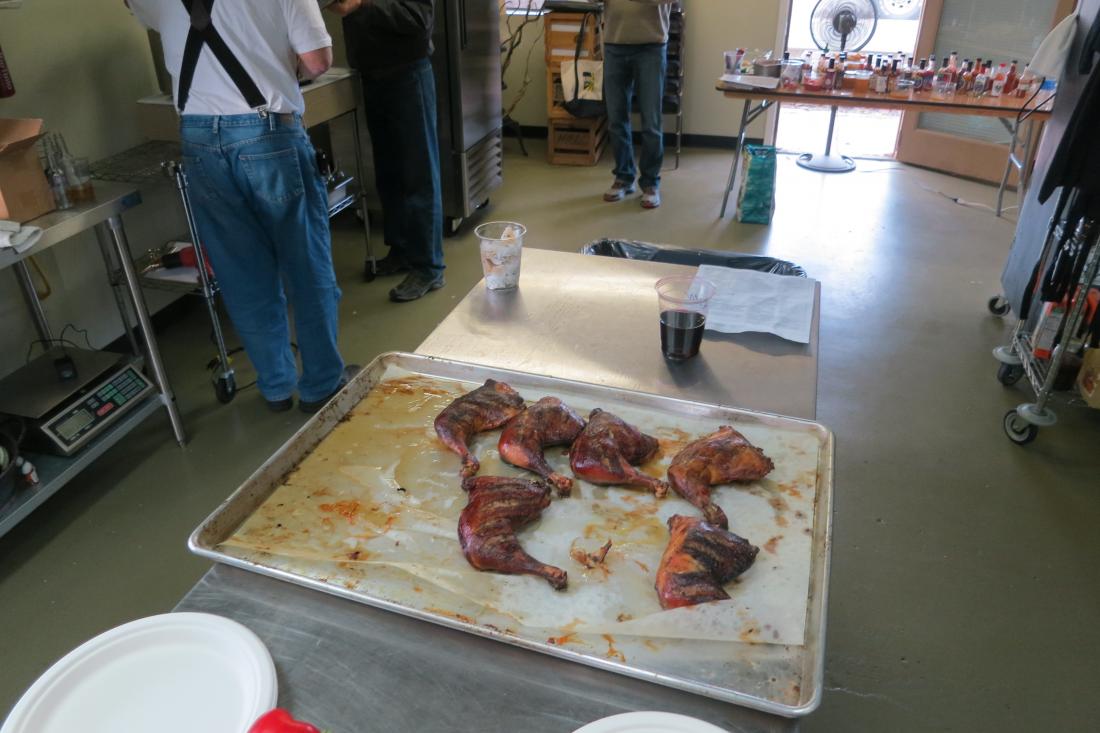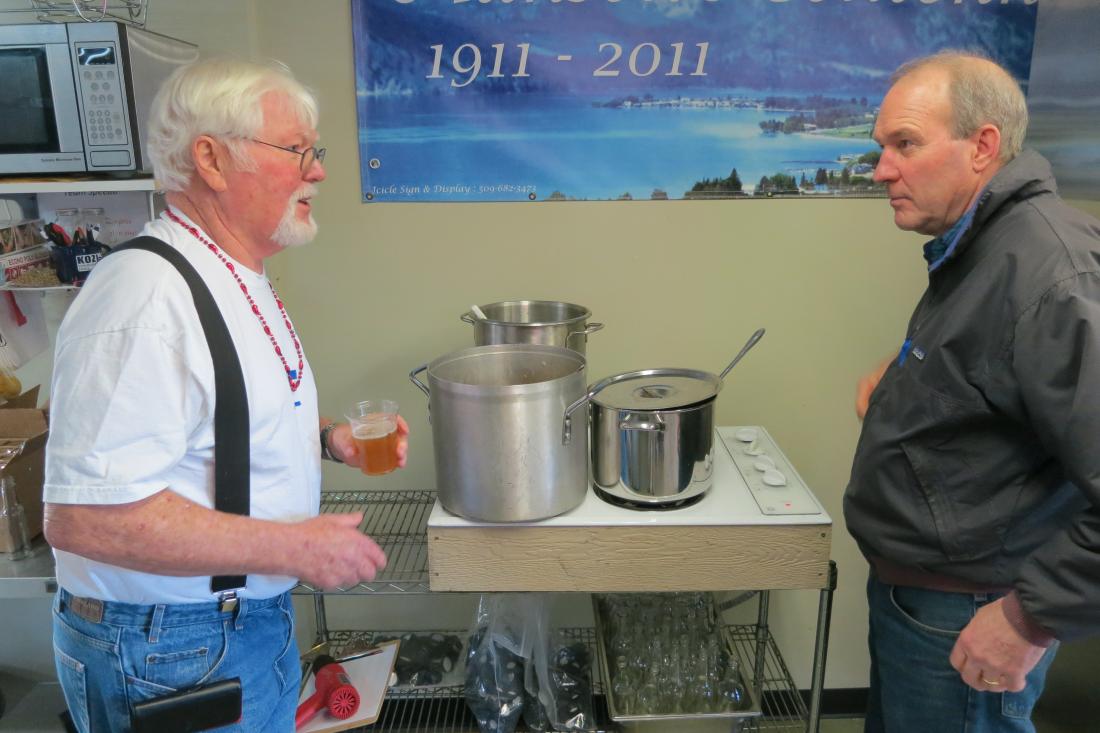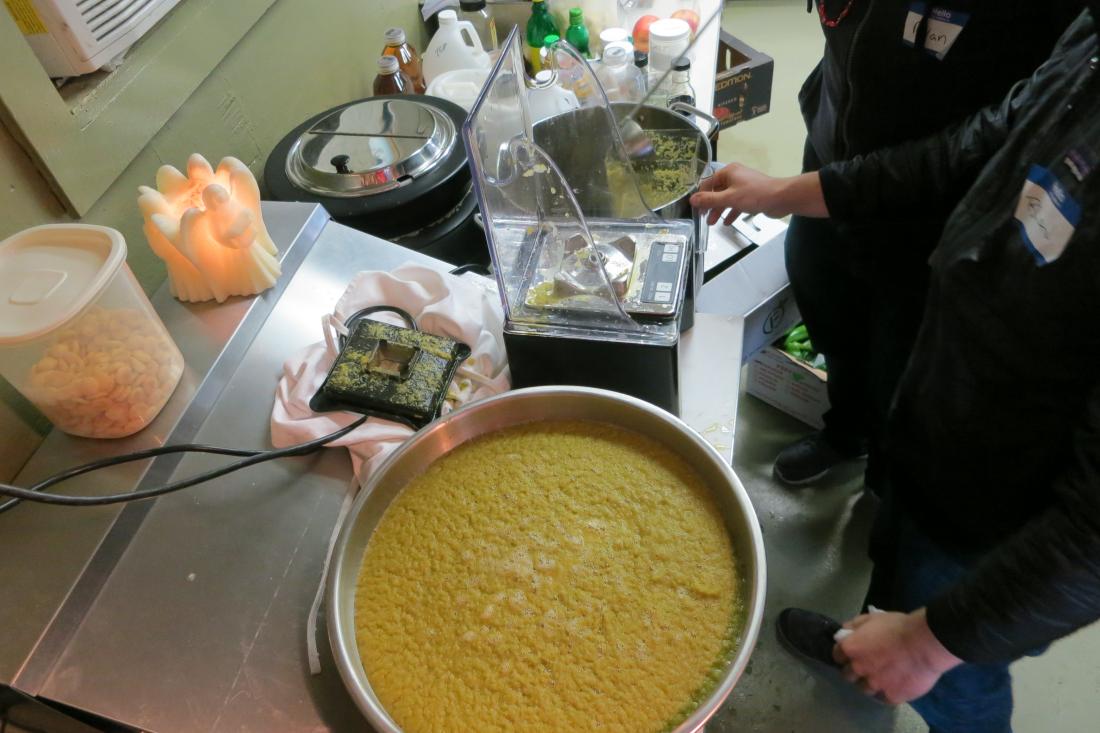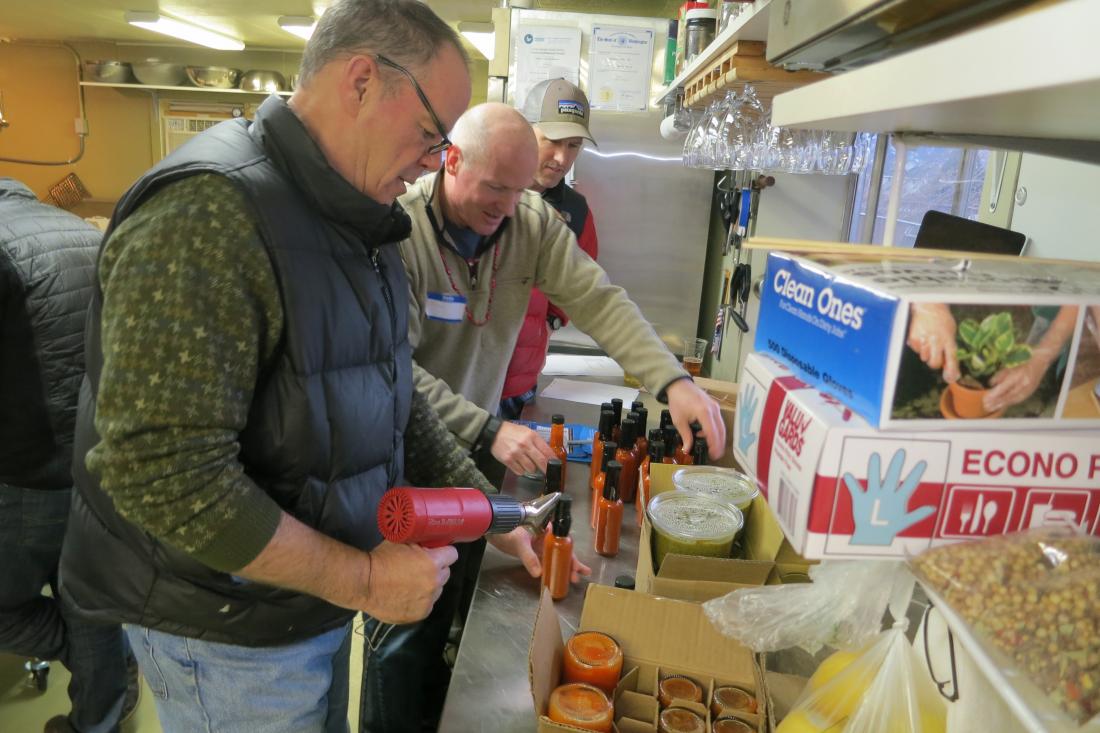 The host caterer provided a smoked salmon and cheese plate with crackers, pico salsa, and a creamy spicy dip, seafood chowder, brats with sauerkraut, and smoked YardBird, beer keg and wine from various other guys.   
Despite all that, the guys did get all the sauces done and labeled!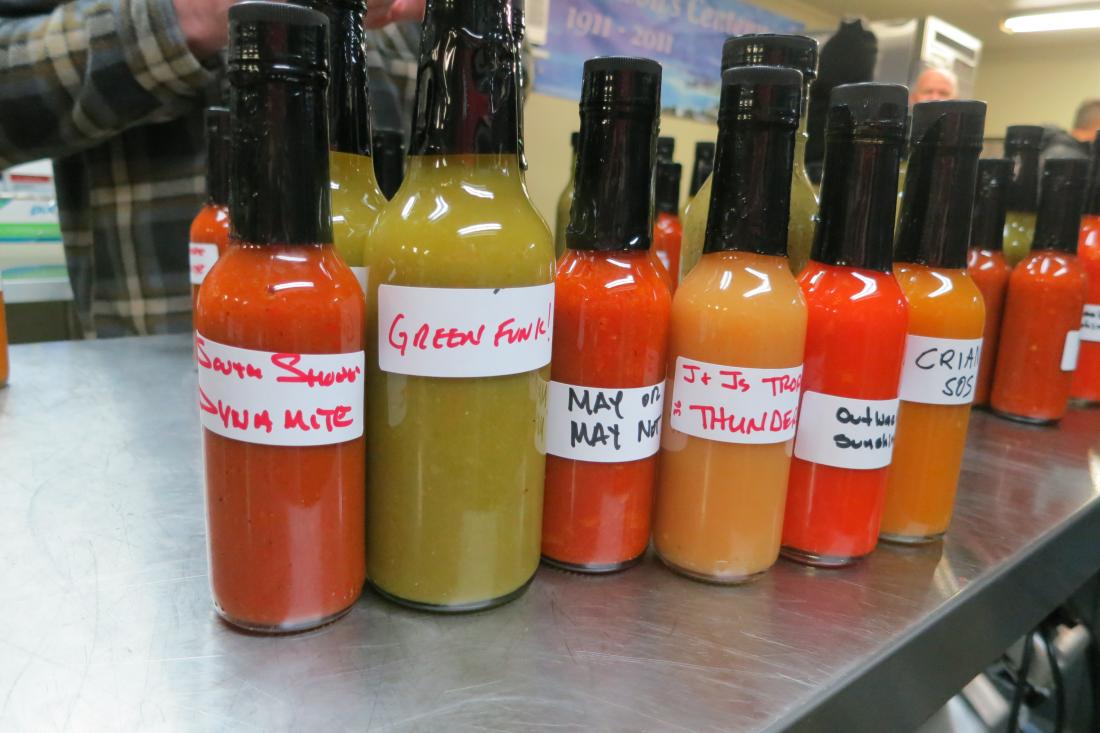 We didn't keep accurate track of what went into all the sauces, but it's pretty close to what's listed.  
South Shore Dynamite
- (during the class, DOT crews were blasting just up the road to clear a rock slide) Fresno chiles, bell peppers, onion, garlic, carrot, vinegar, beer
Green Funk
- Fermented jalapeno, (not sure what else???I don't remember!) onion, garlic, apple, more roasted garlic- pH 2.6!
May or May Not
- pumpkin, cranberry, sage, red fresno chiles, onion, garlic, wine and beer, pepper
J & J's Tropic Thunder
- pears, apples, pineapple and mango juice, vinegar, onion, garlic, habanero, ginger
Outback Sunshine
- carrot, tomato, fresno, onion, garlic, pepper, vinegar, beer
Crian SOS
- mango, peach, juice, fatalii, sugar, t-scorp powder
World Peas-
basically the same as above    
Most of the sauces divvied up, plus extra bottles on a side table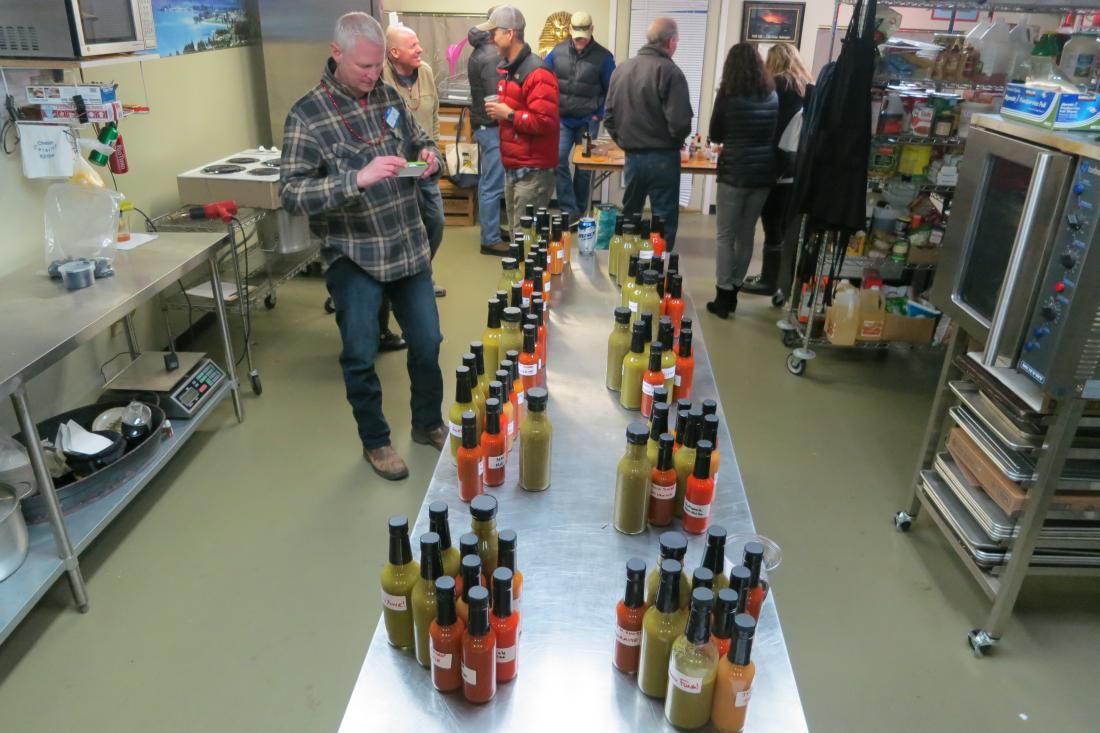 The Guys (plus one more who left before the picture)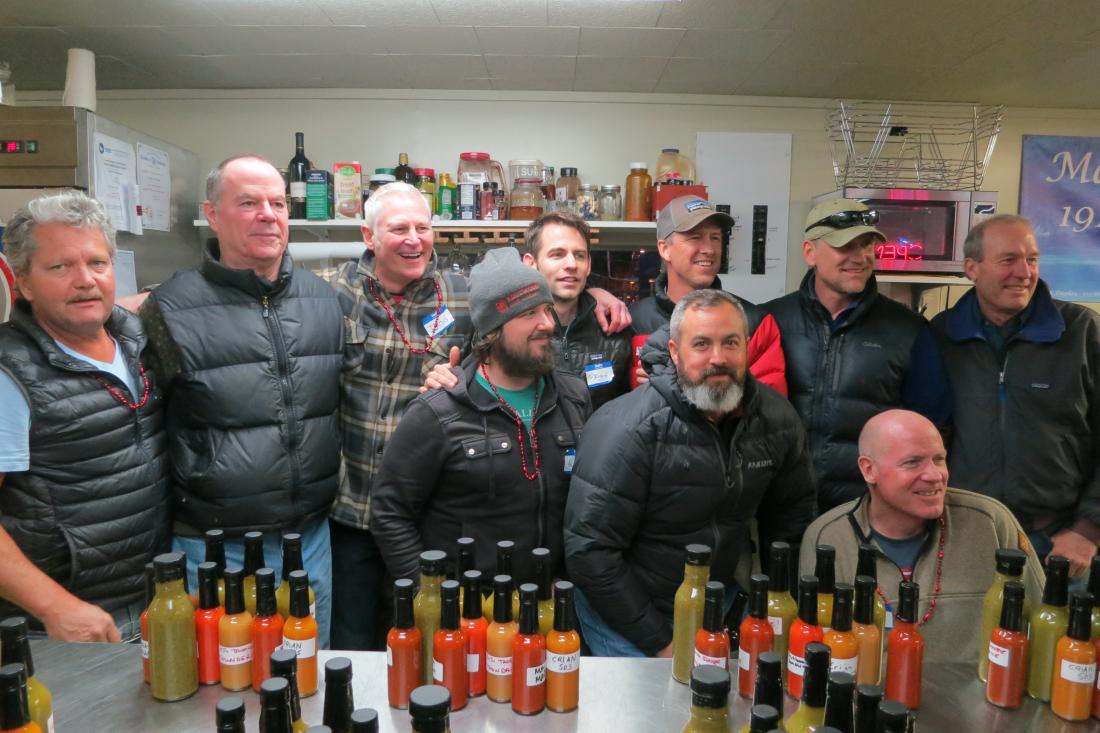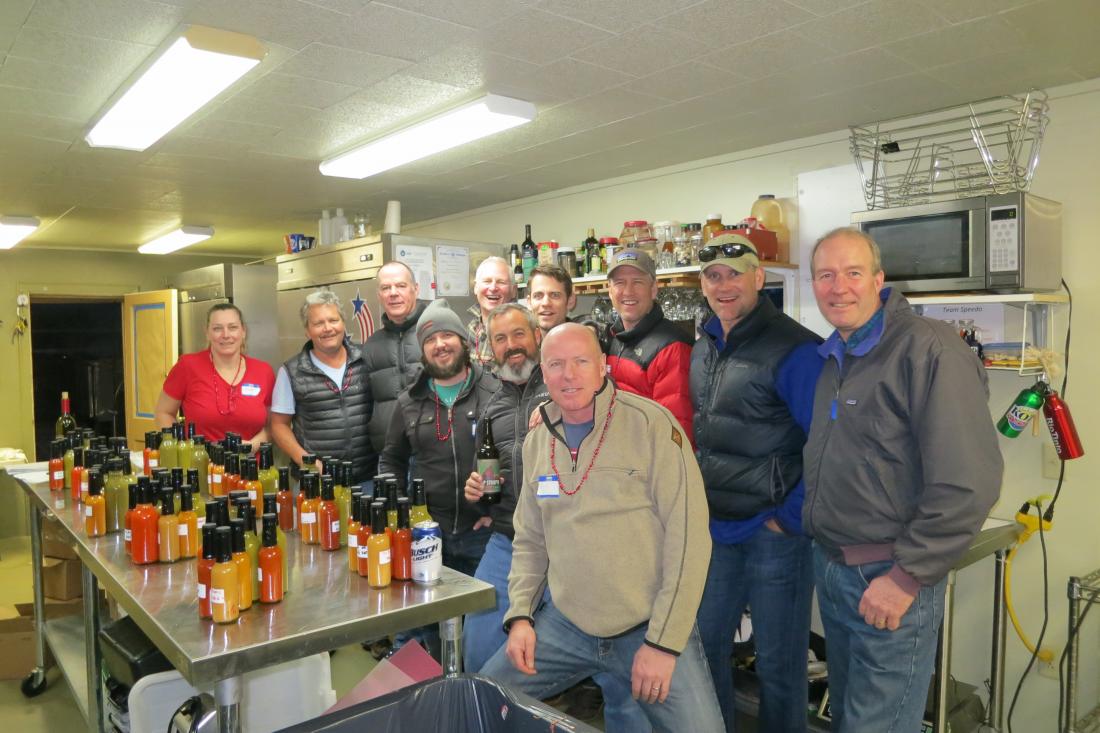 Both of these classes have been an absolute BLAST for me to be a part of.  Huge props go out to all the participants who pushed through the choking toxic fumes that are a part of making hot sauces, and for having fun with everything.  
And big thank you's to the Grange for facilitating these food classes with various participants and to the anonymous Chelan catering host (:cough:jay:cough) for sharing time and space for this fun to happen.   
-CHEERS-