I'd like to dedicate this appetizer recipe to a good Argentine friend of mine, Ruben whose recovering from a 5-way heart by-pass. He spent a good part of his life traveling with his band (drummer) from one country to the next. ........ here's my take on the dish probably similar to one that's made from a South American region
Ingredients: Mint, Cilantro, Oregano, Culantro, Italian Parsley, Lime Leaves, Garlic, Onion, Shallot, Scallions, Jamaican Red Hab, Aji Venezolano Pepper, Eggs, Flour, Flour, Cream, Pepper, Salt, Ground Beef (85/15) Sunflower Oil, Olive Oil, Cumin, Golden Raisens, Paprika, Spanish Olives.  
Blend the 1/2 cup of each Mint, Cilantro, Oregano, Italian Parsley, Culantro,  ,...Lime Leaves (3), Scallions (green parts only)  4 chopped green Aji Peppers along with 2 tbls of water. While blender is running drizzle in Olive Oil to a loose but blended sauce forms. Add Salt and Pepper to taste. Set aside. ...Meanwhile, hard boil eggs...when cooled down, peel and chop. Set aside.  
Brown the Ground Beef  (2lbs) in 2 tbls of Sunflower Oil, add  1 chopped onion, 6 minced Garlic Cloves,5 Red Habaneros, 2 tbl Cumin, 1 tbl Paprika, When the meat is browned remove pan from heat  Stir in Hard Boiled Eggs, 1/2  c of Golden Raisens,  1/2 c chopped Olives. Set aside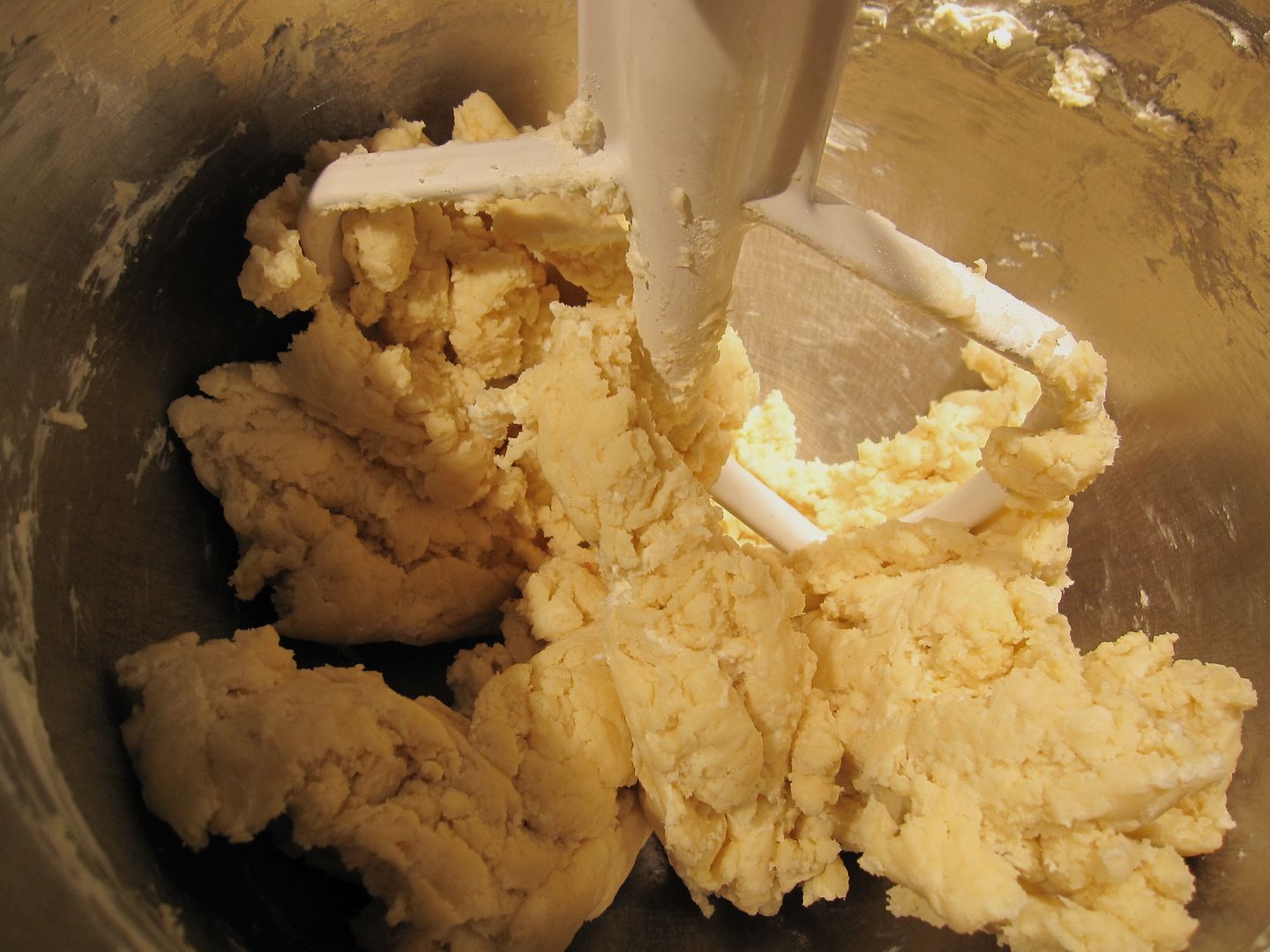 In a mixer cream 1 stick of unsalted Butter and 8oz Cream Cheese. Fold in and gradually mix 1.5 c Flour, 1 tsp Baking Soda, 1 tbl Sugar,  Remove dough when clumped together. Knead to combine and flatten into disc.  
Place dough in the fridge for at least 30 min. ( I made 2 discs total).  
The dough was removed from the fridge and rolled out to about 1/8" thick piece. I used a 4" cutting disc, then placed each piece in a tortilla press to get a thin uniform piece. A smell scoop was used for the filling and a brush of a beaten Egg was brushed on half the dough. Fold dough over and pinch/fold the edges. Fire up oven to 350. Brush tops of Empanadas with a mix of beated Egg and Cream.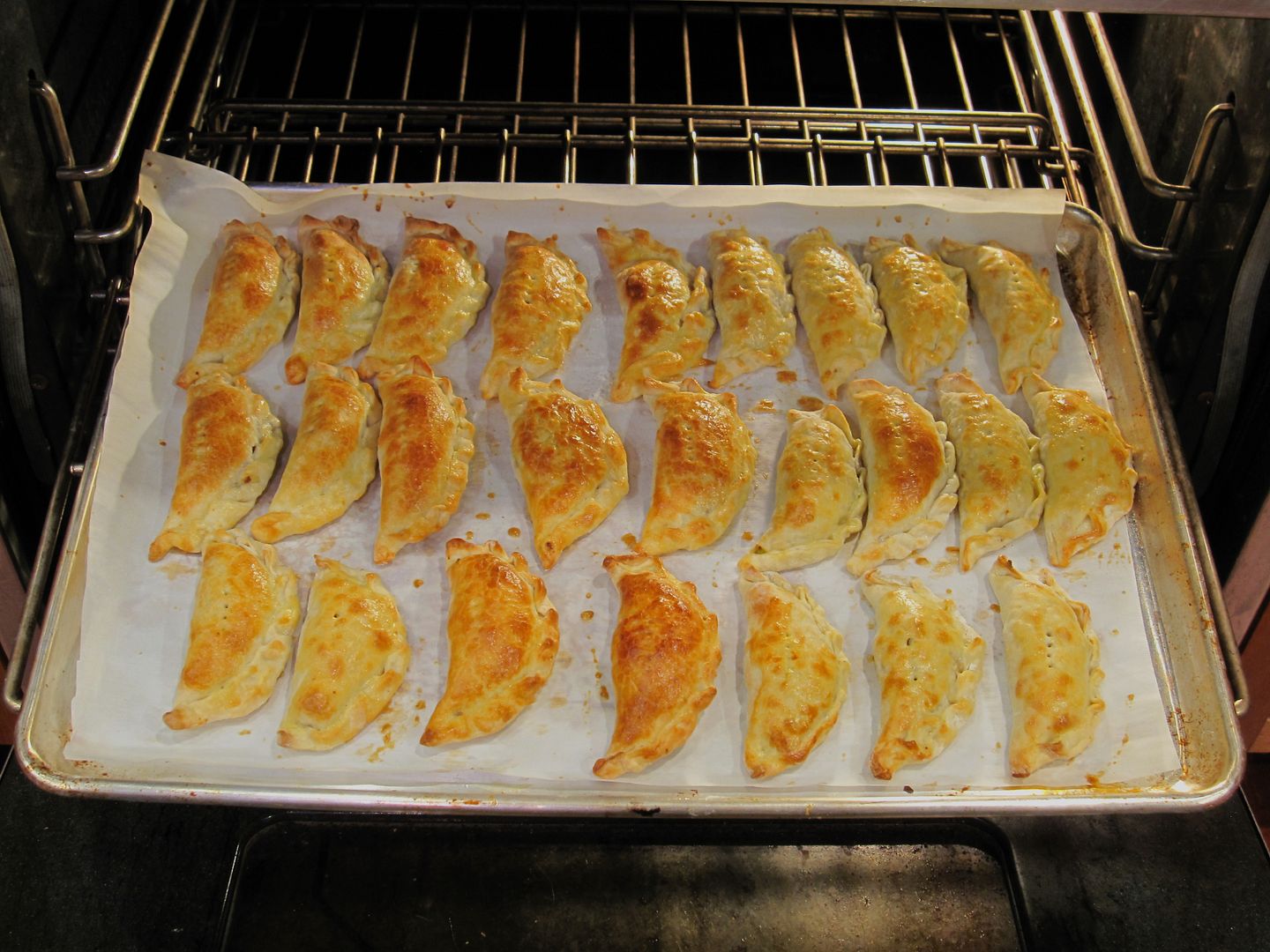 Bake for 12 to 15 min.   ...(I should have used a regular size sheet pan)....over sized pans have there purpose, but even with a convection running its difficult to get an even bake with the lack of overall air circ.    
The plating....Beef Empanadas with a slurry of Chimichurri............hmm..........where's the 
Malbec ?