Remember this guy? This is the stairwell header at the bottom of the back stairs, directly in front of my studio door.
It sat like this for 9 or ten years, I started cutting The original wall was less than 5' above the step, I had a sign at one time that read "Duck'a you head, low'la bridged'a"...There was actually no solution I could come up with to tie it into the ceiling. But putting your house up for sale and the panic that ensues can bring out the stone knives and bearskins outhouse construction engineer out of a guy. This was Saturday: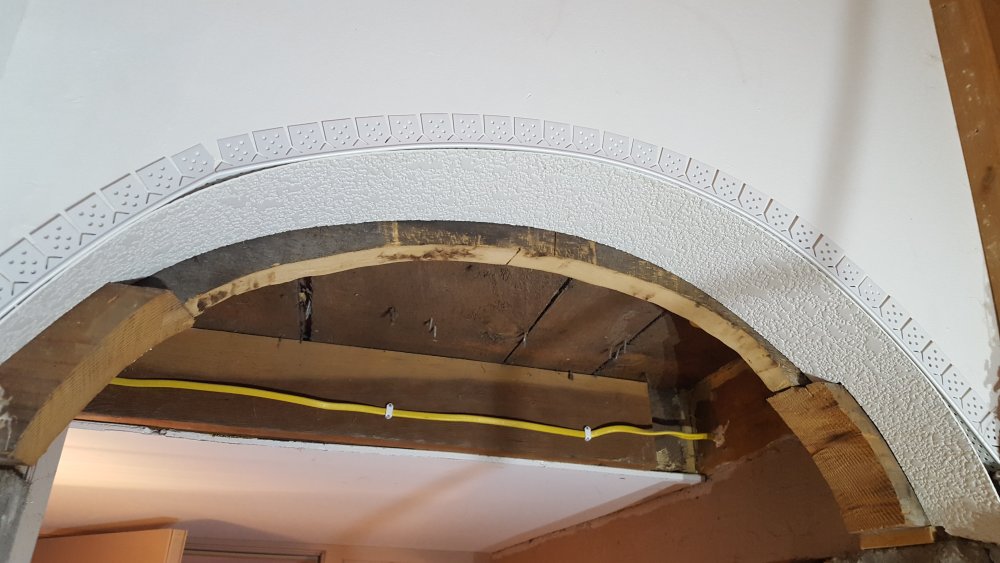 All roughly cut out, a flex corner bead installed and a sheet of 1/8" milkboard cut to fit. Yes, ugly, and it got even uglier, as I had to install a drywall nailer, which eliminated the arch effect to a degree, but put it almost a foot farther down the stairs, so a 5'8" height was maintained. Yes, you taller girls would still have to duck...
After the nailer I muscled in a piece of half inch rock and did some 45-minute mudd. This is how it looks @ 8 pm last night.
I just now knifed a second mudd coat (45 minute again, if I had 20 minute I would have likely been applying beauty skim this morning, but I don't want to go 12 miles into town for a bag. Another slice of milkboard will fill the blank spot and all will be painted the most forgiving way I know how: flat white. Gonna look a bit weird, but I won't have to look at it, right?
I finished outside paint touchups yesterday, and yes, it's still warm for November 8 (Yes Big & Rich, we play it every year), so I can actually get the half-an-eighth-acre tilled today and call the guy who bought the ol' Cub to come get it. Then the JD lawn tractor and a couple garden trailers get set out to the road with the FOR SALE!! sign attached.
One thing at a time, done VERY well, then I move on...